This Week in Sports Betting, A-Z
by Ricky Dimon - 9/12/2014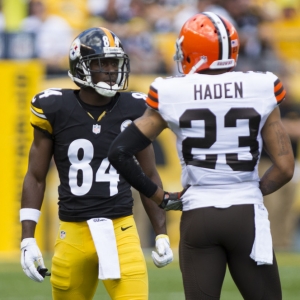 A. Antonio Brown . What do you get when you combine the NFL and MMA? Answer: Antonio Brown! The Steelers' receiver and punt returner karate-chopped Browns' punter Spencer Lanning during a return in Pittsburgh's 30-27 Week 1 victory. For his efforts, Brown was fined $8,200. The Steelers are +350 at Bodog Sportsbook to win the AFC North.

B. Black eye . Ray Rice gave his wife a black eye (quite literally, if the infamous video is any indication), the Ravens gave themselves a black eye by standing up for Rice at that press conference, and the NFL got a black eye by initially slapping the running back with just a two-game suspension. Amidst all the controversy, however, Baltimore came out on Thursday night and hammered division rival Pittsburgh 26-6.

C. Court documents . That dude who poisoned Auburn's oak trees is paying up his debt…to the tune of $99! That's right; Alabama fan Harvey Updyke has paid $99 of the $796,731 he owes in restitution, according to court documents. Updyke requested to reduce the monthly payments from $500 to $50, which would have taken approximately 1,328 years to pay off. Real solid decision by Judge Jacob A. Walker III to deny that request! Auburn's Nick Marshall is +1500 at BetCRIS to win the Heisman Trophy.

D. Downtown . As he has been known to do, Stephen Curry was positively on fire from three-point range in the United States' win over Mexico in the FIBA World Cup round of 16. He drained six of nine threes for a team-high 20 points. In the quarterfinals against Slovenia, fellow Golden State Warrior Klay Thompson went 4-for-8 from beyond the arc for a team-high 20 points. After hammering Lithuania on Thursday, Team USA awaits either France or Serbia in the championship game.

E. Eighteen . When asked earlier in the U.S. Open what "18" would mean to her, Serena Williams replied, "legal and legendary." Well, Serena is definitely both of those. She is also an 18-time singles Grand Slam champion after triumphing over Caroline Wozniacki in last weekend's final.

F. Florida Panthers . Florida signed this year's No. 1 overall draft pick, Aaron Ekblad, on Wednesday. The 18-year-old was inked to a three-year, entry-level deal.

G. Graham Gano . A redux of the Stanford band play this is not, but a band did get in the way of Panthers' kicker Graham Gano last Sunday. Gano wanted none of it, either, so he shoved a trombone player out of the way to free up space for field-goal practice. The kicker ended up giving Bethune-Cookman band member Marquel Ballard two tickets and field passes to Carolina's game in Atlanta on Dec. 28. Carolina is a -2.5 home favorite over Detroit on Sunday, per 5Dimes Sportsbook.

H. Haden, Pat . USC's athletic director was fined $25,000 for leaving the press box and confronting officials during the third quarter of the Trojans' 13-10 win over Stanford last weekend. Head coach Steve Sarkisian was also reprimanded by the Pac-12 but not fined after having another coach text Haden to come down to the field. Southern Cal is a -17 road favorite at Boston College on Saturday, according to Sportsbook.ag.

I. Iowa State vs. Kansas State . Kansas State won a wild one last week in which it led 13-0, trailed 28-13, then won 32-28 on a touchdown with 1:30 remaining in the game. It became even wilder afterward, as the Big 12 suspended the replay official and replay communicator one game each for failing to look at a controversial play that led to a Wildcats' touchdown with 26 seconds left before halftime.

J. Jerry Jones . For once Jerry will be glad that something bigger is keeping him out of the spotlight. The Cowboys' owner was accused of sexual assault earlier this week. But the story is not getting much play, of course, thanks to the situation in Baltimore. Dallas is +600 at GT Bets to win the NFC East.

K. Keselowski, Brad . Keselowski owns the top spot heading into the Chase for the Sprint Cup, which begins this weekend just outside of Chicago. The No. 2 car leads the field in wins this season with four and is tied for first with 11 top-5 finishes. Keselowski, who captured the championship in 2012, is +500 at BookMaker to take home the checkered flag from Chicagoland.

L. Levenson, Bruce . You can be sure the Atlanta Hawks are one team that is not disappointed about the current Rice ordeal. As a result, the Hawks are merely the talk of the NBA as opposed to the talk of the entire sports world. Their race-related controversy has led owner Bruce Levenson to announce his intended sale of the team and has also put general manger Danny Ferry in hot water.

M. Matt Ryan . Despite the Hawks' problems and the Braves' struggles, there is some good news in Atlanta. The Falcons are 1-0 after upsetting NFC South rival New Orleans 37-34 in overtime during Week 1 action at the Georgia Dome. Ryan completed 31-of-43 passes for a franchise-record 448 yards to go along with three touchdowns while being named NFC Offensive Player of the Week. The Falcons are +5 road underdogs at Cincinnati in Week 2, per Carbon Sports.

N. Nelson Cruz . Cruz went 4-for-5 with two home runs and an outrageous seven RBIs in Baltimore's 7-5 victory at Tampa Bay last Sunday. The designated hitter is on a five-game hitting streak and has hit safely in 11 of his last 12 games. He leads the majors with 39 dingers and is tied for fourth with 101 RBIs. The Orioles are +600 at SuperBook to win the World Series.

O. Oscar Pistorius . Next time someone walks into your home, you can apparently shoot through the wall and kill them. That's what Pistorius admittedly did to his girlfriend, Reeva Steenkamp, last Valentine's Day before being acquitted on murder charges on Thursday. He was, however, found guilty of culpable homicide on Friday. It remains to be seen what-if any-jail time awaits him.

P. Press conference . Derek Jeter answered a reporter's cell phone during a press conference last Sunday. The caller named Walt Rheinheimer did not get his wife on the other end, but he did get 15 minutes or relative fame…. Or maybe it was more like five seconds, as Jeter informed him, "she'll have to call you back."

Q. Qualifying . Missing out to the United States on a spot in the World Cup knockout stages is one thing. Losing to Albania is another. Portugal has now done both in the last three months after falling to the Albanians 1-0 in a Euro 2016 qualifying match last Sunday. The team's manager, Paulo Bento, was inevitably sacked a few days later. Sportsbook.ag has Germany as a +400 favorite to win Euro 2016 and a +500 favorite to win the 2018 World Cup.

R. Rivers, Joan . The actress, comedian, writer, and television host died last Thursday following complications from throat surgery. She was 81 years old. R.I.P.

S. Sasha Gale . On the playing field, both Rory McIlroy (British Open and PGA champion) and Wozniacki (U.S. Open runner-up) are bouncing back nicely from their breakup. Off the course, McIlroy is also rebounding. He has been seen canoodling with models Sasha Gale and Nadia Forde, and he is reportedly dating Gale. Yes, the Northern Irishman is filling out his scorecard quite nicely. Europe is -175 at WagerWeb to win the Ryder Cup.

T. Tour Championship . In an effort to give the Americans and Europeans a week off prior to the Ryder Cup, the FedEx Cup-ending Tour Championship was moved up seven days on the schedule and is currently underway in Atlanta. Already No. 1 in the cup standings, Chris Kirk fired a 4-under 66 to tie for the first-round lead.

U. U.S. Open . One of the most surprising men's tennis majors in at least a decade took place over the past fortnight in New York. Marin Cilic and Kei Nishikori, both outside the top 10 at the time, contested Monday's final, and it was Cilic who captured his first career Grand Slam title.

V. Virginia Tech . The Hokies are up to 17th in the AP poll and No. 19 according to the USA Today after thrashing Ohio State 35-21 last Saturday in Columbus. The latter poll actually has the Braxton Miller-less Buckeyes still ranked ahead of Virginia Tech. Yeah, that makes a lot of sense. The Hokies are +6600 at Bovada Sportsbook to win the National Championship.

W. William and Kate . The royal couple is expecting another royal baby. Prince Harry continues to slides down the depth chart for the British throne. Ouch.

X. Xavier Henry . The Lakers' small forward could miss the start of training camp due to left wrist and right knee injuries, head coach Byron Scott said on Wednesday. Henry (10.0 ppg) was one of the few bright spots on a woeful L.A. squad last season. The Lakers are +5000 at Carbon Sports to win the Western Conference.

Y. Young, Chris . The Yankees had five more runs in their last full inning at the plate than they had hits in their first 7.1 innings against Tampa Bay on Thursday night. Chris Young broke up an Alex Cobb no-hitter with one out in the eighth then hit a three-run walkoff homer with one out in the ninth to send New York past the Rays 5-4. Tampa (Karns) is a +120 road underdog at Toronto (Happ), as indicated by BookMaker.

Z. Zabaleta, Pablo . The Manchester City defender is confident that he will be good to go on Saturday for his team's English Premier League showdown against Arsenal. Zabaleta sustained a leg injury in a friendly between Argentina and Germany last week, when he went down on a hard tackle by Lukas Podolski. And wouldn't you know it, Podolski plays for Arsenal. This could be good! Sports Interaction has Man City at +134 to beat the Gunners.
Want free sports betting picks? Doc's Sports has you covered - get $60 worth of picks free from any of Doc's Sports expert handicappers. Click here for free picks (new clients only).
Read more articles by Ricky Dimon