This Week in Sports Betting, A-Z
by Ricky Dimon - 11/21/2014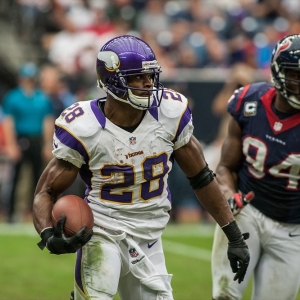 A. Adrian Peterson . The NFL has suspended AP for the rest of the season as a result of his child-abuse scandal. Roger Goodell actually had the audacity to admit that part of the reason for the harsh punishment was that Peterson did not show enough genuine contrition for inflicting harm on his son. Sure that would have been nice to see from Minnesota's star running back, but since when has contrition been a league requirement? The players' union, not surprisingly, is appealing the decision. The Vikings are +10 home underdogs against Green Bay, according to Bovada Sportsbook.

B. Blount, LeGarrette . Blount left the field, showered, and plopped himself down in the team bus; pretty basic stuff. Except for one minor detail: the game was still going on. He was not around for the rest of Pittsburgh's 27-24 Monday night win at Tennessee, and he won't be around the Steelers for the remainder of the season. Blount was promptly released then signed a two-year deal with New England. Moral of the story: misbehave and you can immediately climb in the workplace.

C. Cuban, Mark . The Mavericks' owner said earlier this week that he hopes the Lakers "suck forever." Kobe Bryant and company were 1-9 at the time. They are 2-0, with road wins over solid opponents Atlanta and Houston, since Cuban's comment. Oops! Dallas is a -9.5 home favorite over the Lakers on Friday, per Bovada Sportsbook.

D. Djokovic, Novak . Djokovic went undefeated at tennis' year-end championship for a third straight season. This time around, he did not even have to play a final match. The world No. 1 got a walkover from an injured Roger Federer, who sustained a back injury during his semifinal win over fellow Swiss Stan Wawrinka last weekend in London. Sportsbook.ag has Djokovic as a +125 favorite to win the Australian Open, which begins in January.

E. Engaged . Charles Manson is getting married. There are just a few issues: one, he's a mass murderer; two, he's serving a life term in prison; three, he's 80 years old. The fiancée, Afton Elaine Burton, is an otherwise-anonymous free person. Age: 26. Welp.

F. Falcons . The Atlanta Falcons are 4-6. And if the NFL season ended today, they would be hosting a playoff game. That's right; not only would they be in the playoffs at two games under .500, but they would also be hosting. You can't make this stuff up, folks. You also can't make up how terrible the NFC South is. Atlanta is a -3 home favorite over Cleveland, as indicated by Carbon Sports.

G. Golf Digest . Long-time writer Dan Jenkins created a parody interview with Tiger Woods for the most recent issue of Golf Digest. Some of it was actually quite funny-unless you're Tiger Woods. Tiger responded by laying into Jenkins with a written piece of his own. Either Tiger continues to lack a sense of humor with these types of things, or he is just trying to drive traffic to Derek Jeter's website.

H. Heyward, Jason . Stop me if you've heard this one before: local star gets drafted by hometown Braves, starts his MLB career on fire, fails to reach other-worldly expectations, then gets traded. That was the case with Jeff Francoeur and so it is now with Heyward. Atlanta can only hope Heyward, like Francoeur, does not become the next Hank Aaron at his next destination. The right fielder was shipped off to St. Louis on Monday in exchange for starting pitcher Shelby Miller. The Cardinals are +1800 at SuperBook to win the 2015 World Series.

I. Ireland . Ireland beat the U.S. men's national team 4-1 in an international friendly on Tuesday in Dublin. Well, the Americans have three and a half years to get over it before the 2018 World Cup. If that isn't enough time, they should be recovered when the 2022 installment in Qatar rolls around.

J. Jonas Gray . Normally when NFL statistics are altered the next day, only fantasy owners get excited. This time, the player may have been more enthused about the change. Gray, not exactly a staple of fantasy rosters, had his hard-to-believe rushing total switched from 199 yards to 201 because a run for minus-two yards had been nullified by a Colts' penalty. The rookie running back also scored four touchdowns during his 37-carry performance in New England's 42-20 win. The Pats are +400 favorites at BetOnline Sportsbook to win the Super Bowl.

K. Kevin Harvick . The new Sprint Cup format won't get it right every time because the Chase is such a crapshoot, but it got it right in its debut. Not only did it deliver plenty of drama in last week's finale at Homestead, but it also produced a worthy champion in Harvick. The No. 4 car was not just the best when it mattered most; it was arguably the best from start to finish in 2014. Harvick won a thrilling final race to clinch his first championship.

L. Leafs . Not one, not two, not three, not four, not five…. The Toronto Maple Leafs gave up nine goals in a loss to Nashville on Tuesday. It was a franchise record for the Predators and the first time Toronto has allowed so many lamp-lighters since 1991. The amazing thing is the Leafs aren't even that bad. They are 10-8-2 after beating Tampa Bay on Thursday night.

M. Melvin Gordon . Gordon racked up an FBS single-game record 408 yards to go along with four touchdowns in Wisconsin's victory over Nebraska last Saturday. The junior can break Barry Sanders' single-season rushing record by averaging 180 yards per outing in four more games. For mere mortals, that would be tough. For Gordon, it almost looks like a gimme. The Badgers are -10 road favorites at Iowa, per 5Dimes Sportsbook.

N. Nichols, Mike . The legendary film director, who won an Oscar for "The Graduate" in 1968, died on Wednesday at 83 years old. R.I.P.

O. Out . Virginia Tech running back Marshawn Williams is out for the season with a torn ACL, suffered last weekend at Duke. Just a freshman, Williams had been coming on of late with five consecutive games featuring either 100 yards or a touchdown. The Hokies aren't going anywhere this season, but they affected the ACC picture by starting Duke's sudden downward spiral. After losing to the Hokies 17-16, the Blue Devils got blown out at home by UNC on Thursday to get eliminated from Coastal Division contention. Georgia Tech will face Florida State in the ACC Championship.

P. Playoff . Speaking of the Seminoles, they are not No. 1 despite their goose-egg in the loss column. In fact, now they aren't even No. 2. Another close win, this time at Miami, resulted in a No. 3 ranking in the College Football Playoff poll for FSU. Alabama tops the list, followed by fellow one-loss squad Oregon. Alabama is a +260 favorite at Bovada Sportsbook to win the National Championship.

Q. Quenneville, Joel . The Blackhawks lost a game 4-1 to Detroit last week as a result of sloppy play that their coach didn't like. In fact, Quenneville didn't like it at all. "There are mistakes and there are cardinal sins," he said when asked about a particularly bad pass by Kris Versteeg that led to a Red Wings' goal. Chicago is +755 at BetCRIS to win the Stanley Cup.

R. Robert Griffin III . He's just focused on San Francisco. That's all he would say, so that's all we're going to say. BookMaker has Washington as a +9 road underdog against the 49ers.

S. Stanton, Giancarlo . It's hard to say what Stanton is more pumped about: his 13-year, $325 million contract or the girls with whom he partied in South Beach after he signed it. Said party also included a $20,000 bottle of champagne.

T. Todd Gurley . Sometimes it's just better to stay suspended. Gurley had been forced to the sideline after accepting money for autographs and would have been on the fast track to an early pick in the 2015 NFL Draft. But he returned after four games were up, even though Georgia is out of realistic National Championship contention, and promptly tore an ACL. Brutal.

U. UK . Kentucky 72, Kansas 40. Be afraid. Be very afraid. The Wildcats are +250 favorites at WagerWeb to win the National Championship.

V. Greivis Vasquez . Vasquez never seemed like the greatest of dudes at Maryland, but he was a good Samaritan last Saturday when he gave a handicapped man courtside tickets and VIP passes to the Raptors' game against Utah. The man, who has a condition similar to dwarfism, had posted a now-viral video of himself getting picked on while cruising around Toronto on his scooter.

W. Will Muschamp . Muschamp resigned from Florida after his team's latest on a long list of losses, this one coming last weekend against South Carolina. Alabama head coach Nick Saban said Muschamp did a good job with the Gators…. Yeah, because they never came close to threatening the Tide's SEC dominance.

X. Denotes eliminated from playoff contention . No matter that the Raiders became the fastest team in a decade to be mathematically eliminated by starting 0-10. They were never going to make the playoffs, anyway. What they had a better chance of doing was going 0-16. But that chance is now over as Oakland stunned Kansas City 24-20 on Thursday night. The Chiefs are +375 at GT Bets to win the AFC West.

Y. Young, Nick . You know it's bad when the Lakers have to rely on someone named "Swaggy P" to rescue them from complete embarrassment. Of course, at this point they won't care what anyone's name is as long as they are winning basketball games. Young returned from injury to score 17 points at Atlanta and 16 at Houston as L.A. pulled off two straight upsets on Tuesday and Wednesday following its 1-9 start.

Z. Zulu parade . That's one of the big Mardi Gras celebrations, and the infamous Saints fan who stole the football from the woman in the Bengals jersey apparently was once the "king" of it (whatever that means). But Tony Williams, 70, was only the king of cruel at last Sunday's New Orleans vs. Cincinnati game. He played it off by saying the football was for his grandson, which rivals "my dog ate my homework" in the excuse department. The Saints are -190 at Carbon Sports to win the NFC South.
Read more articles by Ricky Dimon