This Week in Sports Betting, A-Z
by Ricky Dimon - 8/22/2014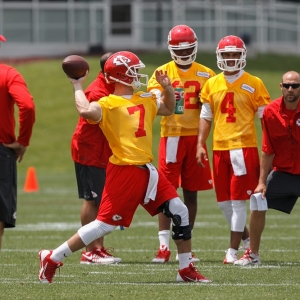 A. Aaron Murray . Being a backup rookie quarterback in the NFL is often a lonely job, but Murray will have some company in Kansas City. The former UGA star's girlfriend, Kacie McDonnell, is leaving her Philadelphia job as a reporter and heading to K.C. to work for a new station. As a quick Google search will confirm, that is some seriously good news for Murray. 5Dimes Sportsbook has Kansas City as a -3 home favorite over Minnesota on Saturday.

B. Baker, Sam . The Atlanta Falcons were hit hard by the injury bug in 2013, and they are at it again this season. Linebacker Sean Weatherspoon was lost for the year due to a torn Achilles' this summer. Baker has now been a casualty each of the past two seasons. The offensive tackle, who missed 11 games in 2013 with a torn patellar tendon, tore the other patellar tendon last week and is done for the year. Atlanta is -3.5 home favorite over Tennessee on Saturday, per SportsBettingOnline.ag.

C. Commissioner . We now know who Bud Selig's successor will be as commissioner of Major League Baseball, and his name is Rob Manfred. The 55-year-old Manfred has been the league's chief operating officer since last September.

D. Davis, Mo'ne . The Sports Illustrated jinx struck again, as Davis' Philadelphia-based little-league team promptly lost two straight games after it was announced Davis was on the cover. That eliminated her team from the Little League World Series, but not before the 13-year-old girl became a national sensation.

E. English Premier League . The 2014-15 season got underway last weekend. Manchester City made a late run to title this past season, and it is off to a strong start in its current campaign. City took care of Newcastle United 2-0 on Sunday. Chelsea is a +150 favorite at SuperBook to win the Premier League title; Man City is a +225 second choice.

F. Fighting Irish . First it was quarterback Everett Golson in 2013, now it is less notable but still significant players in DaVaris Daniels, KeiVarae Russell, Ishaq Williams, and Kendall Moore. All four are currently being withheld from practice amidst allegations of-in the words of what happened with Golson-"academic improprieties."

G. Graham, Jimmy . You can't break rules in the Roger Goodell-led NFL; not even your own rules, so to speak. Graham broke the "Jimmy Graham Rule" twice last Friday, dunking the ball over the goalpost following each of his two touchdowns. Flags ensued, as did the ire of Saints' head coach Sean Payton. "I gotta stop doing it," Graham admitted. New Orleans is +1200 at Bovada Sportsbook to win the Super Bowl.

H. Brian Hoyer . Johnny Football will be Johnny Sideline during the regular season, at least in the beginning. Both Hoyer and Manziel were an insult to the quarterback position in the Browns' loss to Washington earlier this week, so it's Hoyer getting the nod…for now. Sports Interaction has Cleveland as a -2.5 home favorite over St. Louis on Saturday.

I. Ice bucket challenge . Has anyone not done it? Google pretty much any famous athletes and the phrase "ALS ice bucket challenge" and you will surely find a video them having ice water dumped on their heads. The challenge craze is sweeping the nation via social media, raising both awareness and funds to fight Lou Gehrig's disease.

J. Josh Hamilton . The Angels' left fielder removed himself from the lineup for last Sunday's game against Texas, needing a break in the midst of an extended slump. Hamilton, who was MVP of the American League in 2010, is hitting a modest .267 with just eight home runs and 39 RBIs this season.

K. Kansas City Royals . You can't make this stuff up, folks. It's August 22 and the Royals are in first place-even in a division that is also home to one of the World Series favorites heading into the season (Detroit). Kansas City has won 14 of its last 17 contests and at 70-56 overall has a 1.5-game lead over Detroit in the AL Central. The Royals (Ventura) are -125 road favorites at the Rangers (Lewis) on Friday, according to BetCRIS.

L. Lester, Jon . It's no fault of Lester's that the stumbling A's have fallen two games behind Los Angeles in the AL West. Since being acquired from Boston at the trade deadline, Lester has made four quality starts in four outings and is 3-1 for Oakland. Among his performances so far is a complete-game, three-hit shutout of Minnesota on Aug. 7. GT Bets has the Athletics at +220 to win the AL Pennant.

M. Manchester United . While its Manchester rival opened the EPL season on the right foot, Man United lost its first match under new manager Louis Van Gaal. The Red Devils' struggles from last season seem to have carried over into the 2014-15 campaign after they lost 2-1 at home to underdog Swansea City last Saturday. United is +900 to win the Premier League title at Bovada Sportsbook.

N. Nadal, Rafael . There will be no repeat U.S. Open champion on the men's side. The wrist injury that sidelined Nadal from Toronto and Cincinnati earlier this month will keep him out of the U.S. Open, which begins next Monday. Nadal is a 14-time Grand Slam champion and a two-time winner of the U.S. Open (2010 and 2013).

O. Out-of-court settlement . Remember Steve Moore and Todd Bertuzzi? The two hockey players will forever be linked after Bertuzzi's vicious, career-ending hit on Moore during a March 8, 2004 game between Vancouver and Colorado. Moore was suing Bertuzzi and the Canucks for $38 million, and Moore's lawyers were seeking an increase in damages to $68 million. The two sides reached a deal on Wednesday before a trial set for Sept. 8 became necessary. Bovada Sportsbook has the Blackhawks as +650 favorites to win the 2015 Stanley Cup.

P. Pot . Pittsburgh Steelers' running backs Le'Veon Bell and LeGarrette Blount were charged with marijuana possession following a traffic stop on Wednesday. Nobody can be too surprised, however, to learn that both players were right back in the lineup for Thursday's preseason game at Philadelphia. Bell led the team with nine carries, and Blount led the team with 32 rushing yards. WagerWeb has the Steelers as -6 home favorites over Cleveland in Week 1.

Q. Quiet down . That's what Buffalo Bills' head coach Doug Marrone wants his team to do. Following a major fight at the end of Wednesday practice and additional scuffles on Thursday morning, Marrone lambasted his players verbally and also made them run wind sprints. Defensive end Jerry Hughes reportedly took the brunt of Marrone's heat. The Bills are +1400 at Bovada Sportsbook to have the NFL's worst record in 2014.

R. Robin Williams . The famed and beloved actor-comedian took his own life last Monday after a severe battle with depression. He was 63 years old. R.I.P.

S. Shawn Marion . The Matrix is reloading. Marion, 36, has agreed to an NBA minimum contract with LeBron James' Cleveland Cavaliers, and it is expected to become official later this month. He averaged 10.4 points and 6.5 rebounds per game last season in Dallas.

T. Tiger Woods . Woods announced last week that he is shutting it down for the rest of the golf season. In doing so, he told Ryder Cup captain Tom Watson to remove him from consideration for the team. Given Tiger's current state, that's like Georgia State announcing that it will not make itself eligible for the College Football Playoff. Europe is a -185 favorite at Bovada Sportsbook to win the Ryder Cup.

U. U.S. national team . Off-the-court news has been dominating in advance of the FIBA World Cup, what with Paul George's broken leg and Kevin Durant's sudden, precautionary departure. Now questions are surrounding oft-injured guard Derrick Rose, who had not practiced since last Saturday. Rose, though, returned to practice on Thursday and is expected to play in Friday's exhibition against Puerto Rico at Madison Square Garden. Team USA is a -161 favorite at BookMaker to win the World Cup.

V. Villegas, Camilo . Who knows where the Spiderman has been in recent years, but he resurfaced last week to win the Wyndham Championship. It was Villegas' first victory on the PGA Tour since 2010.

W. Williams, Serena . Serena powered her way to the Cincinnati title last week, so she heads into New York as an obvious favorite. A word of caution, which likely comes as a shock to anyone who follows tennis with even remote interest: Serena has not reached the quarterfinals of any major in 2014. She is a +150 favorite at Carbon Sports to win the U.S. Open.

X. Xabi Alonso . Word on the street this week is that Manchester United is going to make a strong run at Xabi before the transfer deadline arrives. The 32-year-old Spanish midfielder currently plays for Real Madrid. Man U, though, can spend money like no other and needs all the help it can get right now.

Y. Yang, Gunn . As unlikely as Villegas' triumph was, he was not the most surprising winner on the links last weekend. Yang, ranked 776th in the world, became the lowest-ranked player to win the U.S. Amateur title at Atlanta Athletic Club. He beat five top-100 players along the way. Say hello to Augusta National next April, son! Sportsbook.ag has Rory McIlory as a +600 favorite to win the 2015 Masters.

Z. Zac Efron . Well, that didn't last long. Efron and Jennifer Rodriguez dated for all of two months before calling it quits earlier this week. It's safe to say that no other single folks are disappointed about this development.
Read more articles by Ricky Dimon