This Week in Sports Betting, A-Z
by Ricky Dimon - 9/19/2014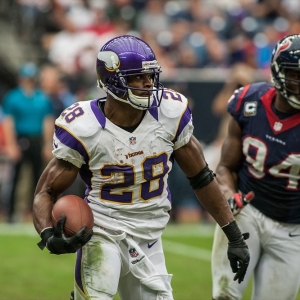 A. Adrian Peterson . According to the Minnesota Vikings, they finally "got it right" by suspending Peterson for this week's game at New Orleans. Want to know who isn't getting it right these days? Pretty much any NFL player or league official. The Vikings are +10.5 underdogs on Sunday at 5Dimes Sportsbook.

B. Billy Horschel . The FedEx Cup does nothing if not keep things interesting until the very end. But should someone as low as 69th in the standings with four events left in a season be able to become the year-end champion? Regardless, credit to Horschel for delivering the goods when it mattered most. He won the Tour Championship last weekend and also lifted the coveted FedEx Cup. The United States is a +175 underdog at Bodog Sportsbook to win next week's Ryder Cup.

C. Classless . Rutgers' athletic director Julie Hermann apologized on Monday for "classless" fans at last Saturday's home game against Penn State. Some of the Scarlet Knights' faithful brought in banners and wore t-shirts making references to the Jerry Sandusky child sex abuse scandal. The Nittany Lions beat Rutgers 13-10.

D. Darren Sproles . Congratulations on being awesome if you are a fantasy owner with Sproles on your team. You probably got him as a complete steal in the draft, too. Sproles had seven catches for 152 yards and scored a rushing touchdown in Philadelphia's comeback victory at Indianapolis on Monday night. The Eagles are -6.5 home favorites over Washington, according to Carbon Sports.

E. Eliminated and embarrassed . Lolo Jones got the boot from "Dancing with the Stars" on Tuesday. But the real news came via her ensuing tirade on Facebook. Most of it referenced being teased, feeling embarrassed, flashbacks to past Olympic failures, and God.

F. Federer, Roger . Federer and Stan Wawrinka led Switzerland past Italy in last weekend's Davis Cup semifinals. The Swiss will go on the road to France to contest the final in late November. It may not be as prestigious as another Grand Slam title, but a Davis Cup triumph is the last notable accomplishment that is missing from Federer's resume. Bovada Sportsbook has Switzerland as a -225 favorite.

G. Greg Hardy . Hardy has been deactivated for Week 3, joining an ever-growing list that also includes Peterson and Cardinals' running back Jonathan Dwyer. The Panthers' defensive end, who was convicted of domestic violence this summer, will miss Sunday night's showdown against Pittsburgh. By the way, where is Roger Goodell? The guy has basically gone into hibernation for the winter and it's only mid-September.

H. Hundley, Brett . Hundley sustained an injury to his non-throwing left elbow in UCLA's win over Texas last week. The junior quarterback's status is still uncertain, but the good news is that the Bruins do not play this weekend. They are off until next Thursday night at Arizona State.

I. Irving, Kyrie . LeBron James thinks Irving can be the best point guard in the NBA. And if LeBron thinks it, it must be fact; right? Irving did nothing to suggest otherwise during the FIBA World Cup, as he earned MVP honors in Team USA's undefeated romp to the title. Cleveland is a +110 favorite at BetOnline Sportsbook to win the Eastern Conference.

J. John Abraham . Abraham left the Cardinals last week and considered retiring because of recurring concussions. The veteran defensive end has since decided to return, but he failed a concussion test on Tuesday. He is expected back on the field whenever he passes. Sports Interaction has Arizona as a +3 home underdog against San Francisco.

K. Keselowski, Brad . Already No. 1 in the Chase for the Sprint Cup, the 2012 champion triumphed at Chicagoland last weekend. Keselowski has thus punched his ticket into the next round of the reformatted Chase. He is a +350 favorite at WagerWeb to win this week's Sylvania 300.

L. Leave of absence . You have to think the Atlanta Hawks and general manager Danny Ferry are not disappointed about the current NFL upheaval. Otherwise they would have been the talk of the sports world. Still, Ferry is taking an indefinite leave of absence in the wake of controversial remarks regarding Luol Deng. Atlanta is +12500 at BetCRIS to win the NBA Championship.

M. Mayweather, Floyd . The champ beat some chump last Saturday night. Okay, Marcos Maidana is actually decent. But can we please see Mayweather vs. Manny Pacquiao? And let's please see it soon before they are both like 50 years old.

N. New York . New York is becoming a dynasty in the Miss America pageant. The state took home Miss America honors for a third straight year on Sunday when Miss New York, Kira Kazantsev, was crowned. Let's be honest; that's probably the last thing New York will win this year!

O. Olsen, Kevin . The Miami Hurricanes' backup quarterback, who already had a checkered history during his brief time at the school, was charged with driving under the influence on Monday. Olsen and the 'Canes promptly parted ways but not before a rather comical mug shot. Miami is a +7.5 underdog at Nebraska, as indicated by Sportsbook.ag.

P. Papelbon, Jonathan . Don't you hate it when you have to adjust yourself walking off the field? That's what Papelbon had to do-according to Papelbon, himself-and it earned him a seven-game suspension. It's safe to say than an unimpressed Philadelphia crowd knew the reliever was doing a lot more than adjusting himself while getting the business from fans after giving up four runs in one inning of work in a loss to Miami on Sunday.

Q. Questionable . That would be one way to classify Jameis Winston's decision-making when he got on top of a table in the student union and shouted obscene remarks. What is not questionable, however, is Florida State's status as an overwhelming favorite this Saturday against Clemson despite Winston's first-half suspension. The Seminoles are -14.5 home favorites at GT Bets after opening as more than 17-point favorites.

R. Rihanna . As a result of the domestic violence scandal involving Ravens' running back Ray Rice, CBS scrapped what was supposed to be an intro featuring Rihanna and Jay-Z for last Thursday night's game between Pittsburgh and Baltimore. Rihanna then basically told CBS to shove it, and CBS obliged. The network is "going in a different direction" for the opening of its remaining Thursday night broadcasts.

S. Sex tape . Speaking of scandals, some dude is plotting to release a sex tape involving him and Iggy Azalea. Interestingly, Azalea is suing her ex-boyfriend…but not for that reason. She filed a federal lawsuit accusing him of downloading the entire contents of her computer in 2009, copying data that included unreleased master recordings. It sounds like there could be downloads on plenty of other computers around the world in the near future, too….

T. Tampa Bay Rays . Yankees' manager Joe Girardi is "pissed," and not just because his team is falling out of playoff contention. According to Girardi, Rays' pitchers do not know how to pitch inside. He went nuts on Tuesday after Derek Jeter was plunked on the left hand by Steve Geltz. In a four-game span between the teams, Tampa Bay pitchers hit New York batters five times. The Yankees (Kuroda) are -155 home favorites at Carbon Sports to beat Toronto (Buehrle) on Friday.

U. UGA . When you have an opportunity to turn the best player in the nation into an innocent bystander when your team has a first down inside the 10-yard line with a game on the line, you just have to take it. Georgia offensive coordinator Mike Bobo did just that, opting for a pass play instead of handing the ball off to Todd Gurley. The rest-including the 'Dawgs 38-35 loss at South Carolina-is history. Georgia is a -41 home favorite over Troy at BookMaker.

V. Vince Young . Young and his financial advisor are being sued by Triton Financial for allegedly borrowing $700,000 in 2011 and never paying it back. The former Texas star already filed for Chapter 11 bankruptcy earlier this year, and he reportedly owes more than $1 million in various debts. Young may have been bad in the NFL, but the question is: how bad is his financial advisor at advising finances?

W. Witness . Chris Davis is in the midst of a 25-game suspension, but that has not stopped him from doing some good work off the field. On Monday, the Orioles' first baseman was among a group that helped lift an overturned truck that had trapped accident victims. A witness who was also helping on the scene wrote, ""When I turned to look at the first man, I instantly noticed a VERY strong resemblance to Chris Davis." Well, it was Chris Davis as the witness soon found out. Baltimore is +600 at SuperBook to win the World Series.

X. Denotes clinched division . Are we on course for a Beltway Series? Both Baltimore and Washington clinched their respective division titles on Tuesday night. The Orioles prevailed in the AL East for the first time since 1997 and are in the playoffs for just the second time since that year. The Nationals are in the postseason for the second time since moving to Washington prior to the 2005 season. Baltimore (Gausman) is a -172 home favorite over Boston (Webster) on Friday, per Carbon Sports.

Y. Yoenis Cespedes . Cespedes has not exactly been going off in Boston (although he has been decent, with a .259 average, four home runs, and 28 RBIs through 43 games with the Red Sox). But the A's must be missing him a whole lot regardless. They were 66-41 before unloading Cespedes for Jon Lester. They are 17-28 since. They were 2.5 games up on the Angels in the AL West at the time of the trade. They trail by 11.5 games now.

Z. Zlatan Ibrahimovic . The former Ajax striker returned to his old stomping grounds with Paris Saint-German for Wednesday's Champions League showdown between the two clubs. Fans greeted Ibrahimovic with a huge "WELCOME BACK SON OF GOD!!" banner. Ajax and PSG played to a 1-1 draw in the opening match of the group stage. Real Madrid is a +350 favorite at Sportsbook to win the Champions League.
Read more articles by Ricky Dimon