Expert Sports Handicapping Advice: Best NFL and NBA Bets for Sunday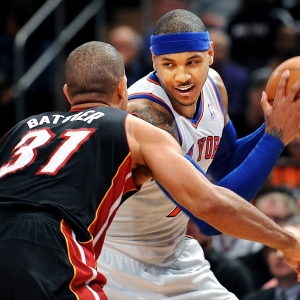 Sunday is many things to many people, but for bettors, the final day of the weekend is an opportunity to enjoy a day filled with sports and a last chance to make a bit of profit or recoup a loss after a long week of gambling. This upcoming weekend will be busy with college football, a Ronda Rousey fight and a Sunday of packed with basketball and NFL football. And since we all love a bit of gambling (I am assume you do, since you are reading this), let's take a look at all the wonderful Sunday action and figure out how to stagger our bets throughout the day in order stay in action until "The Walking Dead" comes on (or the Real House Wives of Atlanta, if your wife makes you watch that).
Free $60 in Member Sports Picks No Obligation Click Here
Early-Morning Games
NBA : New York Knicks over New Orleans Pelicans: New Orleans is struggling through the early part of the year with a 1-6 SU and ATS record, while New York is a respectable 4-4. The line on this game isn't out, but expect the Knicks to be undervalued as a small favorite or even underdog in this one. The smart play is to start out the day with a small bet on New York to get the juices flowing.
NFL : Green Bay Packers (-13) over Detroit Lions: Green Bay is coming off two straight losses, and the team had to live an entire week with massive Aaron Rodgers' criticism. The Packers have a ridiculous home division record under Rodgers and are 2-1 against 7.5-points-or-larger spreads this year. Expect this game to get out of hand. Go with a small bet, just because the points are a lot, unless of course you can find this number at 11.5 (which it still is at a few sites).
NFL Basic strategy teaser : St. Louis Rams paired with Dallas Cowboys: Take the Rams and Cowboys and tease both lines by six points with a good old-fashionedbasic strategy teaser. St. Louis is currently a seven-point favorite against Chicago, and Dallas is a 1.5-point underdog on the road against Tampa Bay. Dallas isn't your standard 2-6 team and does have talent on its roster, while St. Louis has one of the best defenses in the league and Chicago has one of the most inept offenses. But do not get frisky and try to add another game into the mix; basic strategy teasers are two-team, six-point teasers only.
Afternoon Games
NFL : Minnesota Vikings (+3) over Oakland Raiders: The Raiders are an actual favorite? This spread is pretty shocking for more than a few reasons. Oakland is currently 5-3 ATS but 0-1 as a favorite, while Minnesota is sitting on the second-best ATS record in the entire NFL at 7-1, with two of those covers coming as an underdog. The Raiders are a nice story, but the Vikings plus the points is the smart way to bet.
NBA : Utah Jazz over Atlanta Hawks: Atlanta is on course for another fantastic year after starting out the season 7-2. Utah, however, also started off the season on a great note as well, but just on the betting side. The team is 5-2 ATS and might be one of those under-the-radar bets that smart gamblers love to take advantage of. The line isn't out on this game just yet, but if Utah is a five-point-or-more underdog, there is tons of value on the Jazz. Anything under that and the Hawks will turn into the smart play.
Underdog play of the day: New York Giants (+8.5) vs New England Patriots: Unless New England is on track for another historically-great season, the team is due for a loss sometime soon, and what better person to hand it over than Patriot arch nemesis Eli Manning and the New York Giants? Both squads have similar ATS records, but Manning and company are 3-1-1 ATS on the road. This feels like a cover and chance at an upset for the Giants.
Evening Games
NFL : Arizona Cardinals (+3) over Seattle Seahawks: Seattle needs to win this game if the team wants to stay in the NFC West division race, but let's be honest, last year's Super Bowl runner up hasn't shown that they can actually do it. Carson Palmer is in the middle of an MVP-like year, Arizona is 5-3 ATS, while Seattle is 4-4 SU and 2-5-1 ATS. And let's not forgot Seattle embarrassed Arizona twice last year, and revenge might be on coach Bruce Arians' mind. This feels like an excellent spot to get a very good team plus points.
Read more articles by George Monroy