2015 Final Four Predictions from Expert College Basketball Handicappers
by Trevor Whenham - 3/30/2015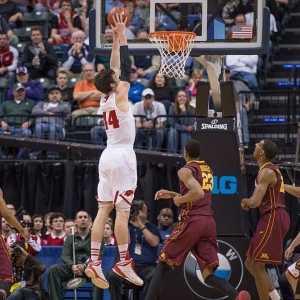 What a freaking Final Four this is! The Final Four is always great, but it doesn't always set up as strong and impressive as this one. The four coaches have a combined 27 Final Four appearances and six national titles between them. The schools are all proud, distinguished and well-run programs. Each team has stars, and all are, in different ways, very fun to watch. It's all so good that I can barely stand waiting for it to tip off. In anticipation of the epic weekend ahead, here are six Final Four predictions I feel pretty good about:
Dekker will come back to earth: Sam Dekker has been all but unstoppable in his last two games - with his buddy Aaron Rodgers cheering him on in the stands. While it has been impressive to watch, and it has certainly helped his draft stock, I don't see it happening again. Given a week to prepare for him, John Calipari and his Wildcats are going to have a way to contain Dekker and minimize his impact. I look back to last year to develop my confidence on this front. On the second week of the tournament, Frank Kaminsky was an absolute beast. Kentucky had a full week to get ready for him before their Final Four showdown last year, though, and in that game Kaminsky wasn't nearly as effective as before. Now Kentucky has more size and more skill and should be able to do the same thing again. Kaminsky is playing very well too right now, but Dekker has been the spark plug, and he's the player that Kentucky can better disrupt.
The Big Ten won't win the tournament: I'm a Big Ten guy, so it excites me no end that the conference makes up half the Final Four in a year when all the criticism was that the conference was having an off year. Both of the Big Ten teams here have impressed, and neither is going to be easy to beat. The problem, though, is that as good as they have been they are still the third- and fourth-best teams in this tournament. The margin isn't wide - especially for Wisconsin - but it is there. It's quite likely that to win either team would have to beat Duke and Kentucky within three days. That's too much to ask - even for the great Big Ten.
Kentucky's shooting will be less erratic: It was a strange shooting game for Kentucky against Notre Dame - and that's why the outcome was as tight as it was. For the first 28 minutes or so they struggled compared to what we expect. For the last 12 minutes, though, they literally did not miss a shot. We aren't going to see either extreme against Wisconsin. They are going to come out better than they did last game, but they can't rely on the perfection later on, either. This game won't be nearly as concerning or as remarkable.
Michigan State won't sleep through the first half again: In the first half against Louisville the Spartans looked, well, absent. They got into a big hole. They were lucky to bounce back strong, and they were aided by a truly horrible display of shooting by the Cardinals in the second half and overtime - they shot just 18 percent. They can't count on a second-half collapse by a Duke team that is much better than Louisville. Gonzaga got behind in the first half to Duke, burnt too much energy fighting back, and ultimately ran out of gas and were left in the dust by the Blue Devils. Tom Izzo knows he needs to have a much better start this time around or this miracle run will come to an end. He'll have his team ready. Whether that turns out to be enough remains to be seen. On that front, one guy I expect to see good things from early on is Branden Dawson. He's wildly talented, but giving consistent effort is far from his favorite thing to do. He really frustrated Izzo in the first half against Louisville but then was excellent in the second half. He'll be much better from the start here.
Winslow and Okafor won't remember how young they are: Justise Winslow and Jahlil Okafor have been terrifyingly good this tournament. They have looked nothing like the freshmen that they are. That's not going to change here, either. The moment hasn't looked too big for these likely Top 5 picks all year, and that won't change here. I'm not convinced Duke will win the tournament, but however far they go it will be these two that lead the way. Of course, Kentucky and Michigan State have key players who are freshmen, too. The difference is that at Duke the freshmen carry far more of the weight than at the other schools.
Kentucky will win: I believe the hype. I'm not worried about what happened against Notre Dame - they face different teams than the Irish going forward, and they will have learned a lot from the experience of that scare. They are deep, experienced, talented and freakish. It's an all-star collection of teams in the Final Four, and I respect the remaining teams immensely, but the Wildcats will rise above - and make some real history in the process. I hate, hate, hate betting on big favorites, but sometimes you have to suck it up and go for it. Go Big Blue!
Doc's Sports has a great offer for new clients. You can get $60 worth of picks from any Advisory Board handicapper for any sport he handicaps. All with no obligation and no credit card needed. Claim your free picks today .
Read more articles by Trevor Whenham
---
Most Recent March Madness Betting