March Madness Sweet 16 Seed Statistics
by Trevor Whenham - 3/23/2015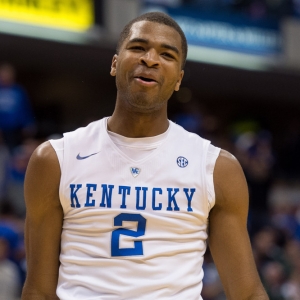 One weekend down in the NCAA tournament, two to go. After four glorious days of action - even if it wasn't quite as exciting this year as some years have been - we now have to wait through three rest days before we get to another four days of games. It will be worth the wait. To pass the time until the Sweet 16 fires up, here's a look at some March Madness Sweet 16 seed statistics. Maybe the secrets to handicapping the upcoming games lie within these facts and stats. Or maybe you'll just be able to impress your friends with your knowledge. Either way, you win:
The No. 1s
Villanova has already spoiled a shot at history here. Just once have we had all four No. 1 seeds make the Final Four, and thanks to the early departure of the Wildcats we aren't going to have a second for at least another year. All we can do, then, is look for our other chance at history - three different times we haven't seen a single No. 1 in the Final Four. With Kentucky and Duke looking as good as they have so far, though, that doesn't seem likely, either (though I don't think Duke will make it that far, but that's another story).
The non-No. 1 seeds still alive in the South and West regions still have a chance to do something that only Arizona has done before when they pulled it off in 1997 - beating three No. 1 teams en route to an NCAA championship. Doing so this year would require beating Duke, Wisconsin and Kentucky, so any team that does it would certainly deserve their title. With both Arizona and Gonzaga as very strong No. 2 seeds in those groups, though, it isn't quite as impossible as it seems. The good news for all of the teams in those two regions is that they avoid Kentucky until the championship game - giving the Wildcats more chances to trip up on their way there.
If Kentucky does make the championship game, and they face either Duke or Wisconsin, it will be just the seventh time since the field expanded to 64 teams in 1985 that two No. 1 seeds have survived to the final game. It hasn't happened since 2008, so plucky underdogs are on a good run lately.
Kentucky has a chance to be the first team to win the tournament as the No. 1 overall team since, well, Kentucky. The Wildcats did it in 2012 with Anthony Davis. If they pull it off they will be the seventh team since 1985 to go wire-to-wire.
The other guys
Back in 2002 Missouri stunned the world when, as a No. 12 seed, they beat UCLA in the Sweet 16. No team has ever won as a lower seed, and sadly it's not going to happen this year, either. In a year very light on big upsets, the two No. 14 seeds that won their opener both struggled in their second game. UCLA, as a No. 11 seed, has a chance this year, though, to become just the seventh No. 11 to ever make the Elite Eight. Dayton did it just last year, though, and VCU pulled it off in 2011. UCLA faces a much bigger challenge than the previous two teams, though - those former teams beat No. 10 teams in the Sweet 16, but UCLA faces No 2 Gonzaga.
VCU, George Mason in 2006, and LSU back in 1986 not only made the Elite Eight as No. 11 seeds but went one step further and made the Final Four before their run came to an end.
No. 1 seeds are performing slightly below expectations this year - all thanks to Villanova. Since 1985 there have been 120 No. 1 seeds, and 104 have made it at least to the Sweet 16. That is 3.47 per year, so the three this year is slightly on the low side. Thanks to losses by Virginia and Kansas, the No. 2 seeds are underperforming, too - historically we have seen 2.57 per year alive past the first weekend.
Over the last 30 years in the Elite Eight we have seen an average of 2.78 No. 1 seeds, 1.84 No. 2 squads, and 1.02 from the three line. All three seed groups have a chance to beat those expectations this year, but one loss from any team of each seed will push them below expectations. Interestingly, we don't have any of the expected 2-3 matchups, so it is possible that the No.1, No.2 and No. 3 seeds could all exceed expectations.
Want free sports betting picks? Doc's Sports has you covered - get $60 worth of picks free from any of Doc's Sports expert handicappers. Click here for free picks (new clients only).
Read more articles by Trevor Whenham