NCAA Tournament Bracket Help: Dangerous Lower Seeds 2015
by Trevor Whenham - 3/17/2015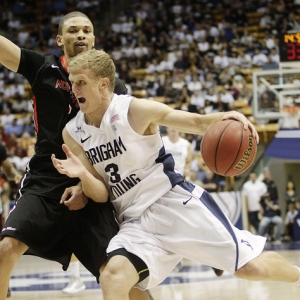 One of the great things about the NCAA Tournament every year are the Cinderella teams that emerge from seemingly nowhere to win a game or two and get some attention on the national stage. Teams that can pull of these upsets can create some serious profits for bettors - and some glory for people who picked them in their brackets. You never want to go too heavy on the upsets, but it is always a good idea to look for a few lower seeds that aren't getting the attention they deserve. Here are five lower seeds that stand out for their potential to do some real damage this year.
Buffalo (No. 12): Bobby Hurley will be coaching the University at Buffalo to their first ever NCAA Tournament appearance. Not a bad guy to have showing you the ropes - Hurley has won the tournament twice when he was at Duke, and he was the outstanding player in the second title run in 1992. He knows his stuff. He is only in his second season as a head coach, but he is obviously very good at his job. He has this team ready and hungry. They have won their division the last two years - the only two years the team has ever done that. He has some nice talent to work with and a first-round opponent in West Virginia that is certainly manageable. The team just doesn't turn over the ball, and in the grossly underrated MAC they have certainly played tough games and been seasoned for success here. They are also red-hot having won eight in a row. This is definitely a bracket buster to keep an eye on.
BYU (No. 11): I hate that this team was chosen to play in Dayton. Actually, I hate everything about the games in Dayton, but that's a rant for another day. Despite having the burden of playing an extra game, I like this team a lot. In fact, I think they have a path to the Sweet 16 awaiting them. Ole Miss in the opener is not a threatening opponent if the Cougars are playing their game. Xavier is vulnerable, and Baylor is overrated as a No. 3, so this team is positioned to do some damage. (Heck, Baylor may not even make it that far because they face a very tough matchup in Georgia State in their opener, but more on that in a second). This is a team that always seems to be in the tournament. They have never made a super deep run, but they are always there. This year they are led by senior Tyler Haws, and he is just a great player. He is going to put his team on his back and lead the way. If they make the Sweet 16 they would hit Arizona, and that will go really poorly, but they at least have a good shot at adding three wins to their overall record.
Georgia State (No. 14): This is a far-more-talented squad than you would expect from a random mid-major you don't know much about. R.J. Hunter, who happens to be the son of coach Ron Hunter, is likely going to head to the NBA. Ryan Harrow started off at Kentucky and even spent time starting there. Kevin Ware was at Louisville, and he will be most remembered for one of the most gruesome leg-breakings in memory. Add it all up and this is a team that is dangerous and ready to play. They could really make a mark against a Baylor team that sure feels like they have been overachieving all year.
Eastern Washington (No. 13): If I were to make a list of things I like about Georgetown, it would be very short. It only makes sense, then, that I would like the opponent of the Hoyas in the opening round. While I would like a lot of teams here, I especially like this one. This is a freewheeling squad, led by Tyler Harvey, who led the whole country in scoring this year as a sophomore. This team is deadly from 3-point range, and they are creative. Just the kind of squad that can give Georgetown struggles. This is a team that beat Indiana back in November, so we know they can stack up against tournament-caliber teams.
Stephen F. Austin (No. 12): I'd be even higher on Eastern Washington if their second game wasn't just brutal. Stephen F. Austin and Utah meet in a 5-12 matchup that should be one of the better games of the first round. The Lumberjacks are just a good team. A very good one. Simple as that. They upset VCU last year in the tournament, and this year they haven't registered a loss since way back on Nov. 24. Thomas Walkup is a very good all-around player, and he leads a deep and talented roster. This is a team with definite second weekend potential - though a Sweet 16 matchup with Duke will be very tough once they make Weekend 2.
Want free sports betting picks? Doc's Sports has you covered - get $60 worth of picks free from any of Doc's Sports expert handicappers. Click here for free picks (new clients only).
Read more articles by Trevor Whenham