2015 NCAA Tournament Seed Statistics and Analysis
by Alan Matthews - 3/13/2015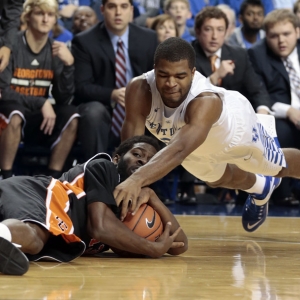 The largely irrelevant college basketball regular season comes to a conclusion this Sunday, and now the sport really matters for three weeks once the field of 68 is announced by the tournament committee on Selection Sunday.
Americans are funny people. They generally root for the underdogs, in any sport, but bet the favorites. At least casual fans/bettors do. Yet we all yearn for that one dominant team to make things more interesting and to either love or hate. Think the Yankees in baseball (until recently), Patriots in the NFL, Alabama in college football and Duke in NCAA basketball.
You have heard a lot of criticisms of college basketball this season in that it has become too slow and defensive, much like the NBA did in the 1990s when physical styles used by teams like the Knicks (to slow Michael Jordan) were en vogue. The NBA fixed that by outlawing hand-checking, among other things, in the early 2000s. Will college do the same? It would certainly hurt a team like Virginia, which plays a slow, plodding style and wants games in the 50s. They always say defense wins championships in sports. I never used to think that in college basketball but am leaning that way this season with Kentucky and Virginia having nearly historic defensive seasons and Arizona not far behind.
Perhaps not coincidentally, those could be three of our No. 1 seeds for the Big Dance come Sunday. UK is a lock to be the No. 1 overall seed and be placed in the Midwest Region. That means Kentucky plays its first two games down the road in Louisville. So go ahead and mark down UK in the Sweet 16 in pen. I think Virginia has done enough, winning the ACC regular-season title, that it deserves a No. 1 no matter what happens the rest of the ACC Tournament. Arizona might have to win the Pac-12 Tournament to get a No. 1 seed as it's battling Villanova for that out West. The fourth No. 1 should come down to Duke or Wisconsin.
The 2014 NCAA Tournament was noteworthy because a No. 7 seed, Connecticut, won it for the first time ever. It was the also the first time since Arizona won it all in 1997 that a seed lower than No. 3 cut down the nets. Incidentally, that Arizona title was the last time a team from the Mountain or Pacific time zones won the championship. The previous lowest seed to win the title was No. 8 Villanova in 1985 with that epic upset of top-ranked Georgetown.
In my mind, there are only six teams that will win it this year, and it's the six I mentioned above in contention for a No. 1 seed. Sorry, Gonzaga. Sorry, North Carolina. Sorry, Kansas. I think the Zags are the only "mid-major" with a chance of getting to the Final Four, but that obviously depends on which region in which it's placed. I feel very sorry for whichever No. 2 is placed with Kentucky. Right now ESPN projects that to be Wisconsin.
A No. 1 seed has won the NCAA Tournament in six of the past eight years. The last time a No. 1 didn't reach the national semifinals was in 2011 when No. 3 UConn beat No. 8 Butler in the final. The Bulldogs weren't the only mid-major in that Final Four as VCU was as well. I'd bet my house that two mid-majors don't make it to Indianapolis this season.
So assuming a No. 1 or No. 2 seed is the champion, let's take a look at those seeds' records all-time against other seeds. For example, No. 1 seeds vs. another No. 1 are 19-19 all-time. A No. 1 is 36-31 since seeding began against No. 2s. That record is 19-13 against No. 3s. Interestingly, it's only 10-5 against a No. 6. Of course a No. 1 has never lost to a No. 16 at it has never faced a No. 15 or 14. A top seed is unbeaten all-time as well against a No. 13, 12 and 10.
A No. 2 seed has that 31-36 record against a No. 1 and is just 2-2 against a fellow No. 2. It shocks me there have been so few meetings. That last time a pair of No. 2s reached the Final Four was in 2012 when No. 2 Kansas beat No. 2 Ohio State in the semifinals, with the Jayhawks losing to No. 1 Kentucky, led by Anthony Davis, 67-59 in the championship game. A No. 2 hasn't won it all since UConn in 2004. Could we see a No. 15 upset a No. 2 in the first round? It has happened seven times, last with Florida Gulf Coast upsetting Georgetown in 2013. There were two such upsets in 2012. The worst winning percentage for a No. 2 seed? That would be 1-4 against a No. 5. A No. 2 has never faced a No. 13, 14 or 16. In addition to Wisconsin, ESPN projects Arizona, Gonzaga and Kansas as No. 2s this year.
What seeds have never reached a Final Four? No. 10, 12, 13, 14, 15 and 16. A No. 5 is the only of the top six never to win it all. All of the top eight seeds have reached the championship game. UConn was the first No. 7 to do so last year. A No. 9 has reached a Final Four only twice: Wichita State two years ago and Penn in 1979, the first year of seeding.
Get free March Madness picks from any Doc's Sports handicapper - there is no obligation for this offer and no credit card required. Just sign up for an account, and you can use the $60 in free picks for any Doc's Sports Advisory Board handicapper and any sport. Click here to get started now.
Read more articles by Alan Matthews