2015 San Felipe Stakes Picks, Odds and Expert Predictions
by Trevor Whenham - 3/5/2015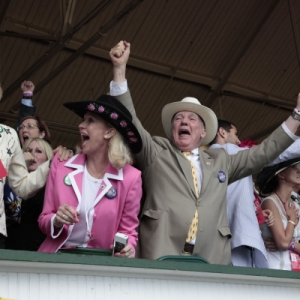 The San Felipe Stakes, which will be run on Saturday afternoon at Santa Anita, is a historic and important race. Started in 1935, and run annually since 1945, the race is best known for being a prep for Affirmed, the last Triple Crown winner, in 1978. It has also produced Classic winners Sunday Silence, Fusaichi Pegasus, Point Given and Pioneerof the Nile in recent years. Last year, California Chrome was an impressive winner of this race en route to his success in the Kentucky Derby and Preakness. So, winning this race not only an important prep for the Santa Anita Derby but also a fertile ground for producing Kentucky Derby contenders.
We won't know for quite a while yet just how good the field is for this year's San Felipe. On paper, though, it is stacked. There is one horse that is potentially the best in the country and several that want to prove that he isn't. Here are the highlights:
Dortmund: This Bob Baffert-trainee is a son of the great Big Brown, winner of the Kentucky Derby and Preakness, so we know that racing fast is in his blood. He's undefeated himself and showed an incredible amount of heart last time out in the Robert B. Lewis when he fought back to win by a nose after being passed in the stretch. He's very talented and impressive and has a chance to become the strong Kentucky Derby favorite with a top performance here. This horse is huge, and he has massive strides, so it is going to take a while for him to understand what he is capable of and how to best use his capabilities. When he fully figures it out, though, he'll be very dangerous. More than he already is, that is. His last work before this race was very impressive - he closed professionally in the last furlong of the seven-furlong work after relaxing nicely up to that point. This is a tough and deep field, but I am a believer in this horse, and I will back him until he proves me wrong.
Lord Nelson: In a somewhat surprising move, one of Dortmund's chief competitors comes from his own barn. Lord Nelson is a second top horse out of the Baffert barn. This horse, a son of Pulpit, is a beautiful horse that is working well. The issue he has at this point is that he has looked more like a one-turn horse than one that can handle two turns like he will face in this race and on the Triple Crown trail. Baffert is throwing this guy in the deep end. With a strong showing he could establish himself as a major Derby contender. If he struggles, though, it could be off the trail and back to one turn for him.
Ocho Ocho Ocho: Here is probably Dortmund's chief rival. This horse is also unbeaten, but he has raced only three times and is making his three year old debut here. Jockey Mike Smith, who chose this mount over Bolo, who he had also been riding, is very high on this horse. He calls him "Shared Belief Jr." He has been training very well leading up to this race - he fired bullets in his last two works - and as a son of Derby winner Street Sense he has the breeding for success. The lack of experience is a concern, though. If he can prove himself here then he will be among the favorites going forward. I'm cautiously pessimistic but ready to be impressed.
Bolo: Like Ocho, Ocho, Ocho, this horse is making his three year old debut after three starts at two. His last race was an impressive and dominating win in a tough stakes race. The issue, though, was that that race was on grass, and he is now being asked to make his dirt debut. We'll know after this race whether he is a true Derby contender or if his future is more likely as a top grass horse.
Prospect Park: This is a horse that is a prime candidate to be overbet badly in this race. In four outings as a two year old he was mostly underwhelming. The son of Tapit must have just needed more time, though, because in an allowance outing at the end of January he was incredibly impressive. He won by more than five lengths after exploding down the stretch like he was shot out of a cannon. It was a very impressive showing, and his breeding is fantastic. However, was it really a sign of his true talent, or just a result of the circumstances of the race? The public will be a big believer in this horse at the right price - and that price is almost certain to be too low for my tastes.
Raphael Esparza will be handicapping not one, not two, but three stakes races this weekend. Saturday's stake races start off at Aqueduct (Gotham Stakes) then over at Tampa Bay Downs is the Tampa Bay Derby and then we close the day of races with San Felipe Stakes at Santa Anita. Esparza is one of the best horse racing handicappers in the nation, and he is expecting a big payday this Saturday and throughout the Road to the Kentucky Derby. Get his weekend picks for both races for just $30 here, or new clients can take advantage of Doc's no-hassle $60 free picks offer and get Esparza's weekend racing picks and still have a $30 credit to use for any picks from any handicapper on the site. Click here for $60 worth of free picks.
Read more articles by Trevor Whenham