Santa Anita Opening Day Expert Picks and Handicapping Predictions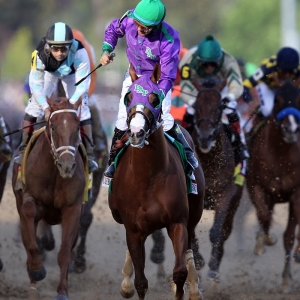 A one-month fall meet opens at Saturday with a big race card on Saturday. Featured are six stakes races, including five that are Grade 1. Needless to say, at the beginning of October the Breeders' Cup implications are massive in these races. We should take a look at them, shouldn't we? We'll skip the Rodeo Drive Stakes, a turf contest for fillies and mares over the classic distance because, frankly, it's not that interesting. The other four are well worth a gander, though:
Frontrunner Stakes: This race for two-year-old colts is a great place to start. After all, some horse named American Pharoah won it last year. In fact, it was in the lead up to this race a year ago that I first became annoyed by the misspelling of his name. Like all five Grade 1's, this is a win-and-you're-in race - the winner is guaranteed a spot in the Breeders' Cup starting gate. The heavy favorite here will be Nyquist, a son of 2010 Breeders' Cup Juvenile winner and two year old champion Uncle Mo. He's unbeaten in three races, including a maiden win here at Santa Anita in June. This is his first time around two turns, but he has looked so effortless at the end of his races that the extra distance isn't a concern.
In this field of eight he will be tough. Mario Gutierrez and Doug O'Neill, the jockey-trainer team behind I'll Have Another a couple of years back, combine on this horse. The price will be lousy, but he's hard not to find a way to bet on. His biggest rival could be Swipe, a son of Birdstone like Mine That Bird and Summer Bird were in the crazy 2009 Triple Crown season. He has finished second to Nyquist the last two times out. The trainer is Keith Desormeaux, with his brother Kent riding. That's the same duo that won the Juvenile last year with Texas Red. Blameitonthelaw, a son of 2010 Breeders' Cup Classic winner Blame, Was third behind Nyquist and Swipe last time out and could improve in just his third career start. A final horse to consider is Mt Veeder, son of 2004 Classic winner Ghostzapper. He is unbeaten in two races but is taking a big step up in class here. Trainer Bob Baffert owns this race, though - his win with American Pharoah last year was his seventh in the race since 1997.
Zenyatta Stakes: Nine horses line up for this one, but all eyes - and money - will be on just one. The brilliant Beholder dazzled last time out and is using this race as a tune up for a showdown with American Pharoah in the Classic. It would be her third Breeders' Cup win if she pulled off a win there. She is ridiculously good and made the boys look ridiculous last time out in the Pacific Classic. Her explosion around the final turn was unlike anything I've seen before. If she doesn't win this race incredibly easy then something is seriously wrong - not just with her but with the universe.
Chandelier Stakes: This is the filly equivalent of the Frontrunner. Previously known as the Oak Leaf, this race has produced some great champions - none better than 1994 winner Serena's Song. Nine horses are looking to take the win, with the likely favorite being Songbird. Trained by Jerry Hollendorfer, who has had huge success with Shared Belief in recent years, and ridden expertly by Mike Smith, she is unbeaten in two races. She crushed the field in the Del Mar Debutante last time out and now faces the three horses that finished behind her in that race again here. Of those three, it is Debutante runner up Pretty N Cool that stands out. Trained by Baffert and ridden by Martin Garcia, she won twice before the second-place finish. What stands out, though, is her bizarre last work - Baffert chose to work her over seven furlongs instead of the standard four or five. I'm a Baffert guy, so when he does something strange I expect he has a reason for it. I'll be using these two horses in the exacta.
Awesome Again Stakes: This race, known until 2012 as the Goodwood Handicap, has produced significant winners - Shared Belief, Mucho Macho Man and Game On Dude (twice) in the last four years alone, and greats like Silver Charm and Ferdinand in earlier years. There is more than a little hint of desperation surrounding this year's edition. Several horses need the win to get into the Classic. None looms larger than Bayern, the controversial winner of last year's Classic. He has been uniformly lousy in his four races this year. His last work - another odd Baffert one, this time at a mile - was solid, though, and he could be the most ready he has been all year. Hard to trust but harder to ignore - horses like this give me a headache. Another Baffert horse, Hoppertunity, has shown flashes of brilliance since finishing second to California Chrome in last year's Santa Anita Derby, but he has not been able to put it together consistently at the highest levels. He has been fourth in his last two races but has fired bullets in his last two training efforts and looks very good right now. He'll be my pick, but I sure won't be betting the house on this race. Hard Aces was the surprise winner of the Gold Cup at Santa Anita in June, but he looked flat last time out in the Pacific Classic. He needs to step up significantly, and I'm not betting he will. Imperative, a son of the great Bernardini, has looked lousy in five outings this year after a lousy ninth-place finish in the Breeders' Cup Classic. He'd need a miracle to get back into that race.
Read more articles by Trevor Whenham