Sweet 16 Bracket Picks for the NCAA Tournament 2015
by Trevor Whenham - 3/23/2015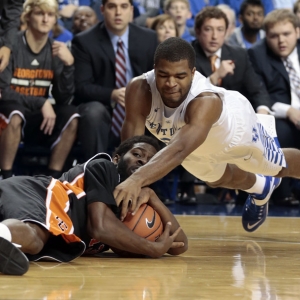 For the most part my bracket is in good shape after the opening weekend of the tournament, Better than it often is, anyway. The reason is pretty simple - I tend to be pretty conservative when I pick brackets despite my love of upsets, and this was a tournament that rewarded conservatism this year. Upsets were scarce, and a lot of teams that did get upset were scary anyway - did anyone really believe Kansas was for real this year? Sure, I trusted Villanova a little more than I should have, but the Final Four is intact, and that's all that matters right now. Still, why settle for pretty good when we make the rules and we can just start over again? With a clean slate, here are my new and improved Sweet 16 bracket picks for the NCAA tournament:
Midwest
Kentucky vs. West Virginia: Easiest pick on the board. I give West Virginia credit because their press, while obnoxious as heck, has worked better to date than I expected it to. In my mind they weren't better than either of the teams they beat, but they won by an average of eight points. The run ends here, though. Kentucky is just plain ridiculous, and they looked very good through two games. What I most liked was the win over Cincinnati. The Bearcats did a fine job of trying to disrupt the Wildcats. Kentucky just adjusted and adapted, though, and soon enough it was hopeless for the underdogs. Kentucky cruises here.
Notre Dame vs. Wichita State: I felt horrible last game as I cheered hard against Notre Dame only to learn afterwards that Mike Brey had lost his mother that morning. I don't feel bad enough to back them here, though. Wichita State massacred Kansas, and Kansas is better in several ways than Notre Dame. The Shockers are experienced, deep, and hungry. A shocker win will not be shocking - not anymore.
West
Wisconsin vs. North Carolina: Roy Williams may be doing his best coaching this year in the wake of his team's shortcomings and all the distractions and controversy this season has brought. Wisconsin is just plain better, though, and Williams can't overcome that. Wisconsin keeps on rolling.
Arizona vs. Xavier: I like the Musketeers. A lot. Five Sweet 16 appearances in eight years is just incredible for any team - never mind one outside of the true power structure of the sport. It's just not going to happen here, though. Arizona is perhaps the second deepest team in the tournament. Ohio State wouldn't let them move inside, so they just shot the lights out from beyond the arc. Tough, dangerous and ready to move on.
East
N.C. State vs. Louisville: Very tough game to pick. N.C. State won the regular season meeting but struggled at (many) times during the season and finished well behind Louisville in the standings. The Wolfpack have been very feisty in this tournament, though - though they haven't blown away opponents as they have won by an average of just two points. Louisville has not been consistent this year and tried hard to lose their opener, but their second win over Northern Iowa was as all-around impressive as any we have seen so far in the tournament. I'll take the Cardinals, but not by a lot.
Oklahoma vs. Michigan State: Tom Izzo is one of the all-time greats, and this year's tournament to date is further proof of that. I really like how well Oklahoma stayed composed against a Dayton team that had the whole crowd on their side, though. This game will be great, but I give the Sooners a slight edge.
South
Duke vs. Utah: Duke has just a brutal draw through the tournament this year. Utah is quite a bit better than their seed - as they showed by overwhelming a higher-seeded Georgetown. Duke has so much talent, though, and Okafor and Winslow were incredibly impressive last time out. I wouldn't be stunned by an upset, but Duke is the clear choice.
Gonzaga vs. UCLA: Poor Adam Morrison. He'll get to see himself cry a million times this week. Gonzaga fans won't be shedding any tears after this one, though. They have looked fantastic this week, and they are up against a UCLA team that I just don't trust despite the two wins - one with a big assist to the officials. This is the best Gonzaga team we have ever seen, and that's saying something. They will win this one handily.
Doc's Sports has a great offer for new clients. You can get $60 worth of picks from any Advisory Board handicapper for any sport he handicaps. All with no obligation and no credit card needed. Claim your free picks today .
Read more articles by Trevor Whenham