This Week in Sports Betting, A-Z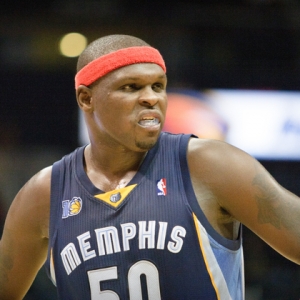 A. Ariana Grande . Grande is newly single after her recent breakup with Big Sean. That may seem like good news for all single guys, but it would be bad news if she ends up dating Justin Bieber (already rumored). Because let's be honest; Big Sean with Grande is more tolerable than the Biebs with Grande.

B. Bob Baffert . Baffert may be channeling his inner Frank the Tank (Will Farrell) in "Old School," because it looks like he is back! One of horse racing's most famous trainers won the Kentucky Derby three times between 1997 and 2002 but has not won it since. His horses have won just a single Triple Crown race (Belmont, 2010) since 2002. But Baffert has by far the two biggest derby favorites this week in American Pharoah and Dortmund. Pharoah is a +200 favorite at BetOnline Sportsbook to win it.
C. Cruz, Nelson . Cruz has five more home runs than Alex Rodriguez one month into the MLB season. That is not surprising. What is surprising is that A-Rod has four. For those counting, that means Cruz has nine. The Seattle Mariners' right fielder is also batting .329 while leading the majors in homers (tied with Hanley Ramirez) and RBIs (21). 5Dimes Sportsbook has the Mariners as -161 road favorites over the Texas Rangers (Rodriguez) on Wednesday.

D. Dallas Cowboys . Dallas will be without Greg Hardy for 10 games. The defensive end actually had the audacity to appeal his suspension for conduct detrimental to the league, but he is not going to win it.

E. Erin Andrews . "Wassup with your boyfriend?" That's what former Ole Miss guard Marshall Henderson tweeted at Andrews, and it's what everyone wants to know after Los Angeles Kings' forward Jarret Stoll was arrested last week on suspicion of cocaine possession.

F. FC Barcelona . Since the start of its first leg against Paris Saint-Germain in the Champions League quarterfinals, Barcelona has outscored opponents 15-1 in five victories. Barca has won its last four matches (La Liga and Champions League combined) by a total of 12-0. Lionel Messi and company drew Bayern Munich in the UCL semis, which begin next Wednesday.

G. Gronkowski, Rob . Gronkowski won on the field earlier this year, and now he is winning off it. Of course, we already assumed Gronk was winning at life--now it is confirmed. He and former New England Patriots' cheerleader Camille Kostek are officially dating. Kostek is already benefiting monetarily, having signed a modeling contract with Benrus Watch Company. The Pats are +500 at GT Bets to win the Super Bowl.

H. Hack-a-Shaq . NBA commissioner Adam Silver is going to entertain discussions on banning the Hack-a-Shaq tactic this offseason. That isn't soon enough for the Los Angeles Clippers, who trail the San Antonio Spurs 3-2 and have lost two games at least in part because of San Antonio intentionally fouling DeAndre Jordan.

I. Investigation . Florida State is investigating if Jameis Winston committed an NCAA violation by accepting free crab legs. According to Winston, he had a "hook up" at Publix and was given crab legs by a friendly employee. Newsflash to Winston: that still makes it illegal. He is -1000 at Bovada Sportsbook to be the No. 1 pick in the NFL Draft.

J. Josh Hamilton . The Los Angeles Angels completed their trade of Hamilton to the Texas Rangers on Monday. "Trade," though, is not entirely accurate. Saying the Angels pleaded with the Rangers to take him and then just gave him away would be more accurate. L.A. is receiving either cash considerations or a player to be named later. In other words, the Angles will pay Hamilton $76 million of the $83 million remaining on Hamilton's contract and rid themselves of him just to save a mere $7 million. The Angels (Shoemaker) are +105 underdogs at the Oakland A's (Hahn) on Wednesday, as indicated by Sportsbook.

K. Kansas City Royals . Kansas City has apparently not gotten over its seven-game World Series loss to the San Francisco Giants. The team has come out swinging--literally--this season. It leads the majors with nine ejections following spats with the Angles, Chicago White Sox, and A's.

L. Lewis, Ray . At least in Kansas City it's only the baseball team that is rioting. In Baltimore, of course, it's the entire city. It would be unfair to say that anything good is coming from the riots, but seeing Lewis preach in an epic homemade rant is never a bad thing. The former Baltimore Ravens' lineup went positively nuts--as only he can--in a call to stop the violence. Listen up, kids!

M. Mayweather-Pacquiao . The time has finally come. Floyd Mayweather vs. Manny Pacquiao. Saturday night. MGM Grand in Las Vegas. Mayweather is a -230 favorite at BetDSI Sportsbook to win the fight.

N. New York Rangers . the new york rangers' twitter account is trolling the washington capitals (new york's next opponent in the stanley cup playoffs) by declining to use any capital letters in any posts. in related news, the houston rockets' account used a horse emoticon and a gun (pointed at the horse) emoticon as houston was finishing off the dallas mavericks on tuesday night. the rangers are -180 home favorites in game 1 on thursday, per wagerweb.

O. Olynyk, Kelly . The Boston Celtics' center said he doesn't think he could dislocate someone's arm if he tried. That's interesting, because he tried and successfully did during a Game 4 loss to the Cleveland Cavaliers. It was a shoulder, actually-Kevin Love's, to be exact. While Love could miss the rest of the playoffs, Olynyk was docked only one game next season for his efforts.

P. Philadelphia Eagles . Chip Kelly will mess with just about everyone and everything, but he won't mess with the Pope. The Eagles requested to be out of town when Pope Francis I when he visits in late September, and the NFL granted it, sending Philly to the New York Jets for Week 3 on Sept. 27. In other schedule news, Philadelphia is playing the first Monday Night Football game against the Atlanta Falcons on Sept. 14, and it has a Thanksgiving date with the Detroit Lions.

Q. Quenneville, Joel . In again, out again, in again…. That was the story for Chicago Blackhawks' starter-turned-backup-turned-starter Corey Crawford during a first-round series against the Nashville Predators. Crawford replaced Scott Darling (three goals allowed in the first period) in Game 6 and shut out Nashville the rest of the way as Chicago scored a clinching 4-3 victory. Quenneville, the head coach, announced on Monday that Crawford is getting the nod for Friday's Game 1 against the Minnesota Wild. The Blackhawks are -140 favorites in the series opener at SportsBettingOnline.ag.

R. Rafael Nadal . Things have gone from bad to worse for Nadal, who is without a title in two clay-court events this spring. The Spaniard lost to Novak Djokovic in Monte-Carlo then was upset early last week in Barcelona by Fabio Fognini. Is the King of Clay no more? We may find out at the French Open.

S. Stephen Curry . How good is Curry? Let's just say he is the reason why Justin Rose won last week's PGA Tour event at the Zurich Classic in New Orleans. That is according to Rose, who witnessed the Golden State Warriors' overtime win in Game 3 after Curry forced the extra frame with a desperation three-pointer. "He went cold but he kept wanting the ball," the Masters runner-up said. Maybe Tiger Woods has been watching too much of DeAndre Jordan at the free-throw line the last six years….

T. Tiger Woods . Speaking of Tiger, this week's match-play championship will come and go without him. He is not in the top 64 of the current rankings (he's not even in the top 100, in fact) and therefore did not make the field. Tiger has, however, announced his participation in next week's Players Championship at TPC Sawgrass. Fore! Tiger is +500 at Sportsbook.ag to win exactly one major in 2015.

U. Uggla, Dan . Uggla was apparently doing some rather epic trolling of the Atlanta Braves during his four seasons with the ballclub. He never hit better than .233, batted .179 in 2013, and got waived during the 2014 campaign after compiling a .162 average in 48 games. Now with the Washington Nationals (yes, somehow Uggla is still in the majors), the veteran second baseman hit a three-run homer with one out in the ninth to lead Washington past Atlanta 13-12 on Tuesday night. It helped the Nats end a six-game losing streak.

V. Vic Beasley . The former Clemson standout said it would be a "dream come true" to get drafted by the Atlanta Falcons. It does not take a genius to infer that Beasley is from Georgia, as nobody without ties to the city or state would call it a "dream come true" to be selected by a franchise as traditionally woeful as Atlanta. If it does happen for Beasley, it will almost certainly be in the second round.

W. WNBA . Well, that's one way for the league to make news. Brittney Griner and Glory Johnson, who are engaged, got into a physical confrontation earlier this month and were arrested on assault and disorderly conduct allegations. Griner pleaded guilty and will attend 26 weeks of domestic-violence counseling, after which the charges will be dismissed.

X. Xavier Cedeno . News travels fast. But does it travel as fast as Xavier Cedeno? The relief pitcher is now on his third team since mid-April. One week after acquiring him from the Nationals for cash considerations, the Los Angeles Dodgers shipped him off to the Tampa Bay Rays last weekend for…wait for it…cash considerations.

Y. Yes! Yes! Yes! The last we will see of the New York Islanders in Nassau Veterans Memorial Coliseum was the famous "Yes! Yes! Yes!" chant, which the team and its fans did after winning Game 6 against Washington last Saturday. The Islanders' season ended two days later with a 2-1 road loss in Game 7.

Z. Zach Randolph . "(In the series opener), he went the first five or six minutes with one shot," Portland Trail Blazers' forward LaMarcus Aldrige said of the Memphis Grizzlies' big man. "The old Z-Bo would have been cursing people out, throwing headbands in the stands. The new Z-Bo, as long as they're winning, he's good. That's been great for their team, because he's changed so much." It sounds like the old Z-Bo was a lot more entertaining, but one more win for the new Z-Bo would send his team to the Western Conference semis. Memphis is a -5.5 home favorite in Game 5 on Wednesday, according to BookMaker.
Read more articles by Ricky Dimon