This Week in Sports Betting, A-Z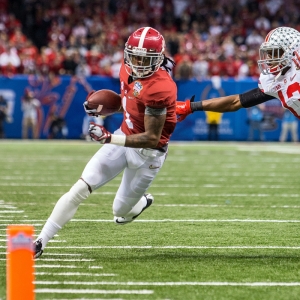 A. Alabama . The Crimson Tide took care of business in the Iron Bowl last weekend, beating Auburn to win the SEC West. They also clinched the SEC title and secured a berth in the College Football Playoff. Oh, Alabama still has to play Florida? So, yeah-Nick Saban and company are SEC champions and will be part of the final four. 'Bama is a -18 favorite over the Gators on Saturday, per GT Bets.

B. Bryant, Kobe . Kobe announced last weekend that this season will be his last in the NBA. Based on recent returns, the 37-year-old probably should have said he had one game left in him, not one season. But at least he can see the writing on the wall and will only prolong this agony for about 60 more games.

C. Cowboys . Tony Romo came back from one broken collarbone, but he is not going to return from number two-at least not this season. A disastrous Thanksgiving affair with Carolina not only saw Romo go down for the year, but Dallas also got clobbered by the undefeated Panthers 33-14. BetOnline Sportsbook has the Cowboys as +4.5 underdogs at Washington on Monday.

D. David Price . Nobody can argue that this price is right, but desperate times called for desperate measures in Boston. The Red Sox shelled out $217 million to bring in Price for seven seasons. It's not like the 30-year-old southpaw is the best pitcher in Major League Baseball, and he has never even won a single postseason start. Nonetheless, the Sox had to make a splash after finishing last in the AL East in both 2014 and 2015.

E. Eli Manning . Manning was picked off three times in the Giants' loss to Washington last week. New York tried to mount a late charge but ultimately fell 20-14 to give away first place in the NFC East. The G-Men could be-and probably should be-running away with the division, but four of their six losses have come by a combined nine points. Throw the recent setback against the 'Skins into that mix, and five losses have come by a combined 15 points. The Giants are +2 home underdogs against the Jets in Week 13, according to Bovada Sportsbook.

F. Free throws . Not one, not two, not three, not four, not five…not 13, not 14…not 21…. Clippers' big man DeAndre Jordan missed an outrageous 22 free-throws during Monday's win over Portland. That tied (with Wilt Chamberlain) a single-game record for most foul shots missed in a single game in the history of the NBA. Jordan went 12-for-34 from the charity stripe-and the Mavericks were like, "thank goodness he didn't come here!" The Clips are +600 at MyBookie.ag to win the Western Conference.

G. Gunners . Arsenal squandered a chance to stay atop the English Premier League table by tying Norwich City 1-1 last Sunday. The Gunners may be permanently on the way down, too, because take a gander at their list of injured players: Mikel Arteta, Francis Coquelin, Theo Walcott, Danny Welbeck, Jack Wilshere, Tomas Rosicky, Kieran Gibbs, Alexis Sanchez, Santi Cazorla, and Laurent Koscielny. Welp. Manchester City is a +108 favorite at BookMaker to win the EPL title.

H. Hill, Will . The NFL apparently took notes from recent college finishes-Auburn vs. Alabama in 2013 and Georgia Tech vs. Florida State earlier this year. Once again the team that wasn't attempting a potential winning field goal clinched victory on the last play of the game. In a development that could not have been more Cleveland, the Browns had a field goal blocked before watching the Ravens return it for a game-ending touchdown.

I. Indefinite . That remains the status of Tiger Woods' absence from golf. And based on his press conference from the Bahamas this week, his return-if there ever is one-is going to be latter rather than sooner.

J. Jimmy Graham . Graham's first season in Seattle is over as the star tight end suffered a torn patellar tendon during a Week 12 win over Pittsburgh. He will finish a disappointing 2015 campaign with 48 receptions for 605 yards and two scores. The Seahawks are even money at SportsBettingOnline.ag to go on the road and beat Minnesota this weekend.

K. Kane, Patrick . Death, taxes, and Kane notching at least one point. Those appear to be the three certainties of life right now. Even when the Blackhawks scored only one goal in a Tuesday loss to Minnesota, Kane still found the box score by finding the back of the net. He extended what was already an NHL record point streak to an incredible 20 games. Chicago is a -125 favorite at Ottawa on Thursday, as indicated by WagerWeb.

L. Liftoff . Whoa! Those were some serious hops. Kerwin Roach Jr. of Texas threw down an absurd dunk in a victory over Texas-Arlington on Tuesday night. It kind of overshadows the fact that beating Texas-Arlington this season actually constitutes a very solid win.

M. Mark Richt . Richt is out; Kirby Smart is in. After 15 seasons, Georgia's long-time head coach got the boot last weekend despite beating in-state rival Georgia Tech one day earlier. Smart, currently Alabama's defensive coordinator, played his college ball for the Bulldogs. So this move makes a ton of sense-well, aside from the fact that Richt got fired in the first place. But he can continue beating up on Tech every year after agreeing to become Miami's new coach on Wednesday.

N. Notre Dame . The Fighting Irish are not that far off from being undefeated and heading to the College Football Playoff. They lost a heartbreaker to Clemson and last weekend succumbed to Stanford on a last-second field goal. Head coach Brian Kelley said he would put his team up against the best in the nation but admitted he will not get that chance. Um, he already got several chances-and lost to both the Tigers and the Cardinal.

O. Osweiler, Brock . Hell would freeze over if Brock freakin' Osweiler takes displaced Peyton Manning from the top of Denver's depth chart and basically ends the legend's career. Osweiler was good enough for the Broncos' running game and defense to hand New England its first loss, but everyone just needs to calm down for a second. Hell is not going to freeze over. Denver is a -4 road favorite over San Diego at 5Dimes Sportsbook.

P. Paige, Marcus . What a difference Paige makes. Without their point guard, the Tar Heels early-season efforts included a loss to Northern Iowa. In Paige's first game back from a hand injury, UNC took down second-ranked Maryland 89-81 during ACC/Big 10 Challenge action on Tuesday. He scored 20 points and dished out five assists to go along with two steals.

Q. Quin Snyder . Snyder said last month that while coaching at Missouri he ordered a pizza and the Domino's delivery guy had drawn up a play on the back of the box. "It was better than anything I had," the coach admitted. That's epic. But a win on Tuesday would have been even more epic-because Snyder's Jazz were facing the undefeated Warriors. Utah came close, but Golden State survived and improved to 19-0 with a 106-103 victory. The Jazz are -6 home favorites over Orlando on Thursday, as indicated by BetOnline Sportsbook.

R. Roethlisberger, Ben . Roethlisberger self-reported a possible concussion after taking a hit to the head in the Steelers' loss to Seattle last Sunday. For some reason nobody has any confirmation as to whether or not Big Ben actually sustained a concussion. Either way, he was cleared to practice on Wednesday and should have the green light for Sunday night's game against Indianapolis.

S. Scotland . That's where Andy Murray is from, and he was in favor of independence when it went to a vote last year, but he still plays for Great Britain. And he won the Davis Cup for GBR last weekend. Throughout tennis' team competition this year, Murray played 11 matches and won every single one of them.

T. Tory Miller . Miller went all Mike Tyson and Luis Suarez in Colorado's victory over Air Force last Saturday. The forward bit Falcons' forward Hayden Graham, incurring a Flagrant 2 and with it an automatic ejection. Miller did, however, somehow avoid suspension.

U. Ulis, Tyler . Kentucky's star point guard sustained an elbow injury in last Friday's win over South Florida and missed Monday's defeat of Illinois State. He may not be able to suit up for the undefeated Wildcats when they visit UCLA on Thursday night. Maybe if Ulis doesn't play the Bruins won't trail 43-7 and lose 83-44 like they did against UK last year. Ketucky is a -5.5 favorite, per BookMaker.

V. Vega, Alex . Not to be outdone by the Sixers' Jahlil Okafor, Yasiel Puig got into an alleged bar fight last Wednesday. Video reportedly shows the Dodgers' outfielder striking a bar manager and then getting physical with his sister. Not to be outdone by Johnny Manziel, Vega-Puig's good friend who was with him at the time-is disputing the video. Like the case of Manziel, this is probably not going to end well for anyone involved.

W. Win . The Sixers have one! But if it comes against a team for which Kobe is jacking up 26 shots (and making only seven), does it really count? Apparently it does, as Philadelphia officially ended the longest losing streak in professional sports history when it beat the Lakers 103-91 on Tuesday. The skid was 28 games dating back to last season, including 18 to start the 2015-16 campaign.

X. Xavier . Few teams have a more impressive resume than Xavier in the early stages of this college basketball season. The Musketeers are 7-0 and boast wins over Michigan, Missouri, Alabama, USC, and Dayton. Get your popcorn ready for a Dec. 12 showdown against arch-rival Cincinnati. Xavier is +6000 at GT Bets to win the National Championship.

Y. Yakupov, Nail . What is the deal with No. 1 overall picks getting injured for the Edmonton Oilers? Yakupov, the top selection in 2012, will be out 2-4 weeks because of a sprained ankle. Edmonton has already been without Connor McDavid, the No. 1 pick in 2015, for a month because of a broken collarbone. It is tied for last in the NHL with 20 points.

Z. Zimmermann, Jordan . That awkward moment when a five-year, $110 million contract barely makes a blip on the radar screen…. That's the deal Zimmermann signed with Detroit last weekend, making at least minor news until Price blew it out of the water. The 29-year-old righty went 13-10 with a 3.66 ERA for the Nationals this past season. Bovada Sportsbook has the Tigers at +2500 to win the World Series.
Read more articles by Ricky Dimon