2016 Breeders' Cup Filly and Mare Sprint Picks with Odds and Expert Betting Predictions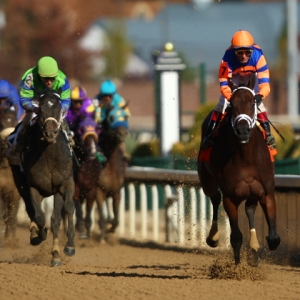 I'm mad at Curalina. When pre-entries were submitted, the four-year-old daughter of Curlin was entered both in this, the Filly and Mare Sprint, and in the Distaff. The Distaff has only eight entrants, but it is a brutally-tough race, and she is in tough to win it. She just complicates things there. If she was in this race, though, she would have been a strong favorite, and picking her to win would have been a virtual no-brainer. For reasons I don't entirely understand, though, her connections went with the Distaff. So, instead of an easy race to handicap here we have a very muddy one. I am not excited about figuring this race out at all. I'd love to just pretend it doesn't exist, but it is the third last race of the day on Saturday, which means it is part of the pick six, the late pick four and the pick three that includes the Classic. It's a very key race, then - even if it isn't an attractive one.
Here are the highlights, such as they are, of the fully subscribed 14-horse field:
Haveyougoneaway (3/1 morning line): Last time out she won the Ballerina, a seven-furlong sprint at Saratoga that is as important as any prep race for this one. She closed strong there to beat the next two horses we are going to talk about. Very good effort. That was more than two months ago, but that's less of a concern in a sprint than elsewhere. It was her third straight win and a clear signal that she is ready for a step up to the big time. She's the logical favorite, but she is a long way from a lock. If the price goes too low we'll have to look elsewhere.
Carina Mia (7/2): She was also entered in the Distaff but wisely chose this spot - she just isn't good enough for a very deep and tough race there. Two back she finished third in the Ballerina, and that race was not visually impressive on her part. She stretched out again for the Cotillion last time but was no match for Songbird. No shame in that - no one else has ever tested her, either. She feels a bit like a horse without a natural spot - she's not quite good enough to compete in longer races against the elites, but I'm not convinced she's a natural sprinter, either. She has also never raced east of Kentucky. I'm not in love with her at the likely price.
By the Moon (8/1): She was second in the Ballerina, and I liked the effort much more than Carina Mia's. Before that she had beaten a decent field at seven furlongs at Belmont. She's definitely improving, and she was shipped to Santa Anita very early to acclimatize. I like quite a bit about this horse, and I think there's a shot that we will get a price that I'll really love.
Tara's Tango (8/1): She's a local horse that has done her share of winning big races. Her last race wasn't impressive, but it was against Beholder and other beasts, so it's not a big concern. Before that she won at a sprint, so she's definitely capable of the challenge. She's another one that's a big contender at what is going to be a nice price. Like I said, this is a tough, wide-open race.
Finest City (12/1): I'm not crazy about how they have handled this filly. She looked great winning a sprint in April. So then they pushed her up to a mile next time out and put her up against the likes of Beholder and Stellar Wind. Then they moved her to the turf for two races - both routes. And now she's back on the dirt and sprinting. If they can't decide what she is then I struggle to accept she's worth my money.
Paulassilverlining (10/1): She won last time out against a decent field, but that was in the mud and at Belmont, so it's tough to get excited about what it means for here. She just doesn't seem good enough in the conditions she'll face in this one. Easiest pass so far.
Wavell Avenue (6/1): She's the defending champion, so she gets some credit for that. She has raced six times since, tough, and has been mostly underwhelming and sometimes worse. She was a dismal sixth in the Ballerina, for example. Last year she scored at 10-1 so she wasn't exactly an obvious pick, but I liked where she was then better than I like her now.
Paola Queen (20/1): Two races back she won at seven furlongs in the Grade 1 Test at Saratoga and shocked the world doing it - she paid 55/1. Next time out was a disaster, but it was on a muddy track so she has an excuse. She's been working well. Is she ready to pull off another stunner?
Doc's Sports has had a winning tradition for more than four decades. Don't believe us? Try us out for free, and we are convinced you will be a believer. Get $60 worth of free sports picks - members' picks just like our paying clients get - here .
Read more articles by Trevor Whenham