2016 Breeders' Cup Sprint Picks with Odds and Expert Betting Predictions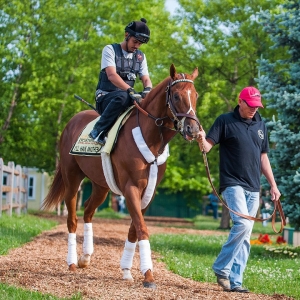 The Breeders' Cup Sprint is always one of the tougher races to handicap. It's often wildly unpredictable, and the explosive nature of it means that anything can - and often does -- happen. On paper, though, this race seems more straightforward than most editions. There were only nine horses pre-entered, and of those four are the clear contenders. That's not to say that you can rule out the rest, and we'll look at a couple of them, but the four really stand out. Of course, my relative confidence that things make sense this year likely just means that the longest shot on the board will win in a romp, but at least for once this race isn't making my head hurt as much as it usually does:
Masochistic (2/1): No jockey in history has been better at picking winning Breeders' Cup mounts than Mike Smith. He's in a class of his own at this event. When Smith chooses one horse over another, then, it's worth noting. Smith had ridden Drefong to wins in his last three outings, yet he chose this horse over Drefong - even though Drefong's trainer Bob Baffert has a much deeper stable than Masochistic's Ron Ellis does, and that often plays a big part in mount decisions. Smith has been aboard for only one of Masochistic's two runs this year - he was riding Arrogate in the Travers for Baffert the other time. After a disastrous last-place finish in the BC Sprint last year this horse was freshened until June. He dominated in an allowance in his return, and again in stakes action at Belmont. HIs Beyer speed figure last time out was the best any horse in this field has ever posted by three points - and his number the race before is tied for the best of any other horse. He's been off since the end of August, but layoffs are meaningless in the Sprint. He's the likely favorite and the class of the field.
Lord Nelson (5/2): Baffert has won this race four times, including three in the last nine years. He knows sprinters. This is a surprisingly conventional approach to this race for him. Lord Nelson has run four times this year, winning all four. No long layoffs or otherwise bizarre approaches. Three of those four wins have been at Santa Anita, and three have been in stakes company. He has also worked very well over the Santa Anita surface since his last outing - just as you would expect from a Baffert horse. He's the best sprinter in California not named Masochistic right now. On his best day he can hang with the favorite.
A.P. Indian (4/1): This is the top East Coast sprinter this year, having won five straight races since June - one each in Pennsylvania and Kentucky and three in New York. His numbers are competitive with Lord Nelson, too. I think the travel across the country is a slight knock - especially because this is his first time out of the eastern time zone and he's six - and I am not crazy about betting on horses with Joe Bravo aboard -- but he's definitely in the mix here. I'd feel better if he was coming off a better race. He won the Phoenix at Keeneland on Oct. 7, but he worked very hard to do so and won by only the whisker on his nose. Maybe he's not peaking coming into this one.
Drefong (7/2): Baffert and jockey Martin Garcia have finally ironed out their differences and are working together again. That's good news for this horse - if he can't have Smith then Garcia, who rode him for his first two starts, is a good consolation prize. He's only three and up against a group of older horses, and he has only one stakes start to his credit. He won that race, though, and closed very strong in doing so after setting a slower early pace. A big part of me wonders if this is one Sprint too early for him - he could be a beast with another year of experience under his belt - but he absolutely can improve, and his potential makes him a contender. He'll need things to really fall his way if he is going to win, though.
Joking (15/1): This horse has some things going for him, but I don't think he quite measures up in the end. Last time out he won the Vosburgh - a big-time race. The seven year old has now won four in a row. There are a couple of problems with that, though. For one, that race is at Belmont. He has done very well there, but due to the size of that track sprinting is different there than elsewhere, and he has really done well there. In 39 starts he has never run outside of the state of New York, so we can't be confident he'll take to California and the Santa Anita track. Also, that race was run on a muddy track. He loves off tracks, but racing in Southern California in the fall doesn't make anything other than hot and sunny very likely. The horse has been dealing with a fever, so his participation is uncertain.
Limousine Liberal (15/1): This guy had a pretty disastrous outing in the Sprint last year as a three year old. Can he redeem himself this year? In six races since he has only one race - and that was in an allowance race in his first back of a break. He was lousy in the Forego on the Travers undercard two starts back, but he put blinkers on last time and lost to A.P. Indian by the narrowest of margins. He's worked great since, so maybe he's found a new gear. Could be interesting in exotics because of his price.
Get free picks from any of Doc's Sports Advisory Board of expert handicappers - and with no obligation or credit card. You can use these free picks for any sport, and you will never deal with a salesman. Click here for your free Doc's Sports picks.
Read more articles by Trevor Whenham