Case of the Mondays: Tough Week for NFL Quarterbacks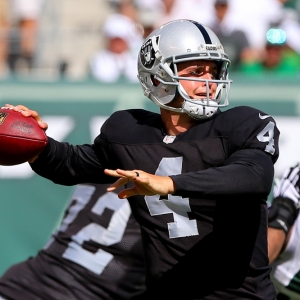 It was a difficult Week 14 for various NFL quarterbacks, and it started last Thursday, when Derek Carr of the Raiders saw his MVP hope's take a hit. A different kind of hit has likely put Ryan Tannehill out for the season as Miami's signal-caller apparently suffered a torn ACL against Arizona. Seattle's Russell Wilson was picked off a whopping five times in an alarming loss to the Packers at the Frozen Tundra of Lambeau Field.

Odds provided by BetOnline Sportsbook unless otherwise indicated.

Russell Wilson . Wilson had as many interceptions as Aaron Rodgers had incompletions on Sunday afternoon when Green Bay took care of the Seahawks 38-10. That's right, folks; Wilson was picked off five times and Rodgers threw only five incomplete passes. Wilson finished 22-of-39 for 240 yards with one TD to go along with his quintet of INTs. He has now thrown eight interceptions in the last three outings after having been victimized only twice in the first 10. Rodgers went 18-of-23 for 246 yards with three touchdowns and no interceptions. Seattle is +500 to win the Super Bowl (MyBookie.ag).

Derek Carr . Carr lost his grip on the football and the Raiders lost their grip on the AFC West lead in this past week's loss to Kansas City. Struggling with a dislocated right pinky finger to go along with tough weather conditions and an even tougher Chiefs' defense, Carr finished a mere 17-of-41 for 117 yards with no touchdowns or interceptions in his team's 21-13 setback. Oakland had won six games in a row and was leading the division at 10-2 prior to Week 14. Now Kansas City stands atop the AFC West thanks to the head-to-head tiebreaker (K.C. also beat the Raiders 26-10 on Oct. 16). Oakland is a -2.5 favorite at San Diego on Sunday.

Deshaun Watson .There is certainly no shame in Watson's college career, but-assuming he leaves early for the 2017 NFL Draft-it will come and go without a Heisman Trophy. Clemson's standout quarterback finished third in the 2015 voting as a sophomore and was runner-up to ACC rival Lamar Jackson of Louisville this year. Watson earned 1,524 points in the voting to Jackson's 2,144 (first-place voting ended 526 to 269 in Jackson's favor). No one else had more than 361 points. Watson, however, won the head-to-head matchup between Clemson and Louisville and he has the Tigers in the College Football Playoff semifinals. Clemson is a +3.5 underdog against Ohio State in the Dec. 31 Fiesta Bowl.

Patrik Laine . Sunday marked a showdown between the No. 1 overall pick in the 2015 NHL Draft (Connor McDavid) and the No. 2 selection in 2016 (Laine). As it turned out, the Oilers-Jets game was decided by a game-winning goal courtesy of one young stud. Unfortunately for Laine, he did not score it for his own team. With the scored tied 2-2, an Edmonton shot rebounded off the boards to the 18-year-old, who inexplicably flicked it right into the open net as less than nine minutes remained it the contest. The Oilers held on for a 3-2 victory. Edmonton is +1400 to win the Stanley Cup (MyBookie.ag).

Miami Heat . Life without LeBron James and Dwyane Wade is not all that it was made out to be in Miami. Then again, it was never made out to be any good. And it isn't any good. The Heat are in the midst of a five-game losing streak that has dropped them to 7-17 on the season. None of their losses during this stretch (to Portland, New York, Atlanta, Cleveland, and Chicago) has come by less than five points. Miami is four games closer to the very bottom of the Eastern Conference standings (Philadelphia is 6-18) than it is to a playoff spot (Detroit, Atlanta, Indiana, and Milwaukee are all .500). The Heat are +1 home underdogs against Washington on Monday.

Kansas .The Jayhawks indefinitely suspended forward Carlton Bragg Jr. last Friday after he was accused of pushing his girlfriend down a flight of stairs and charged with one count of battery. Bragg, who allegedly struck the woman and pushed her during an argument, pleaded not guilty to the misdemeanor. It would carry a fine and up to six months in prison if he is convicted. His next scheduled court date is for Dec. 27. The sophomore played in each of Kansas' first nine games this season, starting five times while compiling averages of 7.8 points and 5.3 rebounds in 16 minutes per contest. KU is +750 to win the National Championship (MyBookie.ag).

Toronto FC . Playing in front of its home fans in last Saturday's MLS Cup, Toronto dominated the 120 minutes of play against Seattle in what was the first final appearance for each franchise. But the Reds' impressive performance was not reflected on the scoreboard and did not result in a title. They finished with 19 shots (seven on target), while Seattle became the first team in the 21-year history of the MLS Cup to go the whole game without a single shot on goal. But after 90 minutes of regulation and 30 more of extra time, it was still 0-0. Penalty kicks had to decide it, and the Sounders triumphed 5-4 with one miss to Toronto's two."It can be a cruel game sometimes," said Reds' captain Michael Bradley, who missed his attempt in PKs. "The margins are so small. We were strong and brave and went after the game in a hard way, from the first minute to the 120th…. But that's the game. That's how it goes."
Read more articles by Ricky Dimon