Case of the Mondays: Steelers' Late Blunder Sets Up Brady vs. Manning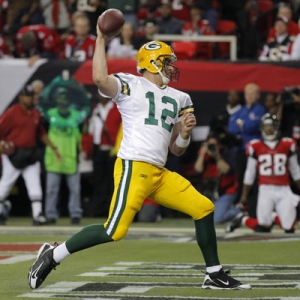 There will be another installment of the Tom Brady vs. Peyton Manning rivalry after the Broncos scraped past Pittsburgh on Sunday. The Steelers held a fourth-quarter lead over the home team but could not hang on for victory. Head coach Mike Tomlin's team joined the Chiefs, Packers, and Seahawks on the sidelines. All four divisional-round losers managed to at least make things interesting before ultimately seeing their seasons come to an end.

All odds provided by BetOnline Sportsbook .


Fitzgerald Touissant . One week earlier in a contentious wild-card showdown between AFC North rivals Pittsburgh and Cincinnati, the Bengals came within a few plays of running out the clock before Jeremy Hill fumbled the ball back to the Steelers. The rest, of course, is history for Cincy. For the Steelers, their role was basically reversed this past Sunday. Leading Denver 13-12 with fewer than 10 minutes, they were already in field-goal territory in an attempt to pad their advantage. Toussaint, however, coughed the ball up and the Broncos recovered. Peyton Manning, C.J. Anderson, and company went on an immediate touchdown drive for what proved to be the game-winning points in a 20-13 Denver victory. The Broncos are +450 long shots to win the Super Bowl; New England and Carolina are +200 co-favorites.

Green Bay Packers . Aaron Rodgers and the Packers have another Hail Mary feather to put in their cap. It's safe to say they would have preferred another win. Green Bay forced overtime at Arizona in extremely improbable fashion on Saturday night. After inexplicably running only 43 seconds off the clock on a drive that extended their lead to 20-13, the Cardinals forced Rodgers into a fourth-and-20 situation from his own four-yard line with less than one minute remaining. Somehow, Rodgers converted a pass into Arizona territory and heaved a last-play prayer that resulted in a touchdown to Jeff Janis. In the end, though, the visiting team was doomed by the overtime coin toss. The Cards got the ball and rode Larry Fitzgerald all the way to the endzone for a game-ending touchdown. Arizona is a +3 underdog at Carolina in the NFC Championship.

Duke . Heading into last week, the Blue Devils were 14-2 with losses only on neutral courts to then-No. 2 Kentucky and to Utah 77-75 in overtime. On Wednesday, though, the defending National Champions went into Clemson and fell to a proverbial football school. The Tigers surged to a 68-63 upset with a late second-half run. Things went from bad to worse for head coach Mike Kyzyzewski's squad when it hosted Notre Dame on Saturday. Despite playing in the friendly confines of Cameron Indoor Stadium, the Devils lost 95-91. Once again Duke led in the final minutes-this time with less than one minute left-only to see the Fighting Irish end the contest on a 7-2 run. Duke is a -11 home favorite over Syracuse on Monday.

Joakim Noah . Noah missed nine games for the Bulls in December and January with a left-shoulder sprain. Those nine will pale in comparison to the number of contests Noah is now going to be sidelined from due to a dislocated shoulder. In his fourth outing since his return, the 6-foot-11 center got injured during Chicago's 83-77 home loss to Dallas last Friday. It was later announced that Noah will miss 4-6 months, meaning he is out for the regular season and almost certainly for the playoffs. That is just cruel for a team that already has to deal with Derrick Rose's myriad of physical problems. The Bulls are +3 underdog at Detroit on Monday.

Florida Panthers . Is there any team in hockey more mercurial than the Panthers? In a word, no. They have losing streaks this season of three, five, three, and three games. The latter skid is current. They also have winning streaks of five and 12 games. Their 12-game hot stretch ended on Jan. 11 and has been followed immediately by this three-contest slide. Florida fell at Vancouver in overtime last Monday, got blown out by Calgary 6-0 two days later, and lost 3-1 to Tampa Bay on Sunday to wrap up a six-game road trip. The good news for the Panthers is that they still lead the Atlantic Division-but the cushion over Detroit has dwindled to three points. Florida is +1400 to win the Stanley Cup.

Brandt Snedeker . Snedeker shared the 54-hole lead at this past weekend's Sony Open in Honolulu. He did not do too much wrong, either, carding a final-round 66 on Sunday. But it was not enough to hold off Argentina's Fabian Gomez, who fired a 62 to force Snedeker into a playoff. The American got a look at a 12-footer for the win on the first extra hole, but he came up empty. That putt "is going to sting today and tomorrow," Snedeker said afterward. Gomez promptly birdied the second playoff hole to capture the title. "It's frustrating because I couldn't make putts to win the golf tournament," Snedeker lamented. He is +5000 to win the Masters; Jordan Spieth is a +500 favorite.

Caroline Wozniacki . Semifinals in 2011. Quarterfinals in 2012. Fourth round in 2013. Third round in 2014. Second round in 2015. Are you beginning to see a trend-and a disturbing one, at that-for Wozniacki at the Australian Open? Of course you are. And the trend became complete when the world No. 18 lost in the 2016 first round on Monday to someone named Yulia Putintseva. Wozniacki took the first set and pushed the second to a tiebreaker, but she could not seal the deal and eventually went down in flames 1-6, 7-6(3), 6-4. The former world No. 1 is still searching for a long-awaited first Grand Slam title. Serena Williams is a +175 favorite to capture the title Down Under.
Read more articles by Ricky Dimon