Elite Eight Bracket Picks and Expert Predictions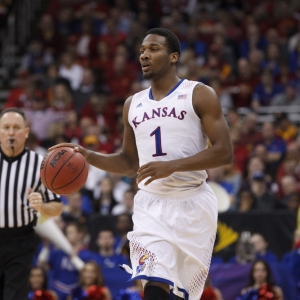 Well, another round is in the books. And, as so often happens, a truly brilliant first week of the tournament was followed by a Sweet 16 round that was mostly dull. The higher seed won all eight games, they covered in every case, and only two of the games were even close. It was not the two nights that we dreamed about. Actually, it kind of sucked.
Unfortunately, I had faith in three of those underdogs. I had one of those four underdogs - Gonzaga - winning again to get to the Final Four. So, for the second weekend in a row the bracket I made before the weekend's action has sustained significant damage before the second games have even started. It's just not my year. I'm either relentlessly determined or too dumb to know when to quit, though, because I'm ready to give it yet another try. Here, then, is how my bracket looks going forward from this point:
South
This is the only region that turned out just how I thought it would - emphatically so. Kansas crushed and humiliated Maryland, showing just how much of a mismatch that game was. It was tight in the first half but a joke in the second. In the other game I gave the nod to Villanova, but I was nervous about it given their tournament performance the last couple of years. I shouldn't have been. They made the Kansas game look close, opening a solid lead by halftime and widening it almost exponentially in the second half. They looked strong and are in very good form right now. They aren't strong enough for me to change my opinion of how things turn out, though. I have been high on Kansas since before the tournament started, and they have done absolutely nothing to change my opinion of them. They are the best team remaining in this tournament, and they are heading back to the Final Four for the first time since 2012.
West
I had so much faith in Duke against Oregon. I thought the coaching mismatch would be the defining difference. It was, just not as I expected. Coach K had one of the most lackadaisical and frankly bizarre games of his career, and he just wasn't good enough here. His team played off of what their coach was doing, and the contest was never much of one. I'm not saying that Oregon doesn't deserve credit, of course - they came to play and they had a big day. I just think that Duke did almost as much to beat themselves as Oregon did here. Luckily, the other game was much more true to form - or at least the form I envisioned. Buddy Hield was solid, his teammates around him were great, and the Sooners cruised over the Aggies. This bracket requires only a small adjustment from last time. I had Oklahoma beating Duke to move on to Houston. Now I have them beating Oregon to get the ticket to the Final Four.
East
One game here was just as I expected, and the other one was incredibly frustrating. UNC had a big class advantage over the Hoosiers, and they showed it. It wasn't much of a game. Most striking was that the Tar Heels scored 101 points. Defense was nonexistent in the game, so you have to take that with a grain of salt, but it was still an impressive offensive display. And then there was Wisconsin. What a horrible game. For much of the game it was a defensive nightmare - scoring was nonexistent. Wisconsin was up 56-53 with 26 seconds left and looked to be enroute to advancing - as I had called them to. Then they decided to give up eight unanswered points to leave their fans stunned and end their season. Far from ideal. Luckily, it makes the decision even easier than it was before. I liked UNC over Wisconsin as a fairly comfortable pick. Despite the result I still like Wisconsin more than Notre Dame. That makes it easy to pick UNC to advance.
Midwest
This was the most frustrating region by far of the two days. I picked Virginia, but I thought it would be close and that they could struggle to cover the six-point spread. It wasn't, and they didn't. And then Gonzaga decided to crush my soul. With five minutes left they were playing great basketball. They were widening a lead and looked like they were in control. Then something happened - the moment got too big, they lost confidence, they checked out mentally, they imagined what their next game would feel like, or something else. Whatever happened, one fact is clear - this team threw the game away. That forces me to make a big change because I had the Bulldogs winning the region. I don't like it, but I'll take Virginia - out of feelings of spite towards Notre Dame as much as anything.
The Final Four
Three No. 1s and a No. 2 - so much for a totally wide-open tournament that anyone could win. Sadly, it's about to get even more chalky around here. Kansas and Oklahoma has a chance to be the game of the tournament. I like both teams a lot and wish they weren't meeting in this game. I'll stick with Kansas for the simple reason that I have had them winning this game and one more since the start of the tournament so there is no reason to change now. On the other side I had UNC beating Gonzaga. The only thing that has changed is the loser - now the Tar Heels will beat Virginia. That makes the final the Roy Williams showdown - his current team against his former one. Williams made the right decision moving east, but his old team will come out on top here. Kansas is cutting down nets.
Read more articles by Trevor Whenham