Final Four Bracket Picks and Expert NCAA Tournament Predictions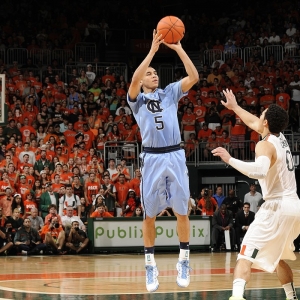 What a mess this year's NCAA Tournament has been - at least from the perspective of my poor brackets. My first bracket was shredded when Michigan State, who like everyone else I had going deep, laid an egg in their opener. I tried again with a Sweet 16 bracket, but Gonzaga and others crushed that one. There were only eight teams to choose from when I did an Elite Eight bracket, but I botched that one, too - I had Kansas winning, and though I don't apologize for this one I didn't have Syracuse advancing, either. My crystal ball is clearly cracked this year. So, there is only one thing to do - give it one last try.
Here, then, are my Final Four bracket picks. To get the most out of them, ignore pretty much everything I have said about this tournament up to this point.
North Carolina vs. Syracuse
To make the three picks that the Final Four requires, I first wanted to come up with a philosophy that was going to guide those picks. To do that I started by thinking about Butler. The last time the Final Four was in Houston, the Bulldogs lost to UConn in the final. As you may recall, it was a truly awful game. UConn was a pretty good shooting team that had a pretty bad day. They looked like an army of Steph Curry clones, though, next to Butler. The Bulldogs were a strong shooting team that had a historically awful day - their 18 percent from the field was the worst ever by a team in the Championship Game. It was a trainwreck of a game. Some of the problems could be that neither team was expected to advance that far, and maybe the moment was too big for them. When you look at other games played on the elevated floor and the massive confines of the stadium in Houston, though, you have to believe that problems with depth perception for shooters was a bigger foe. So, what's the point of this trip down memory lane? Well, North Carolina is the only team remaining in this tournament that could quite happily not make a 3-pointer the rest of the way and still come out on top. They rely the least on their shooting to get the win. That's a huge factor in my mind. Add in that they are clearly the better team on paper, and the fact that Syracuse has another week to sit and think about where they are and what it means, and the Tar Heels have a clear edge. They are deservingly the strong favorites to win it all (-110 at BetOnline) and are the reasonably comfortable pick to win this battle for ACC supremacy.
Oklahoma vs. Villanova
The shooting issues aren't going to be ideal for either team here. We need to look beyond that, then. It's a study in contrasts. Oklahoma is as star-driven as a team can be here - there is a strong supporting cast, but this team relies on Buddy Hield and will go only as far as he can take them. Villanova is almost self-consciously anti-star. They are a team in every sense of the word and will live or die as such. It depends on your philosophy, but in a game that features his much potential for adversity I'd rather be with a guy like Hield than against him. Besides, I have been really negative about Villanova all through this tournament, so it would be hypocritical for me to change now. Oklahoma gets my strong endorsement here. (That sound you hear is the stampede of people looking at my track record this March and running to bet their houses on Villanova)
The final
Oklahoma and North Carolina. Not the matchup most expected, but a good one nonetheless. I really want to pick Oklahoma. They are just a team that is easy to like and is certainly far more likeable than their opponents. In the end, though, I have to stick with the favorite. That whole shooting factor stands out for UNC. And then there is coaching. Lon Kruger is a great coach, but this is just his second Final Four appearance and his first since way back in 1994 with Florida when the tournament was on a far different scale than it is now. Roy Williams, meanwhile, is in his eighth Final Four. He has won the title twice and finished runner-up twice more. Kruger runs a much cleaner program, but he lacks the experience on the biggest stage that Williams has. That's a big factor. North Carolina will be cutting down the nets for the third time in the Williams era.
Want free sports betting picks? Doc's Sports has you covered - get $60 worth of picks free from any of Doc's Sports expert handicappers. Click here for free picks (new clients only).
Read more articles by Trevor Whenham