Free NIT Betting Picks and Expert Predictions: George Washington vs. SDSU
by Chris Vasile - 3/29/2016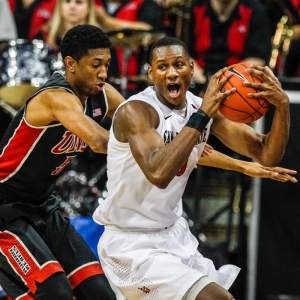 We are now one day closer to the NCAA Final Four. The buzz of the Elite 8 has worn off, and if you are looking for something to fill the void before the much-anticipated April 2 date then you are in luck.
The NIT semi-final slate is scheduled to kick off tonight at the Mecca of Basketball, Madison Square Garden. I have already written about the first semi-final between BYU and Valparaiso, so let's take a look at the second.
The second semi-final sees No.4 George Washington take on No.2 San Diego State in a matchup of two teams with momentum.
On paper I can see why this spread opened up relatively low but has since been bet up to its current line at -3. I am having a hard time seeing how George Washington will be able to navigate this extremely tough Aztec defense.
As always, this great line is courtesy of our friends at 5Dimes.
No. 4 George Washington vs. No. 2 San Diego State
Madison Square Garden, New York. 9 p.m. EST. Tuesday March 29, 2016
The line: San Diego State (-3)
History: These two teams have never met in the history of their existing programs.
George Washington
The Colonials have appeared in the NIT six times, including this year's tournament. This is the first time they have moved onto the second round of the tournament and sit at an overall record of 4-5 in the NIT and 26-10 in the regular season.
In the 2016 edition of the NIT, George Washington needed to win two home games and one game away from home against top-ranked Monmouth in order to set up a date with San Diego State in the second NIT semi-final.
Through their first three games of this tournament, the Colonials averaged 83.7 points per game in wins over Hofstra, Monmouth and Florida.
While this George Washington team doesn't do anything "great," they don't do anything horribly, either. Their stat line is good across the board: 107 th best scoring offense (75.9 points per game), 108th best scoring defense (69.3 ppg), 135th in field-goal percentage (44.7 percent), 81st in total rebounds per game with 38 rebounds per game.
This team has three players scoring in double figures, led by junior Tyler Cavanaugh with 16.8 ppg and two senior contributors Patricio Garino (14.2) and Kevin Larsen (12.3).
The Colonials are an amazing 71-11 under Mike Lonergan when leading at halftime but are only 2-2 SU and 1-3 ATS on a neutral court this season.
San Diego State
When the Aztecs take the MSG court on Tuesday night, it will mark their second appearance in the NIT semi-finals. The other appearance was in 2009 when they lost to Baylor. In total, the Aztecs have participated in six NIT tournaments and have a combined record of 8-5.
The Aztecs are coming off three straight home wins by margins of 24, 15 and 16 points against IPFW, Washington and Georgia Tech, respectively. But winning like that on the road is a tough task for any team.
They are averaging 81.3 points per game during this NIT run and are led by sophomore guard Trey Kell (12.7 ppg) and Jeremy Hemsley (12.2 ppg). The Aztecs are 26-1 when scoring more than 67 points this season. Against a beatable Colonials' defense, this is going to be a super stat after tonight.
The Aztecs pride themselves on the defensive end of the court and are holding teams to an average of 60.5 points per game. They have already held two teams this tournament under 56 points, which looks even more impressive when you see that they held those two teams to only a combined 37.5 percent shooting.
For the season, the Aztecs are 3-3 SU and 2-4 ATS on a neutral court. The total has stayed "under" the number in four of six neutral-court contests.
The Outlook
The Aztecs are the slight favorite in this matchup on paper but in reality the Colonials will need a complete performance to even entertain the thought of upsetting SDSU.
George Washington fans can be proud of their team after wins this season over Virginia, Seton Hall and VCU -- three NCAA Tournament teams. While the Colonials probably have the higher ceiling, the Aztecs have been just as impressive this season after dominating the Mountain West Conference.
So far this season, no team has been able to have its way on the offensive end against this stout Aztec defense, and I see that trend continuing tonight.
The Aztecs stat of 26-1 when scoring at least 67 points keeps popping out at me as surely they can get to that magic mark against a GW defense that isn't anything to shake a stick at.
The difference in this game will be the turnover battle, no matter how cliché it sounds. The Colonials turned the ball over 16 times in their last game. And if a repeat performance of that is in the cards, they may not crack 60 points all game.
To beat a great defense, you must be able to knock down open looks and get second-chance points - something I'm not sure George Washington is capable of doing enough to get this win.
Pick: San Diego State -3 -110
I would recommend buying down a half point and getting it at -2.5.