Free Sweet 16 Betting Picks: NCAA Tournament Dogs with Massive Wagering Value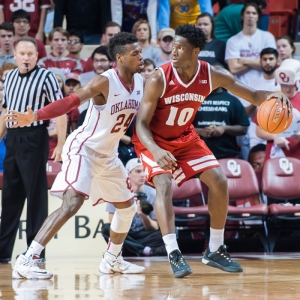 On any given day I am drawn to betting underdogs. Maybe I'm just a romantic at heart - always pulling for David and rooting against Goliath. In the NCAA Tournament, though, my fascination for underdogs grows even stronger. There is something about this tournament that can produce underdogs that cover big spreads, or even win outright, and make faithful bettors' pockets fuller. It's a beautiful thing. Looking at the Sweet 16 field illuminates three underdogs that seem to have particular appeal this time around. Here's a look at the best Sweet 16 underdog value ( Odds are from BetOnline):
Wisconsin (+1) vs. Notre Dame (Friday, 7:25 p.m. ET): There are some games that you see the spread for and are honestly surprised. Sometimes that surprise is negative and the betting opportunities in the game have been ruined for you. When the surprise is positive, though, it is a very good thing. This one definitely falls into the latter category for me. When I thought about this game I felt like Wisconsin would certainly be the favorite. They have faced a much tougher path to get here than Notre Dame has - Michigan is lousy this year, and Stephen F. Austin is solid but shouldn't have been nearly as competitive with the Irish as they were. At this point in the tournament if there isn't a talent mismatch - and there isn't here in broad terms - then it comes down to two things above all else. First, coaching. Mike Brey has more experience but also has the tendency to experience brain cramps in important situations. Therefore, neither team has a clear edge here. Second, toughness. Adversity is a given at this time of year. The ability of teams to handle that and respond positively is huge, and I give the Badgers the edge in that area. Wisconsin isn't perfect by any means - they lost to Nebraska in the Big Ten Tournament, after all - but then Notre Dame lost in their conference tournament by 31 to North Carolina, so neither team rode a wave of momentum here. Wisconsin is better at setting the tone of a game than the Irish, and if they can do that here then they will come out on top. There is nice value here.
Miami (+4) vs. Villanova (Thursday, 7:10 p.m. ET): Villanova has been a surprise so far - not compared to their seeding but compared to their recent tournament appearances. Expectations have grown as the Wildcats have won two games, and I don't have a lot of faith in their ability to handle that increased pressure. If they have learned to thrive in big games they have only done it recently, because they had a habit this season of losing their toughest games. I am not deeply in love with Miami, but their conference is strong, they have some nice pieces, and they have beaten some good teams in the last month. This is a bet against Villanova giving up this many points as much as anything, but there is some value here.
Duke (+3) vs. Oregon (Thursday, 10:05 p.m. ET): There are a lot of factors that weigh in on my feeling that Duke oozes value here. The one that is most compelling, though, is the coaching mismatch. Coach K has been in the Final Four as many times as Dana Altman had coached in the NCAA Tournament before this year - 10. If this was the Round of 32 I wouldn't give that as much consideration, but Duke has had five days to prepare for this game instead of just one. There is a coaching edge for Duke at the best of times, but in this situation that edge is extreme. That alone would be enough to at least consider the Blue Devils. And then there are the conferences to consider. The ACC is strong, and it has shown just how strong in this tournament - five of the 16 teams still alive play in the conference. The Pac-12 is a different story. They came into the tournament riding a wave of RPI hype but have been just a brutal disappointment - the Ducks are the only team remaining, and the other departures have been mostly humiliating. A team can outplay their conference, but the quality of teams they have beaten can tell us a lot about what the team is really like, and that flatters the underdog here. Duke offers nice value.
Doc's Sports has the best group of college basketball handicappers on the planet with our awesome Advisory Board lineup of experts. New clients can try out picks for free from any Advisory Board handicapper on the Web site. Click here to get two days of college basketball picks for free - no hassle and no credit card needed.
Read more articles by Trevor Whenham