Free Sweet 16 March Madness Prop Bets & Predictions for Thursday
by Chris Vasile - 3/24/2016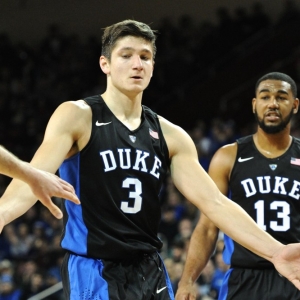 The first four days of the NCAA Tournament were nothing short of spectacular. With upsets, buzzer beaters and epic comebacks, the tournament delivered the Madness and left everybody wanting more
With three down days between the second round and the upcoming Sweet 16, bettors should feel refreshed and ready to get back on the horse and expected the unexpected.
Tonight's slate of games features some very interesting matchups. And from what the Las Vegas lines say, some evenly-matched games. As we get deeper into the tournament the lines get sharper and sharper, which is why picking a side is an even tougher task now than in the first two rounds.
The tournament downtime has given me a lot of time to study teams and re-watch some games. I was able to identify key prop bet opportunities that I could not pass up. As always, Bovada provided me with amazing prop bets and odds.
Miami-Florida vs. Villanova
Villanova Team Total Points
"Under" 72 -120, "Over" 72 -120
Villanova is playing in the Sweet 16 for the first time since 2009. They looked absolutely brilliant against an underrated Iowa team. Remember, Iowa was all the way up to No.3 in the polls prior to hitting a slump.
The Wildcats possess a three-headed monster that they deploy every night to terrorize the opponent. Whether it's Daniel Ochefu in the post grabbing rebound after rebound or the trio of guards in Ryan Arcidiacono, Josh Hard and Jalen Brunson padding the points and assists column, this team is on a mission.
Nova is averaging 81.8 points per game since Feb 24, and they are shooting at an even better percentage during their first two games of the tournament. They connected for 58.6 percent against both UNC Asheville and Iowa.
The reason I like the Wildcats to surpass their team total is because the perception of Miami-Florida is at an all-time high with fans and Hurricane bettors alike. The Hurricanes gave up 72 points to the MAC champions. Isn't this team supposed to be a top-tier ACC team? They followed that up with a smoke-and-mirrors performance against a team that was ripe for the picking. Wichita State was not 100 percent healthy, with their main man Ron Baker playing through a quad injury. Wichita was also on a quick three-game turnaround that saw them play in Ohio and then Providence in a five-day span. Miami consistently puts up more than 65 points per game, and I see this game being high scoring. However, Miami can't stop anyone, which is why Villanova gets the job done and we cash this ticket.
Pick: Villanova Team Total "Over" 72 -120
Texas A&M vs. Oklahoma
Texas A&M Team Total Points
"Under" 72 -120, "Over" 72 -120
After what Texas A&M did just a few days ago, it would be hard pressed to put in a repeat performance. Some say they will ride the wave of momentum, but I say the letdown will be epic.
Sure, the Aggies ended up winning the game in double overtime, but if you take away the points scored in both overtime periods and in the last 60 seconds of the game, the Aggies scored only 59 points. They were outplayed for literally 39 minutes of game time before Northern Iowa's unfortunate implosion. They are void of any real stars. Alex Caruso led the charge with 25 points but will probably have the unenviable task of guarding Buddy Hield. Having to be your team's best scorer while defending one of the nation's best players is certainly too much to ask for a player like Caruso.
Oklahoma is averaging 75 points allowed per game over their first two games of the tourney. That should be taken with a grain of salt, however, as I think VCU is better than Texas A&M by a mile. The first two rounds of games seemingly always go over the number. The total for this game is set at 147. I see that number as first to 70 wins. With the Aggies team total sitting at 72, I can confidently predict them coming in below their total.
Pick: "Under" -120
Duke vs Oregon
Oregon Team Total Points
"Under" 80 -120, "Over" 80-120
This game is more than just a Sweet 16 game to the Oregon Ducks. The often-known "football" school has the chance tonight to defeat the defending National Champions. And they have the have just the kind of team needed to do so.
If anyone should be salivating at the thought of playing Duke, it should be Dillon Brooks. The sophomore forward stands 6-foot-6, 225 lbs, and is likely going to be a nightmare matchup for any defender Duke tries on him. Grayson Allen is too small and Brandon Ingram is not strong enough. If he is able to produce early in the game, this could open up a plethora of other attacking options for the Ducks as Duke will have no choice but to double him down low.
Another thing going in favor of the Ducks is the leaky defense Duke displays. After leading Yale by 20+ points in the second half, the Blue Devils wilted and nearly lost the game outright. That was to Yale. Not the No.1-seeded Pac-12 champion who are as athletic as any team in the country.
Throw in the fact that this is essentially a home game for the Ducks and that everyone hates Duke; the travel and hostile crowd will be the extra boost needed for Oregon to put up at least 80.
I expect them to cover the spread and the game to go over the total.
Pick: Oregon "Over" 80 -120