March Madness Betting Trends for 2016 NCAA Tournament Wagering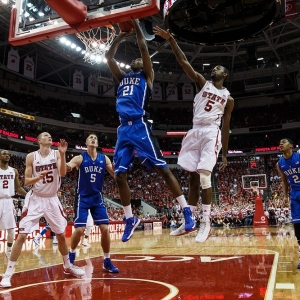 It's almost time for what are easily two of the most exciting days of the year for sports bettors and sports fans in general - the first two days of the NCAA Tournament. For many glorious hours we can watch game after game, knowing that countless millions are skipping work to do the same thing as well. We are limited in the real handicapping that we can do until the brackets are set on Selection Sunday. Until then, I thought it would be worth going back to last year's tournament, doing some quick analysis, and identifying some March Madness betting trends that might help us spot some winners next Thursday and Friday.
Favorites: It was not a good round to be a person who likes betting favorites. The favored teams were a dismal 13-19 ATS in the 32 games played over the first two days of action. When you break it down by day, it's even more interesting. The favorites were actually profitable on the Friday - 9-7 ATS. That wasn't enough to overcome a ridiculously poor opening day of 4-12 ATS.
Underdog outright winners: It was a very good couple of days to bet underdogs against the spread, but how about on the moneyline? Not quite as good as it turns out. Just six of the 32 games featured underdogs winning outright. There were some decent prices - a 14-point and 9.5-point underdog both won outright on Thursday, for example - but not likely enough to make it profitable on the moneyline unless you were very selective about the games you played.
Higher seeds: There were only three games over the two days in which the lower seed was the betting favorite, so for the most part the performance of the higher seeds was the same as it was for favorites. The three games: Butler beat Texas as two-point underdogs, VCU lost to Ohio State by three as 3.5-point underdogs, and Oregon beat Oklahoma State by six as one-point dogs. So, higher-seeded underdogs were 2-1 ATS, but the sample size is too small to really attach any significance to.
Close to home: A lot of credit is given to teams that don't have far to travel for their opening-round game. The theory the public embraces is that the combination of easy travel and easier crowd support gives the closer team an edge. To test this out in a simple way I looked at games in which a team played in their home state or in a neighboring state. That likely won't catch all easy travel situations, but it's close. There were, somewhat surprisingly, 13 games which fit the criteria. Three, though - Purdue and Cincinnati in Louisville, Virginia and Belmont in Charlotte, and Villanova and Lafayette in Pittsburgh - had both teams from neighboring states (the first two) or in-state (the last one). Kentucky and Hampton also technically fit the criteria - they played in Louisville, which is just down the road from Kentucky, but Hampton is from neighboring Virginia - so even though Kentucky had a massive advantage we'll leave them out of here. That leaves 10 games. In Columbus, Valparaiso lost by three as a five-point underdog. Also in Columbus, Dayton won by 13 as 2.5-point underdogs, so they really seemed to like home cooking. There were two games in Omaha, too. Wichita State won by five, but that wasn't enough to cover the 6.5-point spread they were favored by. Kansas easily covered, winning by 19 as 9.5-point favorites. In Jacksonville, Georgia State stunned Baylor, winning by one as 9.5-point dogs. There were three games in Charlotte that fit. Belmont lost by 12, but they were 17-point underdogs, so they got a hollow cover of the spread. Duke hosted Robert Morris and rolled to a big win and an easy cover. Georgia also played close to home in Charlotte, but it didn't help - they lost and didn't cover as an underdog. Eastern Washington only had to travel to Portland, but they narrowly missed covering as eight-point underdogs. Also on the West Coast, Gonzaga only had to go to Seattle, but it didn't help - they won easily, but not easily enough to cover. So, the geographically-advantaged teams were 6-4 ATS - profitable, but nothing to write home about.
Play-in game winners: I know we said we'd stick to Thursday and Friday, but just think of these four Tuesday and Wednesday games as a special bonus. The four winners of the play-in games in Dayton were Dayton (which also could have been included in the last group, though I left them out because the Dayton games are only barely real games), Robert Morris, Hampton and Ole Miss. Dayton won big as an underdog as we know. Robert Morris was crushed by Duke. Ole Miss was a two-point underdog that lost by 19. Hampton lost to Kentucky by 23, which was enough to easily cover the 34.5-point spread. So, play-in winners were 1-3 straight up and 2-2 ATS. No real insights to be gained from that.
Biggest spreads: Ten of the 32 games had double-digit spreads. Things were decisive here - the underdogs were a stellar 8-2 ATS in these games. It's worth noting, though, that only one of the 10 underdogs won outright, so for moneyline bettors this wasn't attractive.
Want free sports betting picks? Doc's Sports has you covered - get $60 worth of picks free from any of Doc's Sports expert handicappers. Click here for free picks (new clients only).
Read more articles by Trevor Whenham