2016 March Madness Bracket Picks: Vulnerable High Seeds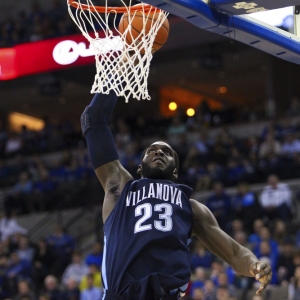 As we stare at the newly minted NCAA Tournament bracket, there are some things that stand out immediately. We know that teams seeded in the top four in their region should, all things being equal, survive at least until the Sweet 16. The top two seeds should go further. There are a few high seeds, though, that don't seem quite good enough to make it that far - or at least not good enough to assume that they will. They are vulnerable teams that wouldn't be surprising early exits. Here are my March Madness bracket picks for five vulnerable higher seeds:
Villanova (No. 2, South Region): I just don't like this team at all. I'm not paid by the word, so I really could just say one thing and move on - they lost to Seton Hall in the Big East Tournament. A team that thinks they are as good as this team thinks it is should not be losing games like that. That's not the only problem, either. This team has lost four regular-season games this year, and all four were to good teams. They are not a team that thrives under pressure, and there is no bigger pressure than playing in the NCAA Tournament as a high seed. And then there is a track record - these guys have basically made an art of flaming out in the NCAA Tournament in recent years. I just don't trust them. Oh yeah - there is the road they face, too. The first game obviously isn't much of a challenge, but then Iowa looms in the second round. The Hawkeyes are struggling lately but were exceptional earlier in the year and would be brutal if they can recapture some of that magic here. Add it all up and I just don't feel optimistic about this team. Just like I didn't last year - and that paid off handsomely for me.
Oregon (No. 1, West Region): There is one kind of team that drives me crazy - one that has to impose their style of play on a game to come out on top. Oregon is that way to me - If they can play like they want to play then you probably aren't beating them. If you can dictate the pace and style of play, though, then they are a vulnerable squad. That isn't going to be a problem in their opener, obviously, but both their second and third games could be really tough - especially either Baylor or Duke in the third round. The upside for this team is really high, but it wouldn't be a real shock for them to lose at any time, either. There is just no trust here.
Virginia (No. 1, Midwest Region): If given the choice between watching a Virginia game and gouging my own eyes out with a rusty spoon, I would have to really think about it. It's not that I don't respect Virginia - they are on a heck of a run the last couple of years. It's that they just play so painfully slow that I can't handle it. I like teams that move the ball and make things happen. I like a track meet, basically. Virginia games are like track meets for one-legged tortoises. A team isn't vulnerable just because I don't like them, of course - I have a high opinion of myself, but I'm not that delusional. The problem, though, is that they can be vulnerable to a team with the ability to move the ball and dictate the pace. You look at their potential path and there are some smart coaches with versatile teams. Virginia will be tested, and Tony Bennett and his 6-5 NCAA tournament record doesn't fill me with confidence.
Utah (No. 3, Midwest Region): Jakob Poeltl, the Pac-12 player of the year, is a very good player. He'll be a very nice pro. He carries this team on his shoulders regularly and effectively. The problem, though, is the depth behind him isn't of nearly the same caliber. They are a good team aside from him but far from special. That gives good opponents an opportunity -- they can leave Poeltl alone to do his thing and focus on containing the rest of the team. This team is not nearly good enough to win a 4-on-5 showdown with a competent team - even if Poeltl is in fine form. Either Seton Hall of Gonzaga in the second round is talented enough to give Utah a real test - and it might not turn out well for them.
Oklahoma (No. 2, West Region): If this team was the team they were in January then they wouldn't be on this list. They have looked a lot more mortal since then, though. Buddy Hield is a true pleasure to watch, and he's a special talent. They are really reliant on the shots of Hield and a couple of others falling at a fairly high rate, though. If they don't then the team will have some issues. They lost to some teams down the stretch that aren't nearly as good as some of the squads they will potentially face in this tournament. This does not seem like a team on the right trajectory to be worthy of intense trust.
Want free sports betting picks? Doc's Sports has you covered - get $60 worth of picks free from any of Doc's Sports expert handicappers. Click here for free picks (new clients only).
Read more articles by Trevor Whenham