March Madness Bracket Predictions: Ranking the Sweet 16 Teams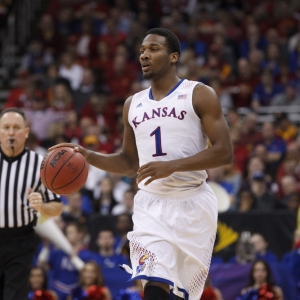 The field for the Sweet 16 is set, and after perhaps the craziest opening weekend in NCAA Tournament history we have a couple of much-needed days to sit back, regroup, and assess where we are at. While it seemed like there was going to be a bizarre set of teams alive for the second weekend after Thursday and Friday, the truth is that it is actually a pretty top-heavy group. All four No. 1 seeds survived - and didn't experience much stress in doing so.
Michigan State's shocking upset aside, half the No. 2 seeds are still going strong, and the other one that is gone, Xavier, should feel no shame for the tight loss. Only two seeds higher than a No. 7 are still playing, and they play each other on Friday. For a tournament that has been so crazy to watch, it really is a chalky bracket - though one that is arguably even more wide open than it felt before the tournament started.
With time on our hands, let's rank the 16 remaining teams in order of most likely to come out on top. It's striking, as you'll see, that there isn't a single team on this list that you can completely write off. (Odds to win the NCAA Tournament are from BetOnline):
Kansas (+375): The Jayhawks are the team I picked before the tournament (Ignore the fact that I had them playing Michigan State in the final, please). I'm sticking with them. Their path to the Final Four is about as favorable as it can be in this field, and they have the talent and coaching that puts them atop the heap. .
UNC (+375): The Tar Heels are at the head of an amazing run by the ACC so far. They could face two tough tests from Big Ten squads en route to Houston, but they have looked very good so far and are deserving of their seeding.
Oklahoma (+900): The Sooners have jumped ahead of two remaining No. 1 teams right now. It comes down to, in a couple of ways, Buddy Hield. First, he's the best player in the tournament, and that never hurts a team. Second, I have been very impressed by how the team has responded when he hasn't been as sharp as he can be. I like their path fairly well, too.
Virginia (+550): I still struggle to give Virginia the respect they probably deserve, but they have looked very good and, at the least, have a very manageable next game.
Duke (+2000): I give Duke, a No. 4, the narrow nod over their top-seeded opponent because I have been impressed by their play and because giving coach K this much prep time during the tournament is never a bad thing. The guy just won his 90th NCAA Tournament game - just think about that for a second.
Oregon (+1000): I'll admit that a bit of my skepticism around this team has to do with how awful their conference has looked in this tournament. They have done nothing wrong themselves - though I would have liked to have seen them win with a bit more authority against St. Joe's.
Gonzaga (+2000): They are the lowest seed remaining in the tournament, but they sure aren't playing like it. Their two big men have been magical, and they are playing great basketball. I love their matchup against Syracuse, and Virginia is not impossible to beat. This has a chance to be a Final Four team. Wouldn't it be ironic if Mark Few's best tournament team wound up being the one everyone (rightfully) ignored in the weeks leading up to the tournament?
Villanova (+1200): They get credit for just smashing Iowa, but I still don't trust them in big game situations enough to have them any higher on this list.
Miami (+1800): I would like them a lot better if they weren't potentially running into Kansas. Tough remaining slate of games for them.
Wisconsin (+3300): I'm not sure how they got the win over Xavier, but this is a tough team that is very much at their best when things are on the line. I really like them against Notre Dame, and they can make things interesting after that. They lost their two best players from last year, but they still have mountains of late tournament experience built over the last two seasons.
Texas A&M (+1800): I would have the Aggies higher if I wasn't concerned about two things - the mental impact of that truly insane comeback against Northern Iowa, and the fact that they got themselves into such a deep hole in the first place.
Indiana (+2000): Solid team that impressed against Kentucky. They are far from consistent, though - as they showed by laying an egg against Michigan in the Big Ten Tournament. Against a lot of teams I would like them more than I do against UNC.
Iowa State (+2500): There is nothing to really dislike about this team. I just don't think they quite have the horses to get them to the finish line on the path they are forced to travel on.
Notre Dame (+4000): They played one good half against Michigan and one horrific one. They were extremely lucky to escape against Stephen F. Austin. They are a cat that is down to its last life - and they face a very daunting path.
Maryland (+2000): I haven't liked how they have played for the last month. They have looked fine so far, but they haven't been tested yet. That changes now with Kansas looming. I just don't see that going well.
Syracuse (+4000): Few outside of upstate New York thought they belonged in the field. Their path has been very soft, and I just don't see how they are ready as things get much tougher.
Read more articles by Trevor Whenham