March Madness Free Picks for Best Props on Board Friday March 18 Night Games
by Chris Vasile - 3/18/2016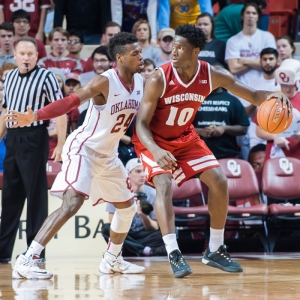 Day 1 of the NCAA Tournament is in the books. And much like the other two certainties in life (death and taxes), your bracket is most certainly busted.
It was not one of the craziest tournament days I've ever seen, but it did produce seven games that were won by the lower seed. No. 9 seeds went 3-0 straight up and against the spread, and the No.11 and No.12 seeds both won and covered their respective games. Bracket = busted.
Despite all the upsets, there were only a few games that came right down to the wire. Baylor had a chance to tie the game with fewer than 10 seconds to play but turned it over. Purdue would later suffer the same fate against Little Rock, turning it over down two points with less than five seconds on the clock. This game should have been an afterthought but ended up in a double-overtime win for the 12th-seeded Trojans, who overcame a 14-point deficit with just five minutes left to play.
The game of the night in my opinion goes to Providence and USC. These teams battled back and forth all game long, and it took a well-crafted inbound play to save the Friars from elimination. Hats off to USC, who were able to battle and played above their heads for 39 minutes and 57 seconds.
But yesterday is history and we move on to today. The opening game of Syracuse vs. Dayton should be a great contest, but I have my eye on a couple of the late games. I am bypassing on sides today for a few prop bets I love and I think should hit.
As always, Bovada has you covered for lines and odds.
Pittsburgh Panthers vs. Wisconsin Badgers
Winning Margin
Pittsburgh by 6-10 points +475
This game is currently sitting at Wisconsin -1. I think the wrong team is favored. Pittsburgh is a deep team. They have 10 players averaging at least 12 minutes per game, and that could bode well if this game turns into a physical Big-Ten style game that I am fully expecting.
The key for Pittsburgh to win this matchup is by being unselfish and racking up the assists. They are at their best when they have at last 15 assists in the ball game. They wear out their opponents with the quick ball movement and find the open man for an uncontested jumper.
The Panthers come into this game averaging 75.8 points per game, which is a whole seven points per game better than the Badgers (68.8).
Pittsburgh has the makeup of a team who can beat you slowly (Wisconsin's style of play) or up the tempo and beat you running (not Wisconsin's style of play). I fully expect Pittsburgh to win going away and will take a shot with 6-10 points for a juicy payout.
Wisconsin Badgers Team Total
"Over" 66 -120, "Under" 66 -120
As I mentioned in the above, Wisconsin loves to play a slow, methodical style of offense. They are ranked 341st in the country in possessions per game, which is almost last considering there are only 351 NCAA teams in the country.
The Badgers averaged almost 69 points per game, but that is against a weaker Big Ten conference, against the likes of Michigan, Illinois, Minnesota, etc.
The Badgers style is to use up all 30 seconds of the shot clock, run their set half-court offense and generate open looks for guys coming off screens. The problem with that is that Pittsburgh is no slouch defensively. The Panthers have the bodies to bang with Wisconsin, and I see them doing just that.
Wisconsin will struggle offensively, and frustration will begin to set in. Staying under the 66 point total should never be an issue. I see this game as first to 65 wins, and that surely won't be Wisconsin.
Pick: "Under" 66 -120
Northern Iowa Panthers vs. Texas Longhorns
Texas Team Total
"Over" 64 -120, "Under" 64 -120
I still don't get what people see in this Texas team. Sure, they finished 20-12 and fourth in the Big 12. So what? Does that make them a good team?
This Northern Iowa Panthers squad is a great team. They have won 12 out of their last 13 games and are defending at a level that rivals some of the top teams in the country. They have not allowed a team to score more than 69 points in their last 13 games, and that is not about to change.
With the lineup Texas has, it will be lucky to hit the 60-point mark.
Texas has only one decent player who can hurt opponents in Isaiah Taylor, but he will be on shut down tonight thanks to Northern Iowa's Wes Washpun, who is playing lights out entering the tournament.
In addition, there will not be many opportunities for fast-break points for Texas because Northern Iowa averages only nine turnovers per game. They are safe with the ball and efficient.
Texas will be heading home frustrated after today's game.
Pick: "Under 64" - 120
First Team to Reach 20 Points
Northern Iowa +115, Texas -155
It may very well take Texas 15 whole minutes to reach the 20-point mark in this game. People are underestimating Northern Iowa's ability just because they play in a weaker conference compared to the Big 12.
The Panthers will be eager to show people they belong and have a ton of momentum carrying over into this game after beating Evansville in the Missouri Valley Conference title game.
The fast-break points for Texas will be limited/non-existent thanks to Northern Iowa's refusal to turn the ball over.
While this might not be one of the more traditional props on the board to bet on, this my favorite play of the day.
Pick: Northern Iowa