March Madness Money Management Tips and Expert Betting Advice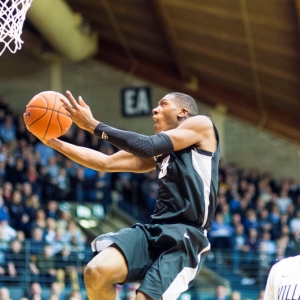 For a lot of people, the NCAA Tournament is all about filling out brackets and playing pools. Bettors know, though, that the real fun and profit in March is to be had not in playing pools but in betting on the tournament itself. There is a ton of games in a short time, and smart bettors have the opportunity to cash in big time. In order to enjoy the windfall, though, you need one big thing beyond just strong handicapping - you need to have strong March Madness money management. You can't make any profits if you blow your money in the opening round. Here are four money management tips to keep you on track:
Plan your bankroll: Before the tournament starts you need to determine how much money you are going to have available for the entire tournament. If you lose the money then you need to stop betting. You might set that amount based on how well you have done on the season - you could invest a portion of the profits from your season, for example. If you don't have profits to invest, you will want to make sure that what you have to bet is an amount that you can afford to lose. You won't plan to lose it, of course, but you will bet better if you aren't worried about being broke if you don't pick enough winners. Once you have figured out the total amount you will put on the line then you can figure out what your bet size needs to be in order to preserve your bankroll and keep you in the game if you get off to a slow start.
Pace yourself: There is no rule anywhere that says you have to bet on every game. It can be easy to get swept up in the excitement of the tournament - especially in the opening days when everyone is watching and the games are on endlessly. The only bets you should be making during the tournament, or any time for that matter, are those that offer real value. It's possible that you could have eight or 10 such games each day on the first two days of the tournament. Or you could have one or two. There are lots of games on the schedule, so you don't need to make bets that aren't worth making. There is always the next game. The more patient and disciplined you are, the better off you will be in the end.
Don't be married to your bracket: Most bettors also have filled out a bracket or two - at least. For the purpose of their betting, though, those bettors need to forget that those brackets exist when they are making their bets. There are two reasons for that. First, you could be biased towards or against a given team in a game based on whether you picked them or picked against them in your bracket. As the tournament continues you could also find those biases intensifying - if you need a team to win for the sake of your pool then you could naturally be biased towards them in your handicapping. It's almost as if you are giving the team you need to win extra credit in your mind to convince yourself that your bracket is in good shape. If your bracket in any way influences the outcome of your handicapping then that is a real problem.
Keep an eye on the public: There are a lot of people who bet on games in the NCAA Tournament that don't bet on college basketball at any other time. It's when the sport is on the national stage, and a lot of casual bettors only bet when the world is watching. The more the public bets on a game, the more potential opportunities there are for handicappers - but only if you are paying close attention to how the public bets and what it means. The public tends to have predictable biases. They have teams that they blindly prefer like Kentucky, North Carolina, Duke and Kansas. They will tend to back a major-conference team playing against a lesser-conference squad. They aggressively rely on seeding in most cases - they'll bet very heavily on a No. 1 against a No. 16, for example, regardless of how big the spread is. The oddsmakers obviously have a good sense of how the public is likely to bet on a game, and they will, as much as possible, set the odds to take advantage of those biases. By understanding what the public is doing you can have a sense of where extra value might be found - and which spots could have odds that are less attractive than they could be.
Doc's Sports has a great offer for new clients. You can get $60 worth of picks from any Advisory Board handicapper for any sport he handicaps. All with no obligation and no credit card needed. Claim your free picks today .
Read more articles by Trevor Whenham