Five to Follow MLB Betting: Friday, August 26, 2016, Opening Line Report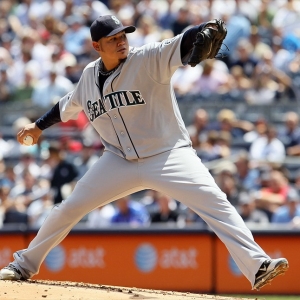 Here's hoping the news isn't bad, but it sure didn't look good when ultra-promising Red Sox rookie outfielder Andrew Benintendi suffered a gruesome knee injury in the sixth inning of Boston's game at Tampa Bay on Wednesday night while running the bases. He had to be helped off the field, although not on a cart, so maybe that's a good thing. Benintendi was to have an MRI on Thursday -- and you never want to speculate on torn ligaments, but I will be surprised if there aren't any. If there has been one gaping hole in Boston's excellent every-day lineup this season it has been in left field as the club has used eight players there. Benintendi, who did go on the 15-day DL Thursday ahead of the MRI results, seemed to have locked that spot down the rest of the way, batting .324 with a homer, 10 RBIs and spectacular defense -- YouTube his catch vs. the Rays on Tuesday -- since being called up early this month. If Benintendi is done for the season, you might be looking at a platoon in left of Chris Young (vs. lefties) and Brock Holt (right-handers). Benintendi would still be eligible for AL Rookie of the Year honors in 2017 if he doesn't play again.
Royals at Red Sox (-147, 9)
MLB Network game and thus should have live betting at sportsbooks. It's the expected return of Red Sox All-Star knuckleballer Steven Wright as he will be activated from the disabled list. Wright (13-5, 3.01) last pitched on Aug. 5 at the Dodgers and threw a complete-game three-hit shutout with nine strikeouts. But not long after he had some pain in his right shoulder. However, a bullpen session on Tuesday in St. Petersburg went off without a hitch and he's ready to return. Wright lost in Kansas City on May 18, allowing three runs and five hits over eight innings. Eric Hosmer is 1-for-4 off him with a homer. Alcides Escboar is 3-for-7. The streaking Royals counter with Ian Kennedy (8-9, 3.58). He has been one of the AL's best starters in August with a 2-0 record and 0.67 ERA in four starts. Kennedy threw eight shutout innings in his last start against the Twins. He took a no-decision vs. the Sox on May 18, allowing two runs over 5.2 innings.
Key trends: The Royals are 1-8 in Kennedy's past nine on the road. The Red Sox are 6-2 in Wright's past eight at home. The "over/under" has gone under in seven straight Kennedy road starts.
Early lean: Red Sox and under.
Mariners at White Sox (-120, 8)
Easily the pitching matchup of the night between guys who finished second and third in the 2014 AL Cy Young voting. Seattle goes with ace Felix Hernandez (8-4, 3.26), who won't be in the Cy Young conversation this year because he missed nearly two months. King Felix allowed two runs over eight innings with eight strikeouts on Saturday vs. Milwaukee as the M's won his fourth straight start. Hernandez's return from the DL came on June 20 vs. the White Sox, where he allowed five runs and 10 hits over 6.2 innings in a no-decision. That's easily his worst start since being activated. Justin Morneau struggles against him career, going 7-for-40 with 10 strikeouts. Melky Cabrera hits .320 off Hernandez in 25 at-bats. Chicago's Chris Sale (15-6, 3.15) is still in the Cy Young race but definitely not leading it any longer. He was sharp Saturday vs. Oakland in throwing eight shutout innings for his first win since July 2. Sale took a ridiculous no-decision in Seattle in July 18, shutting out the Mariners on one hit through eight innings only to see the bullpen lose the game in the ninth. Nelson Cruz is 7-for-19 career off him with two homers. Kyle Seager is 1-for-13.
Key trends: The Mariners are 2-8 in their past 10 vs. a lefty. The White Sox are 9-2 in Sale's past 11 at home. The under is 9-4 in his past 13 at home vs. teams with a winning record. The Sox are 5-1 in Sale's past six vs. Seattle.
Early lean: Mariners and under (that total seems high!)
Phillies at Mets (-172, 8)
New York will get back second baseman Neil Walker from the paternity list -- unless he surprisingly is back on Thursday, but that's not likely with the team on the road. That Jon Niese for Walker trade with Pittsburgh this offseason was a steal for the Mets as Walker is hitting .278 with 22 homers and 54 RBIs. Niese, meanwhile, has since been re-acquired by New York, although he just landed on the DL and is likely done for the year. The Mets go with Bartolo Colon (11-7, 3.36) to start a long homestand. He won in San Francisco on Saturday, giving up two runs and nine hits over 6.1 innings. Colon is 1-1 with a 2.04 ERA in three starts this year against the Phillies. Ryan Howard is 6-for-28 career off him with three homers and eight RBIs. Maikel Franco is 0-for-11. Philadelphia lefty Adam Morgan (1-7, 6.21) had a rare good start last time out, allowing a run over six innings vs. the Cardinals in a no-decision. It was the first time since May 21 that he allowed two or fewer runs in at least six innings. He hasn't faced the Mets this year.
Key trends: The Phils are 0-5 in Morgan's past five during Game 1 of a series. The Mets are 5-2 in Colon's past seven at home. The over is 7-1 in Morgan's past eight. The over is 7-3-1 in Colon's past 11 on Friday.
Early lean: Mets and over.
A's at Cardinals (-172, 8.5)
Oakland will lose the designated hitter -- usually Billy Butler, but he's on the concussion DL -- for this interleague matchup. The A's are expected to get back shortstop Marcus Semien from the paternity list. He's hitting .240 with 23 homers and 55 RBIs. Oakland starts lefty Ross Detwiler (1-2, 5.91) on the mound. He started the year with Cleveland and pitched in relief in April before being sent down and then traded in July to Oakland for cash considerations. He has made three starts with Oakland, and they have gotten progressively worse. He allowed six runs and 10 hits over four innings in a loss at the White Sox on Saturday. Detwiler hasn't faced St. Louis, where he's from, this season. The Cards go with Luke Weaver (0-1, 5.00) in his third big-league start. He lasted a career-high five innings Saturday in Philadelphia, allowing three runs and nine hits in a loss. He has never faced Oakland.
Key trends: The A's are 0-7 in their past seven interleague games. The Cards are 0-7 in their past seven interleague at home. The over is 9-3-1 in St. Louis' past 13 vs. a lefty.
Early lean: Cardinals and over.
Reds at Diamondbacks (-110, 9.5)
Arizona's high expectations for 2016 really went in the toilet on the eve of the season when All-Star center fielder A.J. Pollock was lost to a broken elbow in an exhibition game. It's too late for Pollock to rescue this season, but he's expected to make his debut on Friday. Guy was excellent last year, hitting .315 with 20 homers, 76 RBIs and 39 steals in 157 games. So maybe he can help your fantasy team down the stretch. The Snakes go with Braden Shipley (2-3, 5.45) on the mound. The rookie has made six big-league starts, and the past two have been lousy. He was knocked around for seven runs over 5.1 innings on Sunday in San Diego. This will be his first look at the Reds. They go with Brandon Finnegan (8-9, 4.32). The lefty comes off his best start of the season, taking a no-hitter into the seventh inning vs. the Dodgers and allowing one hit (an Adrian Gonzalez single) and no runs with eight strikeouts in seven innings in the win. Finnegan lost to Arizona on July 24 in allowing six runs and seven hits over five innings. Welington Castillo is 1-for-3 off him with a homer. Paul Goldschmidt is 1-for-2 with a dinger.
Key trends: The Reds are 9-3 in their past 12 series openers. The Diamondbacks are 1-7 in their past eight on Friday. The over is 7-2 in Finnegan's past nine.
Early lean: Reds and over.
Read more articles by Alan Matthews