Five to Follow MLB Betting: Thursday, May 12, 2016, Opening Line Report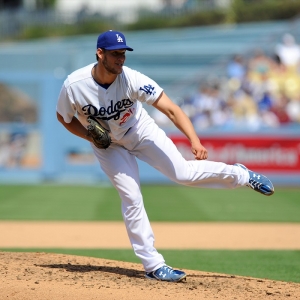 I'm sure by now you have seen the best highlight of the season in baseball. And of course that was the first career home run of pudgy Mets pitcher Bartolo Colon on Saturday in San Diego. At 42, the career .092 hitter became the oldest player in history to hit his first career homer. And it took him forever to get around the bases. Watching that and hearing the Mets' game call were absolutely hysterical, and I'm not even a Mets fan. I highly recommend you YouTube that and the Spanish-language call of the moment. ESPN's excellent writer David Schoenfield of the SweetSpot baseball blog ranked it as the most unlikely homer in big-league history. Tough to disagree.
It was so great that Topps commemorated the homer with a limited-edition $9.99 card that was on sale for just 24 hours. The company sold an incredible 8,826 of them, a record. But If Colon homers on Thursday off three-time Cy Young winner Clayton Kershaw, the world is going to end.
Tigers at Orioles (-160, 9)
If this isn't the highest-scoring game of Thursday, I'll be surprised (and it does have the top total). That's because I trust neither pitcher. Detroit's Mike Pelfrey (0-4, 6.23) is on the short list of worst starters in the American League and I don't know how much longer the team can trot him out there. Pelfrey has allowed five earned runs in each of his past three outings, spanning 15.2 innings. The Tigers gave this guy a $16 million contract this offseason? He hasn't won in his past 14 starts dating to Aug. 12, 2015 (with Minnesota), and has one victory since early last June. It's not like he hasn't been out there. The Orioles' Mark Trumbo is 5-for-10 off him with a homer. Chris Davis has two doubles in six at-bats. Adam Jones is 6-for-12. It's Ubaldo Jimenez (2-3, 4.54) for the Orioles. He's always capable of allowing a crooked number. And last year, he was 0-2 with a 12.54 ERA in two starts against Detroit. The Tigers hit four homers off him in 9.1 innings. Victor Martinez is 9-for-29 vs. Jimenez with four homers and 11 RBIs. Justin Upton has two homers and eight RBIs in 25 at-bats.
Key trends: The Orioles are 7-1 in their past eight Thursday games. The Tigers are 2-7 in their past nine in Game 1 of a series. The "over/under" is 5-1-1 in the past seven meetings in Baltimore.
Early lean: Orioles and over.
Astros at Red Sox (-140, 8.5)
Here you have the 2015 AL Cy Young winner in Dallas Keuchel and the runner-up in David Price, but both lefties look nothing like Cy Young candidates this season. The Astros have lost four straight starts by Keuchel (2-4, 4.70) and two straight at home, where he hadn't previously personally lost before that since Aug. 10, 2014. Keuchel did throw a quality start last time out, however, allowing two runs over seven innings vs. Seattle. He didn't face Boston in 2015. David Ortiz is 2-for-3 off him with an RBI. Brock Holt is 2-for-5 with an RBI. Price (4-1, 6.75) looks totally messed up as his velocity is down a few mph on his fastball. He has allowed at least six earned runs in three starts already, including the past two. His 6.75 ERA ranks last among 56 American League pitchers with at least 30 innings pitched. Supposedly Price has corrected a mechanical glitch since that last start. Price allowed two earned over 6.2 innings in his lone 2015 start vs. Houston. Colby Rasmus is 5-for-28 off him with eight strikeouts. George Springer is 2-for-10 with a homer.
Key trends: The Astros are 1-7 in their past eight against lefties and 1-6 in their past seven series openers. The Red Sox are 4-1 in their past five vs. the AL West. The over is 4-0 in Price's past four.
Early lean: Red Sox -- I'll believe Price for now -- and under.
Phillies at Braves (+100, 7)
This could be one of the better pitching rivalries in the NL East in a year or two once these teams both get good again -- and they should both be contending by 2018. For the Phillies, it's 23-year-old ace Vince Velasquez (4-1, 2.17). He had a rare non-quality start last time out, allowing four runs and seven hits over six innings at the Marlins. It was his first start this season with a no-decision. Velasquez has never faced Atlanta. It's 23-year-old Braves top pitching prospect Aaron Blair (0-2, 3.31). The rookie hasn't allowed more than three earned in his first three career starts but Atlanta has scored a total of five runs in those. Blair needs to cut down on the walks a bit as he has nine in 16.1 innings, but he hasn't allowed a homer yet.
Key trends: The Phillies are 6-17 in their past 23 Thursday games. The Braves are 8-25 in their past 23 in Game 3 of a series. The under is 4-1 in each team's past five on Thursday.
Early lean: Phillies and under.
Cardinals at Angels (+120, 8)
The Halos officially put shortstop Andrelton Simmons on the DL and he's going to be out until July following surgery to repair a torn ligament in his left thumb. Now the team's every-day shortstop is likely to be light-hitting Cliff Pennington, who hasn't been a full-time player in four years. The Angels also acquired shortstop Brendan Ryan in trade from Washington -- Ryan can't hit at all either but is at least a good fielder. This team is done with all the injuries. The Halos start one of their few healthy pitchers in Jered Weaver (3-1, 4.72). He has been very hit or miss thus far but was good Saturday against Tampa Bay, allowing one earned and six hits over six innings. A handful of Cardinals have faced him. Matt Holliday is 3-for-5 with two walks. Brandon Moss is 2-for-17 with seven strikeouts. The Cardinals, who add the DH for the series, go with Adam Wainwright. This was supposed to be Carlos Martinez, but he was pushed back to Saturday due to illness. Wainwright (2-3, 6.30) comes in off back-to-back quality starts vs. Pittsburgh and Philadelphia. Mike Trout is 1-for-4 with two RBIs off him. Albert Pujols is also 1-for-4. Pennington is 0-for-9.
Key trends: The Cardinals are 7-3 in Wainwright's past 10 road starts. The Angels are 2-5 in Weaver's past seven interleague starts. The over is 5-1 in Wainwright's past six. The under is 10-4 in Weaver's past 14 vs. the NL.
Early lean: Cardinals and over.
Mets at Dodgers (-210, 6.5)
If you are wondering, the only other active pitcher in MLB to homer after turning 35 like Colon did is Ryan Vogelsong. By the way, the Cubs' big free-agent addition, Jason Heyward, still hasn't homered this season! Colon (3-1, 2.82) also got the win in his last start, allowing three runs and six hits over 6.2 innings against the Padres. The Mets have won his past three starts. And if you are wondering: he's 0-for-2 lifetime against Kershaw. Adrian Gonzalez hits Colon well with a .458 average and two homers in 24 at-bats. Chase Utley is 7-for-17 with two doubles. Kershaw (4-1, 2.04) brings a streak of four straight starts with at least 10 strikeouts. He held the Blue Jays to two runs over seven innings in his last start. Kershaw's 1.34 regular-season ERA against the Mets (nine starts) is his best among any club he has faced at least three times. Lucas Duda is 1-for-10 off him with seven strikeouts. David Wright is 3-for-14 with four walks.
Key trends: The Mets are 1-6 in Colon's past seven vs. teams with a winning record. The Dodgers are 8-1 in Kershaw's past nine Thursday starts. The over is 9-2 in Colon's past 11 road starts. The under is 10-4 in Kershaw's past 14 at home.
Early lean: Dodgers and under.
Read more articles by Alan Matthews