NCAA Tournament Brackets Strategy and Advice: Dangerous Lower Seeds
by Victor Ryan - 3/16/2016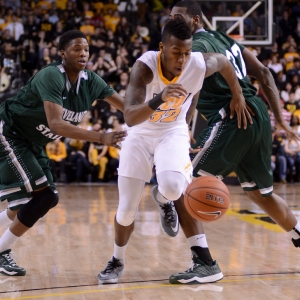 One of the best ways to identify potential first-round "upsets" in the NCAA Tournament is take a look at the Las Vegas odds. Seemingly every year, there are a handful of lower seeds that are actually favored on the betting lines. These are the potential "upsets" you might want to zero-in on when filling out your bracket.
This year there are four lower-seeded teams that are favored in the first round. Let's see which of these are most likely to advance.
No. 10 VCU (-4.5) vs. No. 7 Oregon State
Oregon State (19-12, 9-9 in Pac-12) finished in a tie for sixth in the Pac-12 regular season and were knocked out of the conference tournament by California in the second round. The Beavers last reached the Big Dance in 1990 with future NBA star point guard Gary Payton leading the way. Now they are led by his son, Gary Payton II. The standout guard has shot 48 percent from the field while averaging team highs in both points (15.9 per game) and assists (5.1). The negatives for Oregon State is it's not a good rebounding team and it struggles from the free-throw line (67.1 percent).
VCU (24-10, 14-4) tied for the Atlantic 10 regular-season championship and was beaten in the conference tournament championship game by Saint Joseph's. The Rams employ the same high-pressure defense under first-year coach Will Wade that was established so successfully by previous coach Shaka Smart. VCU ranked sixth in the nation in steals and held opponents to just 66.7 points per game.
The good news for the Beavers is they feature an excellent ball-handler and decision-maker in Payton II to deal with VCU's "Havoc" defense, as it's known. This should be a fun one. The pick is Oregon State, as Payton II could be poised for a breakout performance on the national stage.
No. 9 Connecticut (-3.5) vs. No. 8 Colorado
Colorado (22-11, 10-8) finished in fifth-place in the Pac-12 regular season and was eliminated in the second round of the Pac-12 Tournament by Arizona in a close game. The Buffaloes make their hay from 3-point distance. Three different Buffs (George King, Josh Fortune, Tre'Shaun Fletcher) hoisted at least 100 3-balls and all converted at an acceptable rate. As a team, Colorado has shot an excellent 39.2 percent from beyond the arc.
Connecticut (24-10, 11-7) checked in a disappointing sixth in the AAC regular season, leaving them squarely on the NCAA Tournament bubble, but that became moot when rolling to the conference tournament championship and an automatic bid. The Huskies are led by guard Daniel Hamilton (12.4 ppg, 8.9 rpb, 4.8 apg) and forward Shonn Miller (12.8 ppg, 5.4 rpg). Outside of last weekend, Connecticut has pretty much been a disappointment this season. Some folks are predicting the Huskies can make a little run in the tourney after all they did similar in 2014 when winning the Big East Tournament and then the national title as a 7-seed. There is no Kemba Walker on this year's version of the Huskies, however.
No. 11 Gonzaga (-1) vs. No. 6 Seton Hall
It was a bit of a down year for Gonzaga (26-7, 15-3), but the Bulldogs still managed to tie for the regular-season WCC Championship and take the conference tournament. This one is interesting as Gonzaga opened up by as much as 2-point favorite, but the line has since dropped all the way down to a pick'em at some books. The Bulldogs rely largely on the duo of senior forward Kyle Witjer (20.7 ppg, 6.5 rpg) and sophomore forward Domantas Sabonis (17.4 ppg, 11.6 rpg). As they go, so goes Gonzaga.
Seton Hall (25-8, 12-6) finished in third-place in the Big East regular season and won the conference tournament title with upsets of Villanova and Xavier. The Pirates get excellent guard play from Isiah Whitehead (18.4 ppg, 5.0 apg), whose been playing especially well of late; and its interior game is rock solid with forwards Desi Rodriguez (12.5 ppg, 5.2 rpg) and Angel Delgado (10.0 ppg, 9.4 rpg).
It's understandable to see how the money has flowed to Seton Hall, so perhaps this isn't the 6-11 matchup to pick an upset.
No. 9 Cincinnati (-1.5) vs. No. 8 Saint Josephs
Cincinnati (22-10, 12-6) finished tied for third-place in the AAC regular season and were eliminated in the conference tournament quarterfinals by Connecticut in an incredible four-overtime game. The Bearcats rely on their tenacious defense with guard Troy Caupin doing most of the heavy lifting on the offensive end. The junior guard leads Cincinnati in scoring (13.2 ppg) and assists (4.8) while also doing a good job on the boards (3.7 rpg) for a perimeter play. The Bearcats have to be smarting from that heartbreaking loss to UConn, but sometimes an early exit from a conference tournament can be a blessing in disguise for teams. If nothing else, Cincinnati should have had plenty of time to recover from such a draining battle.
Saint Joseph's (27-7, 13-5) finished in second place in the Atlantic 10 regular season and won the conference tournament by beating VCU in the final. The Hawks are led by leading-scorer Isaiah Miles (18.4 ppg, 8.1 rpg), a senior forward; and do-everything guard DeAndre Bembry (17.3 ppg, 7.7 rpg, 4.5 apg). That duo combined to score 56 points in the conference final against VCU. For Saint Joseph's to advance, Bembry and Miles will likely need to produce a similar performance against one of the nation's best defenses in Cincinnati.
Get free picks from any Doc's Sports handicapper - there is no obligation for this offer and no credit card required. Just sign up for an account, and you can use the $60 in free picks for any Doc's Sports Advisory Board handicapper and any sport. Click here to get started now