NCAA Tournament Wagering Advice: Handicapping Big East Teams in Big Dance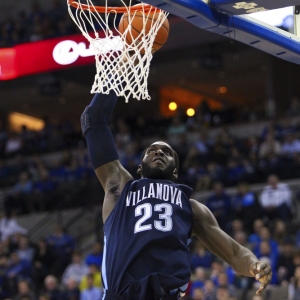 The Big East Conference is well represented in this year's NCAA Men's Basketball Tournament, with four additional teams getting an at-large bid along with Seton Hall as the Big East Conference Tournament Champion.
While the expectation level for teams such as Villanova and Xavier remain high as two of the top-ranked teams in the nation, upstarts like Seton Hall could be in position to make a deeper-than-expected run along with Providence and Butler.
The following is a brief look at all five Big East teams in the 2016 NCAA Tournament along with a prediction of just how long each of them will stick around in this year's Big Dance. All betting odds are provided by Bovada.
Villanova Wildcats: No. 2 Seed - South Region
Odds to Win the Region: +325
Odds to Win the National Title: +1400
The Wildcats are the conference's best shot at winning a national title, but they will have to probably have to get past the likes of Miami (FLA) as the No. 3 seed in the bottom half of the bracket to set up a likely meeting against No. 1 Kansas in the Elite 8. They certainly have the defense to go deep with a points-allowed average of 63.7. However, Villanova is going to need a big effort from both guard Josh Hart and forward Kris Jenkins on the offensive side of the ball.
Be careful betting on the Wildcats with a 2-6 record against the spread in their last eight games. They went 18-15 ATS overall with a 2-4 record ATS in six neutral-site games.
Prediction: I have Villanova bowing out in a tight loss to the Hurricanes in the Sweet 16.
Xavier Musketeers: No. 2 Seed- East Region
Odds to Win the Region: +800
Odds to Win the National Title: +2800
The Musketeers will look to bounce back from a stunning 87-83 loss to Seton Hall as five-point favorites in the Big East semifinals after posting an impressive SU 11- 2 run in their previous 13 games. Xavier will have a tough road in the East with Pittsburgh and West Virginia standing in its way to get to the region final. It does have the offensive firepower for a deep run with an average of 81.3 points per game.
This was one of my top betting teams in the Big East early in the regular-season schedule, but the Musketeers have been less than reliable with a 1-3 record ATS in their last four games. The "over" on the total line could be a way to go after it went over in their last seven games.
Prediction: Ride the Musketeers to the Sweet 16, but the ride ends with a loss to the Mountaineers.
Seton Hall Pirates: No. 6 Seed- Midwest Region
Odds to Win the Region: +2000
Odds to Win the National Title: +10000
The Pirates have firmly established themselves as a team to watch in the wide-open Midwest Region. As part of their recent SU 8-1 run, they have beaten Providence, Xavier twice and Villanova. Seton Hall got a huge effort from sophomore guard Isaiah Whitehead in the championship game against the Wildcats with 26 points, and he has now scored 20 points or more in his last five starts.
Betting on Seton Hall down the stretch has been a profitable move with six covers in its last seven games. The total stayed "under" 139.5 in the recent 69-67 win against the Wildcats after going over in the Pirates previous five games.
Prediction: Seton Hall will be tested right out of the gate against Gonzaga in a game that is listed as a pick, but I still like the team's chances to make it all the way to the Sweet 16 before falling to No. 2 Michigan State.
Providence Friars: No. 9 Seed- East Region
Odds to Win the Region: +4000
Odds to Win the National Title: +10000
The Friars have been a tough team to figure out this season at 10-8 SU in Big East play, but in the conference tournament they were able to beat Butler 74-60 as 3.5-point underdogs before losing to Villanova. Providence has a solid scorer in sophomore forward Ben Benttil with 21.2 PPG, but after raising that average to 29 points in a four-game run he was completely shut down in the loss to the Wildcats with just three points while going 1-for-5 from the field.
Providence still managed to cover as an 8.5-point underdog its last time out to raise its record to 5-0 ATS in its last five games. This followed a costly slide of just one cover in its previous eight outings.
Prediction: The Friars will square off against USC in their opening-round game a s 1.5-point favorites. While they will most likely get a shot to take down No. 1 North Carolina in the next round, the dance ends for this Big East team in that matchup.
Butler Bulldogs: No. 9 Seed- Midwest Region
Odds to Win the Region: +2000
Odds to Win the National Title: +20000
Butler has built its reputation for having a solid basketball program through a few previous deep runs in this tournament, but it will probably have to get past the likes of No. 1 Virginia and two hot Big Ten teams in Purdue and Michigan State to win the Midwest Region. The Bulldogs have shown flashes of greatness throughout the season with wins at Cincinnati and Purdue as underdogs in nonconference play to go along with a season sweep of Seton Hall in Big East play. To have any chance to make a run, they will need a huge tournament from both Kellen Dunham and Kelan Martin as the team's top two scorers.
Betting on Butler has also been an adventure this year. However, before falling to Providence as a favorite, it had covered in its previous five games. The total has gone over in six of the Bulldogs last eight contests.
Prediction: Butler drew Texas Tech in the first round, and as a four-point favorite I like that pick. I am going to go way out on a limb and taking the Bulldogs to stun the Cavaliers in the next round, but their run comes to an end in the Sweet 16 in a loss to Purdue this time around.
Doc's Sports has the best group of college basketball handicappers on the planet with our awesome Advisory Board lineup of experts. New clients can try out picks for free from any Advisory Board handicapper on the Web site. Click here to get two days of college basketball picks for free - no hassle and no credit card needed.
Read more articles by Dave Schwab