Oklahoma vs. Villanova Free Final Four Picks for Best Props on the Board
by Chris Vasile - 4/2/2016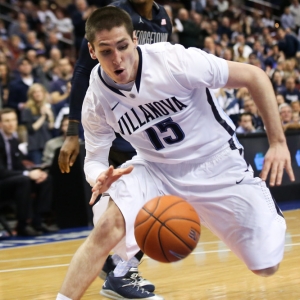 After five long and grueling days, the NCAA Tournament is set to resume with two very juicy Final Four matchups. I would go out on a limb and say three out of the four teams taking part were "expected" to make it to Houston, with the lone Cinderella team being Syracuse.
The first game scheduled for Saturday is a battle of two-seeds. No. 2 Oklahoma takes on No. 2 Villanova in a matchup of two high-powered offences that are more than capable of putting up 80 points each. Both of these teams have been tested by great opponents since the second round, and each time they have upped their level of play to get the job done.
The Sooners are making their fourth Final Four appearance and have a record of 2-1 SU. Their most recent trip to the Final Four came in 2002 when they lost to Indiana. This year they have beaten the likes of Cal-State Bakersfield, VCU, Texas A&M and top-ranked Oregon to get to Houston.
The Wildcats are making their fifth Final Four appearance and have a record of 2-2 SU. Their most recent trip to the Final Four came in 2009 when they lost to North Carolina. This year they have beaten the likes of North Carolina-Asheville, Iowa, Miami-FL and top-ranked Kansas.
The five-day layoff would usually help me get a solid understanding of what to expect in terms of how the game should play out. With that said, I am torn on picking sides against the spread. I came up with Villanova -2 the Sunday after the Elite 8. Safe to say the books see it the same way. I am going to steer clear of picking a side and will focus on some props for this game. As always, Bovada provided me with amazing prop bets and odds.
No. 2 Oklahoma Sooners vs. No. 2 Villanova Wildcats
Villanova Team Total Points
"Under" 73.5 -110, "Over" 73.5 -110
Villanova is playing in the Final Four for the first time since 2009. They looked like a world-beater in the Elite 8 against tournament favorite Kansas, and now they go up against the best player in college basketball. What a treat.
In my opinion, there are three key things that the Wildcats do that are key to their success. The first thing is that they distribute the ball well and find the open man. Secondly, they play solid defense - holding opponents to just 63 points against per game. And, lastly, they are not a one-dimensional team.
The Wildcats possess a three-headed monster that terrorizes the opponent on a nightly basis. The three-guard system they deploy features Ryan Arcidiacono, Josh Hart and Jalen Brunson. Arcidiacono is averaging 16 points in this tournament and has shot 50 percent or better from the field in all four games tournament games. Down on the blocks stands Daniel Ochefu, who is a rebounding machine for the Wildcats. He also pitches in offensively by shooting better than 50 percent from the floor and has averaged 10 points per game so far this tournament. In fact - four out of Villanova's five starters average double digits, with the fifth coming in at around 9.8 ppg.
Nova' is averaging 81.8 points per game since Feb 24, and I see no reason why they should be held to any less against this Sooners team.
Oklahoma is giving up a shade under 76 points per game. And while they might have the best player on the court at all times, the sum of their parts is inferior to the well-balanced attack Villanova possess.
These two teams have already met once this season, on Dec. 7. The Sooners prevailed on a neutral court on the strength of 14 made three-pointers to Villanova's four. It was Villanova's worst shooting performance of the season at 31.7 percent.
I do not expect a similar outcome, and I expect a barrage of points to get put up on the board.
Pick: Villanova Team Total "Over" 73.5 -110
Total Points - Ryan Arcidiacono
"Over" 14.5 -110, "Under 14.5" -130
I think this one squeaks in at about 16-18 points, which is why I am taking the over. Ryan Arcidiacono is averaging 16 points in the NCAA Tournament and is shooting better than 50 percent from the field. With a great supporting cast around him, Oklahoma is going to have their hands full with deciding who to try and stop completely. Fortunately for me, I can't see them putting their efforts on Arcidiacono. They are out-manned elsewhere on the floor such as in the post and on the wings - except for Buddy Hield. Arcidiacono won't have the daunting task of trying to stop Hield from going off, which should free him up offensively and be ready for the kick-outs from teammates slashing through the paint.
He's shooting 12 for 25 from three-point range and is averaging about four made FT's per game. Those extra points will be crucial down the stretch, especially if Villanova has the lead.
Pick: "Over" 14.5 -110