Syracuse vs. North Carolina Free Picks: Best Props on the Board
by Chris Vasile - 4/2/2016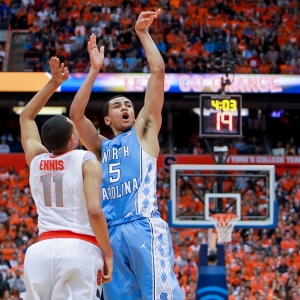 The second Final Four game scheduled for Saturday is somewhat of an enigma to me. It pits the No.10 seeded Syracuse Orange against the current favorite to win the tournament, No.1-ranked North Carolina. These two teams have taken different paths to Houston, with the Orange relying on a great 2-3 zone defense and the Tar Heels outscoring teams. UNC has yet to be tested this tournament. So the question begs to be asked: are they mentally tough enough to handle some adversity?
The Orange are making their sixth Final Four appearance and have a record of 3-2 SU. Their most recent trip to the Final Four came in 2013 when they lost to Michigan. This year they have beaten the likes of Dayton, Middle Tennessee State, Gonzaga and top-ranked Virginia to get to Houston. Not that impressive in my eyes.
The Tar Heels are seemingly in the Final Four every other year. This will mark their 19th Final Four appearance, and they have a record of 9-9 SU. Their most recent trip to the Final Four came in 2009 when they beat Villanova. This year they have beaten the likes of Florida-Gulf Coast, Providence, Indiana and Notre Dame.
I would love to pick against either team. I really would. While I may own a Vince Carter UNC jersey, I would be very happy seeing a miserable Roy Williams come Saturday night. On the flip side, Syracuse is like an Italian soccer team in many regards. They play good defense but bore you to death. With that said, I am skipping on taking a side against the spread. For the record, I came up with North Carolina -11 the Sunday after the Elite 8, and I wasn't too far off. I am going to give you a couple of prop opportunities I feel are the best way to play this game. As always, Bovada provided me with amazing prop bets and odds.
No. 10 Syracuse Orange vs. No. 1 North Carolina Tar Heels
North Carolina Team Total Points
"Under" 77 -110, "Over" 77 -110
Brice Johnson and Marcus Paige are doing their best to make sure that their senior season with the Tar Heels ends in nothing but glory. Together, the dynamic duo is leading the offensive output to the tune of 89.3 points per game and a NCAA Tournament winning average of 16 ppg. These numbers are unheard of come this late in March but will be tested when they face the famous 2-3 zone of Syracuse
Johnson has been almost unstoppable this tournament. The 6-10 All-American forward is averaging 21 points, 9.8 boards and shooting 63 percent from the field in the first four rounds while his other half, Paige, has drained 13-of-27 from 3-point range in the same span.
Despite all the sexy numbers UNC puts out, I am still going to take their team total "under" the number!
The reasoning is very simple actually.
Syracuse deploys a 2-3 zone defense. The weak spot of the zone is generally right in the middle about foul-line high. Brice Johnson is not made to play out that high. While he may be tall and lanky, he has serval good post moves that work down on the blocks resulting in and-1's.
The shooters for UNC will have no time and almost certainly no easy looks at the basket. I understand the zone is not a completely foolproof way for an inferiorly talented team to compete, but it works when the game is played at a turtle's pace. That's what I'm expected from Jim Boeheim and company. A slow, methodical game where outside shots are welcome and fast-break points are limited.
When you look at UNC's opponents, none of them are great defensively. Notre Dame is leaky, Indiana prefers an up-tempo game, Providence the same and Florida Gulf Coast was dubbed "Dunk City" for a reason.
Syracuse has given up an amazing 55 points per game so far this tournament, and they just seem locked in on the defensive side of the court.
As I said in my opening, I'd rather not cheer for anyone this game, so let's enjoy a miserable game from both squads and a low-scoring affair.
Pick: North Carolina Team Total "Under" 77 -110
Total Points - Michael Gbinije
"Over" 18.5 -130, "Under" 18.5 -110
Someone has to score some points in this game, right?
Senior Michael Gbinije tops Syracuse in scoring (17.6) and boasts 91 3-pointers while recording double figures in points 37 straight contests and at least 20 in four of the past six games.
What's there not to love about this opportunity to cash a ticket? UNC's defense is still leaky, and they give up three's like they forget where the three-point line is. It would be hard to envision Syracuse keeping this game close on the back of a couple of freshman, Malachi Richardson and Tyler Lydon, who average just over 10 points per game.
Look for Gbinije to take over the game and try and will the Orange to victory in what should be very weird, back-and-forth, slow, methodically-played-out game.
Pick: "Over" 18.5 -110