This Week in Sports Betting, A-Z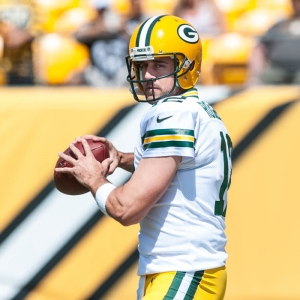 A. Aaron Rodgers .Rodgers helped the Packers rout Washington during wild-card action, and it may not be even close to his best move of the week. That depends on if he proposed to his girlfriend, actress and model Olivia Munn. It's unclear at this point if he Rodgers did. But if it's true (and if she said yes), that's obviously way better than a win over the Redskins.Green Bay is a +7 underdog at Arizona this weekend, per GT Bets.

B. Brian Hoyer . Two division winners battled for just a few seconds less than 60 full minutes only to have their playoff dreams crushed in devastating fashion. The Houston Texans were not one of them. Hoyer made sure to put his own team out of its misery right away as he turned the ball over four times in the first half (five times in total on four interceptions and one lost fumble) en route to a 30-0 home loss to Kansas City. 5Dimes Sportsbook has the Chiefs as +5 underdogs at New England on Saturday.

C. Carey Price .What happens when you lose the reigning NHL MVP? Well, to put it quite simply: bad things. The Canadiens started the season 9-0 and were still 17-4-2 when Price went down with a lower-body injury on Nov. 25. They are now 23-17-3 after dropping a whopping 13 of their last 17 games. Head coach Michel Therrien recently said that his star goalie will not return before February. SportsBettingOnline.ag has Thursday's showdown against visiting Chicago as a toss-up (both teams are -110).
D. Deshaun Watson . While Heisman Trophy winner Derrick Henry spent much of the night diving into the trenches for one-yard gains (other than when gaping holes were opened), Watson went crazy for Clemson. His 405 passing yards, four touchdowns, and 73 rushing yards were not enough in a 45-40 loss, but-if nothing else-Watson is the clear 2016 Heisman favorite.
E. Eight . Lionel Messi and Cristiano Ronaldo have combined for the last eight Ballon d'Or awards (simply known as Player of the Year prior to 2010) after Messi bagged the honor for the fifth time in his career earlier this week. Neymar got something like eight percent of the vote-which is pretty darn good when you're going up against freaking Messi and Ronaldo. Messi's FC Barcelona is a +250 favorite at BetOnlineSportsbook to win the Champions League.
F. Fired . With his team owning a 10-27 record, Lionel Hollins got the boot from his post as head coach of the Nets last Sunday. New Jersey is in third to last place in the NBA, ahead of only laughingstocks Philadelphia and Los Angeles (not the Clippers, of course).
G. Green, Draymond . What do Green and Stephen Curry have in common (other than an NBA title)? When either one doesn't play, Golden State can lose. The Warriors' second loss of the season came when Curry was out due to injury, and their third came on Wednesday (112-110 at Denver) when Green was resting. The former Michigan State star has already delivered three triple-doubles in January alone. The Warriors are -17 home favorites over the Lakers on Thursday, according to BookMaker.
H. Howard, O.J. In the best on-field performance by an O.J. since 15 years before the 1994 white Bronco chase, Howard went ham in the National Championship. Alabama's junior tight end had zero touchdowns and single-game high of 70 yards heading into Monday night. But he erupted from out of nowhere to torch Clemson for 208 yards and two scores on five receptions.
I. Infinity . Well, it did not quite reach infinity. But it came close. After 20 drawings without a winner, the Powerball lottery was worth almost $1.6 billion on Wednesday night. A winning ticket was issued on Wednesday night in Chino Hills, Calif. For whatever it's worth (not as much as this jackpot), Chino Hills was the home of a character on "The O.C." and is currently the home of the No. 1 high school basketball team in the nation.
J. Jordan Spieth . In the least surprising sports news ever, Spieth dominated the season-opening event last week in Kapalua. Spiethabused the Plantation Course to the tune of 30-under par, good for an eight-shot victory over Patrick Reed. BetDSISportsbook has Jimmy Walker as a +1410 favorite to triumph this week at the Sony Open.
K. Kent Keith . Robert Griffin III did not speak to the media after his team-if you can refer to it as that-got eliminated from the playoffs. Following the Redskins' 35-18 home loss to Green Bay last Sunday, RG3 left only a print-out of "the Paradoxical Commandments" by Dr. Kent Keith taped to his locker. Thus, the quarterback's tumultuous tenure in Washington will come to an inevitable end on an appropriately bizarre note.
L. Lovie Smith . The Buccaneers gave Lovie just two seasons, which saw the team go from 2-14 to 6-10. Perhaps management is not skilled at math, because the trend indicates that the now-ex head coach was on pace to drive the ship to a 10-6 mark in 2016.
M. McDavid, Connor . Edmonton is in last place in the Western Conference and tied for second to last in the entire NHL. The team also recently announced that McDavid, the No. 1 overall pick in 2015, will not return until February because of his broken collarbone.
N. Novak Djokovic . The world No. 1 has apparently forgotten how to lose. He captured three Grand Slam titles last season and has won his past six tournaments, including last week in Doha to begin the 2015 campaign. Djokovic has been dominant Down Under, with five Australian Open trophies to his credit-four of which have come in the last five years.The Serb is a -150 favorite at MyBookie.ag to win the Aussie, which begins on Monday.
O. Ovechkin, Alex . Washington's star forward became the 43rd player in NHL history to score 500 goals when he tallied numbers 500 and 501 in last Sunday's 7-1 rout of Ottawa. The Russian must have been feeling lucky, because he went out and bought Powerball tickets. That's one thing he did not win (at least not that we know of!). The Capitals are -220 home favorites over Vancouver on Thursday, as indicated by BovadaSportsbook.
P. Penn, Sean . Penn interviewed the recently-captured drug lord El Chapo and had it published in Rolling Stone. Let's just say Penn's penmanship is not going to be confused with that of David Foster Wallace.
Q. Quo . It was status quo at the top of the AP poll when the new college basketball rankings were revealed earlier this week, even though No. 1 just faced No. 2. Oklahoma did not fall from the second spot despite its recent loss at Kansas. Nor should it have. In an absolutely epic regular-season showdown, Buddy Hield and the Sooners threw everything they had at the Jayhawks in a 109-106 triple-overtime thriller last Monday.
R. Roger Clemens . As expected, Clemens missed out on Hall of Fame election last week. With all due respect to Ken Griffey Jr. and Mike Piazza (who deserved to get in, and did), the highlight of the proceedings was Clemens' ensuing Twitter feud with Roy Halladay.
S. Sloane Stephens . On the women's side, the American tennis contingent is strong-led by Serena and Venus and Williams. It will be even better if Stephens gets her act back together. She is off to a good start in 2016, having captured a title last week in Auckland. Stephens is +3000 at GT Bets to win the Australian Open; Serena is a +300 favorite.
T. Tottenham Hotspur . Leicester City was staring a berth in round four of the FA Cup right in the face last Sunday. They had a 2-1 lead at Tottenham Hotspur with little more than one minute remaining only to commit a penalty in the box and ultimately draw 2-2. The Spurs were not so lucky in an English Premier League rematch on Wednesday, losing to Leicester 1-0.

U. Unbalanced . All he does his win…well, that, and feel dizzy. SMU head coach Larry Brown did not return after halftime of last Sunday's win over UCF, citing dizziness. But the 75-year-old returned to run practice on Monday.

V. VontazeBurfict . In one of the biggest mental meltdowns in NFL history, Burfict and the Bungals single-handedly put Pittsburgh in this weekend's divisional playoffs. With the Steelers out of field-goal range and reduced to a quarterback (Ben Roethlisberger) who basically couldn't throw the ball due to injury, Cincinnati promptly incurred 30 yards of unnecessary penalties-starting with a targeting call on Burfict. The end result was a chip-shot kick for the visiting team, which emerged from Cincy with a hard-to-fathom 18-16 victory. Adding insult to injury, Burfict has been suspended for the first three games of 2016 for his efforts. Pittsburgh is +550 at BovadaSportsbook to win the AFC.

W. Walsh, Blair .In the worst laces-in fiasco since "Ace Ventura" in 1994, Walsh missed a 27-yard field goal in the final seconds that almost certainly would have sent Minnesota past Seattle in the Divisional Round. But he channeled his inner Ray Finkle just as holder Jeff Locke channeled his inner Dan Marino. With the laces anything but out, Walsh pulled the kick wide to give the Seahawks a 10-9 victory. WagerWeb has Seattle as a +2.5 underdog at Carolina on Sunday.

X. Xavier . Trevon Bluiett didn't blow it like he did in Xavier's only loss this season (2-for-9 shooting, 0-for-4 from three-point range against Villanova). The sophomore guard delivered 24 points, six rebounds, four assists, and two steals in Tuesday's win over DePaul. Xavier is 15-1.

Y. Young, Michael . The Pittsburgh Panthers' forward has been nothing short of amazing this season. He is averaging 17.5 points and 6.8 rebounds per game after scoring 25 in a victory at Notre Dame last weekend. Incredibly, Young has shot at least 50 percent from the floor in 14 of 15 contests this season. The only time he fell short of that mark is when he went 5-of-11 for 16 points on Dec. 1 against Purdue. Pittsburgh is a +7.5 underdog at Louisville on Thursday, per BetOnlineSportsbook.

Z. Ziggy Stardust . That was David Bowie's alter ego, and also the name of a song, part of an album name, and one of his tours. The pop/rock star died last Saturday at the age of 69, reportedly due to liver cancer. R.I.P.
Read more articles by Ricky Dimon