This Week in Sports Betting, A-Z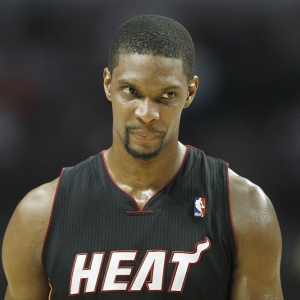 A. Arnold Palmer . The King died on Sunday at age 87. He won 95 times as a professional, including 62 on the PGA Tour. His seven major titles featured four wins at the Masters. R.I.P.

B. Bosh, Chris . Bosh's career with the Miami Heat is over, and his playing days in the NBA appear to be in serious jeopardy. The 32-year-old, who has dealt with serious blood clots the last few seasons, failed a physical with the team earlier this month.

C. Chelsea . The Blues finished 10th in the English Premier League last season, and things have not gotten much better through six matches of the 2016-17 campaign. They are 3-2-1 and tied for seventh on the table after getting thrashed by Arsenal 3-0 last weekend. Chelsea is already eight points back of 6-0-0 Manchester City. Man City is a -165 favorite at BookMaker to win the title.

D. Ditka, Mike . The former coach and current analyst went all in on Coiln Kaepernick last week. "I have no respect for Colin Kaepernick," Ditka said. "He probably has no respect for me. That's his choice. My choice is that I like this country. I respect our flag…. I think it's a problem-anybody who disrespects this country and the flag. If they don't like the country, they don't like our flag…get the hell out. That's what I think." Welp.5Dimes Sportsbook has the 49ers as +2 home underdogs against Dallas in Week 4.

E. Eagles . Philadelphia is absolutely on fire to begin the season, with a 3-0 record and a point differential of +65 (second best is New England at +36). Carson Wentz and company are coming off a 34-3 blowout of previously-undefeated Pittsburgh. Wentz went 23 of 31 for 301 yards with two touchdowns and no interceptions. The Eagles are +190 favorites at GT Bets to win the NFC East.

F. Fernandez, Jose . The Marlins' ace, just 24 years old, was killed early Sunday morning in a boating accident near Miami Harbor. Fernandez was 16-8 with a 2.86 ERA this season. In his four-year career, all with Miami, he went 38-17 with a 2.58 ERA and 589 strikeouts in 471.1 innings. R.I.P.

G. Gordon, Dee . If there is any feel-good part of the Fernandez story, it happened in his team's first at-bat following his death. Leading off the bottom of the first inning in Monday's game against New York, Gordon stepped to the plate in the right-handed box and took the first pitch while imitating Fernandez's batting stance. Back in the left-handed box, Gordon launched a 2-0 delivery from Bartolo Colon into the upper deck for his first home run of the year. The Marlins went on to win 7-3.

H. Harvick, Kevin . Harvick sped past Matt Kensethon after a restart with five laps remaining to win last week's Chase for the Sprint Cup event in New Hampshire. Kenseth led 105 of 300 laps and was dominating the field before a late caution brought the cars close together. Harvick and Martin Truex Jr. are currently the two automatic qualifiers into the next round of the Chase.

I. Instructional League . On the very first pitch he ever saw in the Instructional League on Wednesday afternoon, Tim Tebow hit a home run. You can't make this stuff up, folks. No matter that former Vanderbilt pitcher John Kilichowski probably grooved a fastball right down the middle on purpose; it's still a cool story.

J. James, LeBron . LeBron said earlier this week that although he supports Kaepernick's cause, he will be standing for National Anthems when NBA preseason action begins on Saturday. Stephen Curry said the same. Cleveland is a +300 second choice at Bovada Sportsbook to win the NBA title.

K. Kevin Garnett . Garnett, 40, retired last Friday after 21 seasons in the NBA. "The Big Ticket" won league MVP in 2004 with Minnesota and captured his only NBA title with Boston in 2008.

L. Les Miles . LSU's head coach-well, former head coach now-was about a half-second away from not being fired last weekend. On what appeared to be the last play of the game at Auburn, Danny Etling found D.J. Chark in the corner of the endzone for an apparent winning touchdown. It was reviewed, though, and officials determined the clock had expired before LSU snapped the ball. Thus, Auburn survived 18-13 and Miles was canned less than 24 hours later. LSU is a -13 home favorite over Missouri on Saturday, as indicated by BetOnline Sportsbook.

M. McIlroy, Rory . Dustin Johnson led the FedEx Cup standings going into the Tour Championship and-with a share of the lead-he was expected to win both the tournament and the FedEx Cup heading into Sunday. Instead, McIlroy stole everything as Johnson stumbled to a field-worst 73 in the final round. McIlroy eagled 16 and birdied 18 to get into a three-man playoff with Kevin Chappell and Ryan Moore, which the Northern Irishman ended up winning over Moore after four epic holes. A victory by either Chappell or Moore would have given Johnson the $10 million. Ouch.

N. Newton, Cam . Newton's pregame shirt made a statement, quoting Martin Luther King Jr.: "Injustice anywhere is a threat to justice everywhere." But only the Vikings made a statement on the field last weekend in Charlotte. Newton completed 21 of 35 passes for 262 yards with no touchdowns and three interceptions as the Panthers lost 22-10.

O. Ole Miss . Has there been a streakier team than the Rebels in college football this season? In a word, no. Against Florida State, they led 28-6 and then lost 45-34. Against Alabama, they led 24-3 before watching the Tide go on a 45-6 run en route to a 48-43 Ole Miss loss. Against Georgia last Saturday, they scored the first 45 points of the game and cruised 45-14.

P. Paul Pierce . The Clippers' 38-year-old forward announced on Monday that this-his 19th season in the NBA-will be his last. "This is it, my final season," Pierce wrote on The Players' Tribune. "It's time to move on from the game of basketball…. I'm at peace with retiring, but I've got one more ride left."

Q. Quarterback . The Patriots will have one on Sunday when they face the Bills. They just don't know who. Neither does Walt Patulski-aka Rex Ryan. Tom Brady has one more game left in his suspension, and both Jimmy Garoppolo (shoulder) and Jacoby Brissett (thumb) are dealing with minor injuries.

R. Ryder Cup . Golf's season-ending team competition takes place Friday through Sunday at Hazeltine National Golf Club in Chaska, Minn.The United States has won the Ryder Cup only once (2008) since 1999 and just twice since 1993. Team Europe's three-match winning streak includes a memorable Sunday charge at Medinah in 2012 and a 16.5-11.5 blowout two years ago in Perthshire, Scotland. Team USA is a -185 favorite at MyBookie.ag to win.

S. Seahawks . After scoring a total of 15 points in its first two outings, Seattle blasted San Francisco 37-18 in Week 3. Even better news is that Russell Wilson avoided a serious knee injury, instead sustaining just a minor MCL sprain. He was a full participant in Wednesday's practice and should be good to go on Sunday against the Jets.

T. Terrelle Pryor . Pryor played quarterback, receiver, and safety in Cleveland's overtime loss to Miami last Sunday. He made eight catches for 144 yards, rushed four times for 21 yards, and completed three of five passes 35 yards. Of course, Pryor could probably play quarterback, running back, receiver, tight end, offensive tackle, safety, cornerback, linebacker, defensive end, and kicker and the Browns still wouldn't win a game. Cleveland is a +7.5 underdog at Washington on Sunday, per GT Bets.

U. USMNT . Seattle Sounders' star Clint Dempsey will miss the rest of the MLS season, and his status for the U.S. men's national team is also in question because of an irregular heartbeat. Doctors first noticed it back in August, and he has not played since. Dempsey is likely to miss a pair of international friendlies in October and two World Cup qualifying matches in November.

V. VanGorder, Brian . Like Miles, VanGorder's job status was on thin ice heading into last week. He also didn't survive. Notre Dame's much-maligned defensive coordinator watched his team lose at home to Duke 38-35 on the heels of performances in which the defense gave up 50 points to Texas and 36 to Michigan State. And this is a Michigan State team that proceeded to score six points against Wisconsin. VanGorder, not surprisingly, got the boot out of South Bend on Sunday.

W. Wozniacki, Caroline . It was a great week for McIlory, but his former fiancée went toe to toe with him…well, maybe not in the money department. Wozniacki turned in a productive week, herself, winning the Japan Open for her first title of the season.

X. Denotes clinched division . The Red Sox clinched a divisional title at Yankee Stadium for the first time in their history on Wednesday night; they just didn't do it the conventional way. Boston blew a 3-0 lead in the ninth inning by giving up five runs in the bottom of the frame to lose 5-3. But the team clinched shortly thereafter when Baltimore edged Toronto 3-2. All six MLB divisions have now been wrapped up. The Red Sox (Owens) are +155 underdogs at New York (Sabathia) on Thursday night, according to Bovada Sportsbook.
Y. Your attitude . Attitude was the subject of J.J. Watt's Wednesday rant on social media in which he vowed to return from a back injury that has landed him on injured reserve. "Adversity sucks," the Texans' star defensive end concluded. "Your attitude towards it doesn't have to. I will back back." BetOnline Sportsbook has Houston as a -4.5 home favorite over Tennessee on Sunday.

Z. Zverev, Alexander . The 19-year-old German, projected as a potential future world No. 1 on the ATP Tour, captured his first title last week at the St. Petersburg Open. He even came back from a 3-0 third-set deficit in the final against reigning U.S. Open champion Stan Wawrinka.
Read more articles by Ricky Dimon