This Week in Sports Betting, A-Z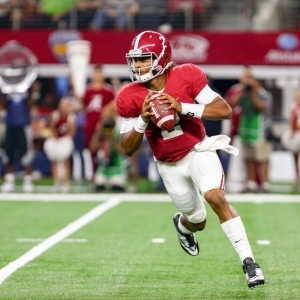 A. Alabama . Crimson Tide head coach Nick Saban clearly has a thing for former Southern Cal delinquents. Lane Kiffin is out as offensive coordinator (to coach at Florida Atlantic, of all places), and guess who's in? None other than Steve Sarkisian, who was fired as head coach of the Trojans last fall for making a drunken fool of himself in public. Alabama is a -230 favorite to win the College Football Playoff, per Bovada Sportsbook.

B. Ballon d'Or . Cristiano Ronaldo has earned FIFA's Player of the Year honors for the fourth time in his career. Lionel Messi, as one might expect, finished second in the voting. Ronaldo and Messi have shared the last nine awards and have been one-two in some order in eight of the last nine years.

C. ConorMcTapout . That's how Floyd Mayweather referred to Conor McGregor in an Instagram live post last week. If Mayweather wants to lure McGregor into a fight, though, he may have to do better than that. "His last two fights have been duds," the Irishman said of Mayweather, "so I certainly don't need him. I can pick some local schmuck and still do big numbers."

D. Dodgeball . How's this for a true underdog story? There will be dodgeball at the Pro Bowl. That's right; dodgeball is coming to NFL's all-star weekend. It will be part of the new Skills Showdown on the Thursday prior to the Pro Bowl. No word yet on either the AFC or NFC potentially hiring Patches O'Houlihan or Peter La Fleur as consultants.

E. English Premier League . A huge EPL showdown between Arsenal and Manchester City, two of the top four clubs on the table, took place last Sunday. It did not end well for the Gunners, who got off to a strong start with a goal in the fifth minute only to surrender a pair of second-half tallies. Thanks to their 2-1 win, the Sky Blues passed Arsenal for second place in the standings.

F. Floyd, Michael . The Patriots have long since admitted that they will do whatever it takes to win. Floyd was arrested on DUI charges (and subsequently hit with four misdemeanors) last week before getting released by Arizona two days later. It goes without saying which team immediately picked him up. New England is a -125 favorite at GT Bets to win the AFC.

G. Griffin, Blake . Around this time last year, Griffin was sidelined by a fight with a now-former Clippers' equipment manager. At least it's not a second helping of that dish, but the power forward will be out until sometime in January because of minor right-knee surgery. He is 21.2 points per game and 8.8 rebounds per game. Los Angeles is a -9 home favorite over Denver on Tuesday, as indicated by BetOnline Sportsbook.

H. Holiday Bowl . To play or not to play? That was the question. Minnesota threatened to boycott as a result of its 10 suspended players, but the Golden Gophers are going to go in the end. BookMaker has them as a +10 underdog against Washington State next Tuesday.

I. Inept . That's what the Devils have been the last two weeks. They aren't the absolute worst team in the Eastern Conference because the Islanders have lost five games in a row. But New Jersey is in the midst of an even longer losing streak (six) and has been outscored during this stretch by an awful 25-8 margin.

J. Joe Maddon . Former Cubs' closer Aroldis Chapman says that Maddon misused him during the World Series. Maddon says he didn't. Whatever the case, nothing will change the fact that-somehow-the Cubs managed to get the job done and beat Cleveland in seven games. They are +250 favorites at MyBookie.ag to win the 2017 World Series.

K. Kansas City Chiefs . How does a 10-3 team lose at home to the Titans? This is how: a second-half possession chart ending in punt, interception, punt, punt, and punt. Tennessee's Ryan Succop nailed a 53-yard field goal as time expired to give his team a come-from-behind 19-17 victory.

L. Leonard Fournette . Fournette and Christian McCaffrey will not be going bowling with their teams. Not long after Fournette announced that he would skip the Citrus Bowl between LSU and Louisville, McCaffrey revealed this past weekend that he holding himself out of Stanford's Sun Bowl date with North Carolina. Both players want to avoid any injury risk and instead focus on preparing for the NFL Draft.

M. Manziel, Johnny . Raiders' quarterback Derek Carr said that if Manziel needs a friend, he is there for him. Manziel accepted the offer. If anything comes of the friendship, pretty soon it will be Carr who is the one in need of some help. 5Dimes Sportsbook has Oakland as a -3.5 home favorite over Indianapolis on Saturday.

N. North Carolina . The Tar Heels are 0-2 this season against their two toughest opponents-two of college basketball's blue bloods in Indiana and Kentucky. They are 10-0 against everyone else. UNC almost mounted a comeback to upset the Wildcats last Saturday, but Malik Monk's 47 points helped UK survive a 103-100 thriller. Monk drained a three-pointer with 19 seconds left to put the 'Cats ahead for good.

O. Out . Cavaliers' big man-and birdman-Chris Anderson is out for the season after suffering a torn ACL in practice last week. Anderson averaged 2.3 points and 2.6 rebounds in 12 games during the 2016-17 campaign.

P. Payday . That's what Warriors' guard Stephen Curry will be getting soon thanks in part to the NBA's new collective bargaining agreement. Curry, who is currently playing on a contract (four years, $44 million) that Latrell Sprewell and Josh Smith would consider hard on a family, could be in line for a five-year, $207 million deal this offseason. That would mark the richest contract in league history. Bovada Sportsbook has Golden State at -140 to win the NBA title.

Q. Quenneville, Joel . The Blackhawks' head coach split up Jonathan Toews and Patrick Kane on different lines starting last month. Quenneville recently had no choice but to play Kane without his sidekick, because Toews missed nine games with a back injury. The center returned last week and has two assists in the last four contests (all Chicago wins).


R. Russell Westbrook . Westbrook's triple-double streak has long since ended, but he is still averaging one at 30.4 points, 11.0 assists, and 10.5 rebounds per game. It helps when 22 assists come in a single contest, which was the case in Oklahoma City's win over Phoenix last Saturday. Westbrook then delivered 46 points, 11 boards, and seven dimes in a loss to Atlanta on Monday.

S. Sager, Craig . The legendary Turner Sports broadcaster, known for his colorful attire and NBA sideline interviews, passed away from leukemia last Thursday. He was 65 years old. R.I.P.

T. Tajh Boyd . Boyd can't latch on to an NFL team-not even the Browns-at the moment. But even this is better than playing quarterback for the Browns: Boyd was at a Clemson practice last week and emulated Ohio State QB J.T. Barrett to help his former team get ready for the Fiesta Bowl against the Buckeyes. BetOnline Sportsbook has the Tigers as +3.5 underdogs.

U. Uehara, Koji . How did the Braves let another opportunity to sign an old geezer of a pitcher slip away? They have already inked the likes of R.A. Dickey and Bartolo Colon this offseason, and the 41-year-old Uehara was a free agent. Then again, maybe Atlanta made an offer and simply got snubbed. After all, Uehara opted to go to a place where they actually win baseball games: Wrigley Field.

V. Vikings . Adrian Peterson returned from a knee injury to play for the first time since Week 2. He might as well not have. Peterson finished with six carries for 22 yards and one catch for one yard while losing one fumble in Minnesota's 34-6 home loss to Indianapolis last Sunday. Once 5-0 and dominating the NFC North, the Vikings now find themselves at 7-7-two games back on Detroit in the division. They are +7 underdogs at Green Bay in Week 16, according to GT Bets.

W. Wakeyleaks . What is more expected in the aftermath of the Wake Forest football team's leaked game-plans scandal: that someone came up with the name "Wakeyleaks" for it, or that Bobby Petrino and Louisville were involved? It's a tough call.

X. Denotes clinched playoff berth . Not only did the Raiders take over first place in the AFC West thanks to their 19-16 win over San Diego combined with Kansas City's loss, but they also clinched a playoff spot. Oakland will be a part of the postseason festivities for the first time since 2002.


Y. Young, Nick . If only Young could have done a pump fake on what transpired in his relationship with Iggy Azalea…. Instead, he resorted to doing a pump fake at the free-throw line during the Lakers' loss to New Jersey last week. It resulted in a double lane violation and a jump ball.

Z. Zach Werenski . The Columbus Blue Jackets are 20-5-4. You cannot make this stuff up, folks. They have won nine games in a row, have taken points in 11 straight, and are 14-1-2 in their last 17 outings. Werenski (six goals, 15 assists) has four assists in the last three contests. Columbus is a -145 home favorite over the Kings on Tuesday, per MyBookie.ag.
Read more articles by Ricky Dimon