This Week in Sports Betting, A-Z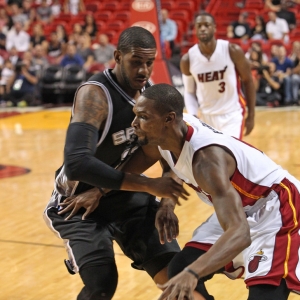 A. Aldridge, LaMarcus . The Spurs' forward deleted his Twitter and Instagram accounts on Monday, saying he needs to "lock in" on the season. Ironically, you know you have a problem when it takes a shutdown of social media in order to "lock in" on your job. You also know you have a problem when you get blown out 120-90 by your main competition for the championship. San Antonio is a +220 second choice at GT Bets to win the Western Conference.

B. Bryant, Kobe . Kobe Bryant is starting the All-Star Game, despite the fact that…well, you know…he isn't any good at playing basketball anymore. But the fans want to see Kobe, and that's what they'll do after making him the leading vote-getter in the entire NBA.

C. Cespedes, Yoenis . Cespedes inked a three-year, $75 million deal with the Mets on Tuesday. But he can opt out after one season, which would give him a chance to continue his amazing trend of playing for so many teams in such a short time frame. Cespedes is like the late-career version of Rickey Henderson.

D. Dallas Stars . The Stars were once dominating the Central Division, but Chicago's rise has coincided with their own slump, and the Blackhawks now own a three-point lead at the all-star break. Since starting the season 17-4, the Stars are 14-10-5 in their last 29 outings. They have lost five of their last seven games and eight of their last 11 and have scored more than two regulation goals only once in their last nine contests.

E. Eagle . That's how Rickie Fowler bounced back from a bogey and extended his lead to three shots after hole No. 8 at last week's Abu Dhabi Championship on Sunday. Fowler eventually won the tournament by a shot, while Rory McIlroy finished third. This is not exactly the Masters, but it might as well warrant another "Golf Boys" video. Heck, what doesn't warrant another "Golf Boys" video?

F. Fired . David Blatt got canned as the head coach of the Cavaliers last Friday, even though his team won the Eastern Conference in 2014-15 and was in first place again at 31-10. LeBron James insists that he had no prior knowledge of the impeding development. Riiiiiiight. Cleveland is a -4 favorite at Detroit on Friday, as indicated by BetOnline Sportsbook.

G. Gronk's Party Ship . What can be said about this? Let the ship's website speak for itself and check it out (gronkspartyship.com). It's all kinds of awesome. And the ship is definitely where you want to be Feb. 19-22.

H. Hand . Blake Griffin has a broken one after slugging equipment manager Matias Testi during an altercation outside a Toronto restaurant on Monday night. You cannot make this stuff up, folks. Griffin is expected to be sidelined for approximately six weeks from the injury. Recovering mentally from such a colossal blunder may take much longer.

I. Ivanovic, Ana . It was a surreal Saturday for Ivanovic at the Australian Open last weekend, and not in a good way. With the Serb leading by a set in her third-round match against Madison Keys, her coach (Nigel Sears, who is also the father of Andy Murray's wife) suddenly collapsed. After an hour delay, play resumed and Ivanovic eventually lost in three sets. Most importantly, Sears is recovering well.

J. Jason Dufner . You may not have recognized him while he was doing it, but Jason Dufner won last week's CareerBuilder Challenge in a playoff. It's a shame his wife (now ex) is no longer on the scene for post-tournament TV time, but Dufner will probably find a worthy replacement soon given his new toned (relatively speaking) physique-and an ever-growing bank account. He is +5500 at BetDSI Sportsbook to win the Masters.

K. Kristaps Porzingis . Porzingis missed the Knicks' Thursday game at Toronto with an illness, but it's been opposing teams with an even more serious illness-and the only prescription is less Latvian. The 7-foot-3 rookie has scored in double-figures in his last 13 outings and has four double-doubles during this stretch.

L. Line . University of Missouri quarterback (well, ex-quarterback now) Maty Mauk was apparently shown in a video to be snorting a line of cocaine. The authenticity and the date are unconfirmed, but whatever the case, Mauk got kicked off the team on Thursday. Thus an up-and-down tenure with the Tigers came to a disappointing but hardly-surprising end.

M. McDavid, Connor . The No. 1 overall pick is close to returning in the wake of a three-month absence due to a broken collarbone. McDavid may be able to play in the Oilers' first game back from the break next Tuesday, but they should not rush it given that they are tied for last in the NHL and about a thousand points out of a playoff spot.

N. Newton, Cam . If you're going to San Francisco, be sure to have your hands ready to receive a football-at least if you're no more than 10 years old and sitting near an endzone. The Panthers have been scoring (and giving away footballs) in bunches of late, primarily thanks to Newton. He has accounted for at least four TDs in four of the last seven games after passing for two and rushing for two in the NFC Championship. Carolina is a -6 favorite over Denver in the Super Bowl, per Bovada Sportsbook.

O. Oklahoma . The Sooners are still No. 1 in the AP poll despite losing last week to Iowa State. And it's not hard to figure out why. Every team except North Carolina in the previous week's Top 8 incurred a setback. Some would say there are no great teams this season, but it may be that this 2015-16 campaign features a lot of great teams that can beat up on each other. March is gonna be fun.

P. Palmer, Carson .Not one. Not two. Not three. Not four. Not five…. Six! Six is the number of times Palmer turned the ball over against Carolina. The 36-year-old got picked off on four occasions and also lost two fumbles. Is that bad? It's not good! Luke Kuechly, who returned an INT for a TD, is +2000 at MyBookie.ag to win Super Bowl MVP.

Q. Quiet . That's usually how John Thompson conducts himself at his son's press conferences, standing silently to the side against a well. That was not the case following Georgetown's game on Tuesday, when he interrupted JTIII's presser to blast the officials. The elder Thompson said the refs have been terrible in the Hoyas' last two contests and that anyone could tell the Big East's "f---ing" commissioner that he said so. Shots fired!

R. Roger Federer . Federer took a set off Novak Djokovic on Thursday, which is a lot more than just about any other player would have taken with Djokovic in this kind of form. The world No. 1 still got past Federer without to much trouble to reach the title match of the Australian Open for a sixth time. He is 5-0 lifetime in finals. SportsBettingOnline.ag has Djokovic as a huge -525 favorite over Andy Murray on Sunday.

S. Spliffy . This week's most awesome sports story that you may not have heard goes to Clifford Robinson. Known as Uncle Cliffy during his NBA playing days, Robinson is opening a new marijuana business in Oregon (where recreational pot is legal). He used "Uncle Spliffy" for his website's domain name. This story is real, and it's spectacular.

T. Thirty hours . That's how long it took the Duquesne men's basketball team to get back to Pittsburgh after it won at George Mason last Friday night. The Dukes' bus got suck in snowstorm Jonas, and according to the program's Twitter handle the entire journey was completed in 30 hours and 24 minutes. During one 22-hour stretch the bus did not move one inch on the Pennsylvania Turnpike. Fellow Atlantic 10 competitors VCU and Davidson have a huge Friday showdown on their hands, with Stephen Curry's alma mater a +2 home underdog according to GT Bets.

U. United, Manchester . Man United is 2-3-5 in their last 10 English Premier League matches, and they have slipped to fifth place on the table after getting upset by visiting Southampton 1-0 last Saturday at Old Trafford. Looks like it will soon be time to wave a whole lot of cash at a whole lot of players. Then again, Man U does that every offseason. BookMaker has Manchester City as a +132 favorite to win the EPL title.

V. Victoria Azarenka . Tennis and football were no strangers at the Australian Open, and not just because John Isner may be the biggest Panthers fan this side of Curry. After winning her fourth-round match at the same time Denver was facing New England, Azarenka asked the on-court interviewer if the Broncos had won. "Yes," was the response, to which the Belarusian pretty much went crazy. Ultimately, Azarenka did not fare as well as her favorite team-she lost her next match to Angelique Kerber in the quarterfinals. Serena Williams is a massive -725 favorite at BetOnline Sportsbook to beat Kerber in Saturday's final.

W. Wooden Award . It will be a showdown between Buddy Hield and Ben Simmons when Oklahoma and LSU collide on Saturday. Hield is a -300 favorite at most books to win the Wooden Award as college basketball's best player, while Simmons is generally a +500 second choice.

X. XPA . Denver vs. New England arguably all came down to Stephen Gostkowsk's errant extra-point attempt. When the Patriots engineered a touchdown drive in the closing minute, they had to go for a two-point conversion because they had trailed by eight instead of seven as a result of Gostkowski's early miss. The rest, of course, is history.

Y. Young, Vince . The former Texas Longhorn and NFL quarterback was arrested for driving while intoxicated last weekend. Young currently works at UT as to "promote diversity and community engagement." He has also been an analyst on the Longhorn Network. The school announced on Tuesday that Young will keep his job-something he clearly couldn't do in the NFL.

Z. Zero . That's the number of undefeated college basketball teams in Division I after SMU lost 89-80 at Temple last weekend. That may have stung, but the Mustangs will surely get over much faster than they did (or have they?) after their controversial, hard-to-believe NCAA Tournament loss to UCLA last March. Bovada Sportsbook has North Carolina as a +600 favorite to win the National Championship.
Read more articles by Ricky Dimon