2017 Dubai World Cup Picks with Odds and Expert Betting Predictions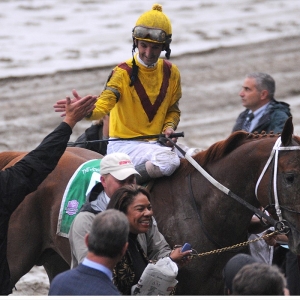 The second-richest horse race in the world occurs on Saturday morning, our time, in Dubai. It was the richest until February when the first edition of the Pegasus World Cup had a purse $2 million larger than the $10 million on the line in Dubai. You can be sure that the powers that be in Dubai aren't happy about that, and we should see a purse increase soon as long as the Pegasus goes ahead again next year.
What the two ultra-rich races have in common is one incredible horse - Arrogate, the best horse in the world right now, won the Pegasus and is the very heavy favorite in Dubai. It's an impossible story, really. Until the end of August no one knew who Arrogate was. Now he will become the richest race horse ever if he adds the Dubai purse to his hauls from the Breeders' Cup Classic and the Pegasus. Those are his last two starts, so he is on track to win the three richest races in the world in consecutive outings. Not too shabby.
Free $60 in Member Horse Racing Picks No Obligation Click Here
So, there is a 12-horse field entered for this race, but make no mistake - if Arrogate is ready and decides he is going to win, no one is beating him. It's a good field but not nearly good enough to measure up to a truly generational talent. So, handicapping here is a different test than a lot of races - you just have to decide if you are with him or against him. I'm firmly and unapologetically with him. Here are the highlights of the field (there is no on-track wagering, so odds are from Bovada ):
Arrogate (1/3): What more can we say? The horse has run in the public consciousness just three times and has been more impressive each time. He's an absolute freak, and there isn't a horse that can touch him if he is in form. So, will he be in form? He's worked well since his last outing, but he has also travelled halfway around the world, so nothing is certain. I'd be much more nervous if he hadn't run since the Breeders' Cup, but him coming back so well in the Pegasus makes it easier to trust him. He drew the nine hole in the starting gate, which isn't too bad. The race shapes up pretty well for him, too - Gun Runner is his biggest threat and will likely lead, but he should be able to be in contact with the pace, things shouldn't be horrifyingly fast, and the closers aren't overly intimidating. Plus, Mike Smith is aboard - the best big-race rider on the planet. I will always work hard to avoid betting on a horse at odds like this, but I can't find any reason at all here.
Gun Runner (7/1): This horse was a decent third in the Kentucky Derby last year and has only gotten better since. He beat older horses in the Clark last fall and was very impressive in his season debut in the Razorback this year. He's a very nice horse, and as a front runner should be able to set a reasonable pace here. I have no problem with the idea he is second best here. What stands out, though, is that he has avoided Arrogate aggressively. He skipped the Classic in the fall and was aimed at the Pegasus this winter before opting for a softer spot. His connections have known that it's not a great matchup, and I think they are right. I think he can make things challenging for Arrogate up front with a good start, and I think he is a big factor, but I don't think he wins unless Arrogate has a rough outing.
Mubtaahij (8/1): You know when you watch the NCAA Tournament and you see guys who feel like they have been in college for a million years? Mubtaahij is the equine equivalent of those guys to me. He really hasn't been around a long time, but it feels like it - he won UAE Derby in 2015 to earn a spot in the Kentucky Derby. He was a non-factor in that race and the Belmont. Last year he was a non-threatening second behind California Chrome in this race. And now he's back. He has the home-turf advantage - his best races have been here. I just have never thought he was good enough, and that hasn't changed with time.
Hoppertunity (14/1): This is the other Bob Baffert horse. That's often a powerful angle, but not when the other horse is Arrogate. Hoppertunity is a bit of a marvel - he's only rarely felt truly elite yet has ploddingly amassed more than $4 million in career earnings. He has run some dandy races but mostly when the fields have been manageable. He has third here last year and since has two graded stakes wins, but he hasn't been nearly good enough running behind California Chrome, Arrogate or Gun Runner in other outings. He could be a factor and has to be a part of exotics considerations, but I don't see him as a potential threat to his stablemate.
Neolithic (25/1): This Todd Pletcher trainee took a massive step up in class last time out, making just his second stakes appearance and eighth career start in the Pegasus. He finished third and looked fine. This is another very ambitious step, and I just don't see him as quite good enough. Useful in the exotics at this price but not a top threat.
Keen Ice (33/1): Here's another Pletcher horse. His one claim to fame is that he beat American Pharoah in the Travers in 2015. Or rather, American Pharoah beat himself, and Keen Ice benefitted. He hasn't won since. He was eighth in this race last year, third in the Classic last year, and fourth in the Pegasus. Those results sum up him and his chances pretty well. Not a real factor but could earn a piece.
Special Fighter (33/1): This is a very American-centric race this year - the best horses are either from there or have raced extensively there. That's not usually the case. This is the best of the rest - which doesn't say much about the non-Yankee contingent. This six year old started his career in Europe and has been based in Dubai for more than two years. He was fourth in the Dubai World Cup last year and has run only once since - an underwhelming prep outing at the start of March. He wasn't good enough last year, and I don't see how he is any better now.
Lani (50/1): This horse has no shot, but he's worth a mention if only for the sake of familiarity. After winning the UAE Derby on the World Cup undercard last year he went on to run in all three Triple Crown races - and was totally irrelevant. Since then he has run three times in his home base of Japan, and most recently in Dubai - and was lousy each time. He's just not a good horse, but he has ambitious connections.
Doc's Sports has a great offer for new clients. You can get $60 worth of picks from any Advisory Board handicapper for any sport he handicaps. All with no obligation and no credit card needed. Claim your free picks today .
Read more articles by Trevor Whenham