NCAA Basketball Expert Predictions: Three Interesting March 15 Opening Lines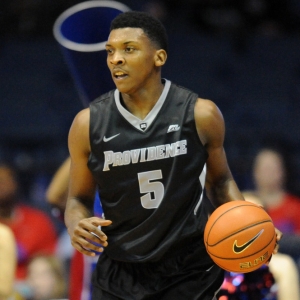 So, which is the easiest region in the NCAA Tournament? I would argue it's the Midwest, in which Kansas is the +220 Bovada favorite to win. I believe the Jayhawks will do just that because their potential Sweet 16 and Elite Eight games are in Kansas City. Louisville is a No. 2 seed , and the Cards are OK. However, Oregon is the No. 3 and just lost one of its best players, big man Chris Boucher, to a season-ending injury in the Pac-12 Tournament. No. 4 is Purdue, and if you have watched any Big Ten basketball this season you know that conference is a joke. I expect a chalk regional final there between KU and U of L, with the Jayhawks advancing thanks to essentially home-court advantage.
Belmont at Georgia ( -7 )
NIT game at 7 p.m. ET with no national TV (streamed on ESPN3). Belmont summarizes what is wrong with the conference tournaments in that dominating the regular season means nothing if you don't win the tourney too. The Bruins certainly did that in the Ohio Valley with a 15-1 record. However, they were stunned 65-59 in their OVC Tournament opener by Jacksonville State, a school Belmont beat by 16 and 13 in the regular season. It was the the second straight season Belmont earned the top seed and lost in the semifinals. The Bruins' 235 conference victories since 2003 are second-most nationally, one shy of Kansas. This marks Belmont's 11th postseason appearance in the last 12 years. Jacksonville State would then knock off UT Martin to earn the conference's automatic NCAA bid.
Will this be it for Georgia coach for Mark Fox if his team loses? Depends on which reports you believe. The Dawgs won their first SEC Tournament game over Tennessee and might have earned an at-large NCAA bid if they could have beaten Kentucky in the tournament quarterfinals but lost 71-60. The Bulldogs will be making their 14th appearance in the NIT and third in the last four seasons. They opened last year's NIT against this Belmont team. Georgia's Yante Maten scored a career-high 33 points in a 93-84 home win. He just returned in the SEC Tournament from a four-game injury absence.
Key trends: The Bruins are 1-4 against the spread in their past five. They are 1-7 ATS in their past eight on Wednesday. The Dawgs are 4-1 ATS in their past five after a loss.
I'm leaning: Georgia.
No. 16 North Carolina Central vs. No. 16 UC Davis (+3.5)
First Four game from Dayton at 6:40 p.m. ET on truTV. The winner gets to lose to Kansas on Friday in the Midwest Region. North Carolina Central was the MEAC regular-season and tournament champion. It is in the NCAA Tournament for the second time in school history (2014). The Eagles don't have a single win against a team that finished in the Top 150 of the RPI. They did play Ohio State tough in Columbus, also nearly won at LSU and did win at sorry Missouri. Patrick Cole is North Carolina Central's star in averaging 19.5 points, 7.0 rebounds and 5.7 assist. He was named the MEAC Tournament's Most Outstanding Player.
UC Davis finished second to UC Irvine in the Big West regular-season standings, but the Aggies knocked off Irvine 50-47 in the conference tournament title game to earn the first NCAA Tournament bid in school history. UC Davis transitioned to Division I in 2004 and joined the Big West in 2007. It only played one Power 5 school during the season and lost by 25 at NIT team California. The Aggies are solid on defense in ranking in the top three in the Big West in defensive efficiency, field goal percentage allowed and turnover rate. They are not a good offensive team, however. UC Davis coach Jim Les took his alma mater Bradley to the Sweet 16 in 2006.
Key trends: The Aggies are 1-4 ATS in their past five as a dog. The Eagles are 6-0 ATS in their past six.
I'm leaning: NC Central.
No. 11 USC vs. No. 11 Providence (+3)
First Four game from Dayton at 9:10 p.m. ET on truTV. The winner faces No. 6 SMU in the East Region on Friday. Southern Cal didn't close the season very strongly in losing five of its final eight. The Trojans also played No. 5 Oregon, No. 6 UCLA, No. 4 Arizona and then No. 3 UCLA in that stretch - losing them all. The NCAA Tournament selection committee's decision for the final two at-large spots in the Big Dance came down to USC, Kansas State and Syracuse. USC's advantage was its 24-9 record. Kansas State lost 13 games, Syracuse 14. The Orange didn't make it.
Providence took a six-game winning streak into its Big East Tournament opener but lost 70-58 to Creighton to make Selection Sunday a bit nerve-wracking. It's the school's fourth straight NCAA appearance. The Friars have faced nine teams in the field this season and have posted an 8-8 mark against them. PC didn't face a Pac-12 team. But the Friars and Trojans squared off in the first round of this tournament a year ago and it was one of the better games of the entire tournament. Reggie Bullock scored off an inbounds play on a layup with 1.5 seconds left for a 70-69 Providence win. USC missed the front ends of two one-and-ones in the final minute. The Trojans were up seven with about seven minutes left.
Key trends: The Trojans are 0-4 ATS in their past four non-conference games. They are 1-4 ATS in their past five after a loss. The Friars are 8-2 ATS in their past 10.
I'm leaning: Providence.
Read more articles by Alan Matthews