NCAA Basketball Final Four Betting: Handicapping the Coaches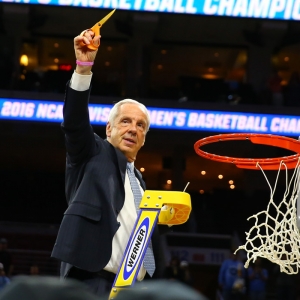 The faces are different every year, but the lesson is always the same - the teams that get to the Final Four are driven by very strong, very talented coaches. There are coaches that are more or less experienced - and one of the coaches this year has basically all of the experience - but there isn't a significant coaching mismatch ever to be found in the final weekend of the tournament. You can't get a team this far if you can't coach - it's as simple as that. By looking at the four coaches still standing we can learn about their teams, and help to get an edge on handicapping the last three games remaining.
There are two national titles and eight prior Final Four appearances among these coaches. That's down from three titles and 16 Final Four appearances last year and an impressive six titles and 27 Final Four appearances in 2015. The relative lack of past success this year falls, as we'll see, on the shoulders of three coaches.
Roy Williams, North Carolina
Remember how the coaches have a combined two national titles and eight Final Four appearances? It turns out that is also precisely how many Williams has of each to his credit. He took Kansas to the Championship Game twice without a win and lost in the Final Four twice more. He finally won a title in his second year at North Carolina, did it again four years later, made a Final Four in between those titles, and lost to Villanova in the Championship Game last year.
After 14 years at Kansas, this is Williams' 14th season at North Carolina. And his success has been truly remarkable over that time. In that time he has made the NCAA Tournament all but one time - he was the runner-up in the NIT in 2010. What's most amazing, though, is that he has won at least one game every single time he has been in the tournament. That's not a single first-round upset in 27 appearances. Think about that for a second. I could go on and on about Williams for a long, long time, but it wouldn't change the facts - he's a ridiculously good coach who is comfortable in this spot. The more of an asset you think experience is, the more you will like North Carolina - he has a massive experience edge, and so does his team.
Frank Martin, South Carolina
Martin is just a state away from Williams, but in terms of experience of him and his school they couldn't be more different. Williams is a regular force at the tournament, and North Carolina can never be ignored. South Carolina won their last NCAA Tournament game in 1973. They have only appeared five times since and not since 2004 - well before Martin appeared on the scene. Needless to say, Martin is doing one heck of a job this year.
Martin was an assistant at Cincinnati for Bob Huggins and then moved to Kansas State with him. When Huggins resigned just a year later, Martin took over. In five years there he made the tournament four times, losing in the second round three times. In 2010 they made a run to the Elite Eight as No. 2 seed, beating Xavier in the Sweet 16 in a double overtime game that was as good as any you could hope to see. They eventually lost to the Butler team led by Gordon Hayward that very nearly upset Duke in the finals.
After five years at Kansas State, he made a seemingly lateral move to South Carolina. He struggled for three years, finally broke through to the NIT last year, and that brings us to now. He's in new territory here but is no stranger to winning games at the tournament.
Dana Altman, Oregon
Altman and Martin have an interesting link - he also coached at Kansas State. In four seasons from 1990 to 1994 he didn't have the success that Martin did. He reached the NIT twice and lost in the first round in his only NCAA Tournament appearance. That wasn't actually his first head coaching job - he was previously at Marshall for a year. He left Kansas State to return to his home state of Nebraska and take over at Creighton. It took a while to get rolling there, but in 16 seasons he made the tournament seven times, including five in a row starting in 1999. He only won one game twice in those appearances and never won a second game. His tournament struggles extended to appearances in the NIT and the CIT as well. Up to this point, then, this was not a coach who has performed well in the postseason.
He moved on to Oregon in 2010 and turned the corner on postseason success right away. He made only the CBI in his first season, but he won the whole thing. He moved up to the NIT the next year and made the quarterfinals. Then came a string of NCAA success that extends to this year. He made the Sweet 16 in 2013, lost in the third round each of the next two years, and then made a run to the Elite Eight last year before losing as a No. 1 seed to No. 2 Oklahoma - coached by Lon Kruger, who was the coach Altman replaced at Kansas State. So, Altman has figured things out lately when it comes to the postseason.
Mark Few, Gonzaga
Few brings something unique to this Final Four - he is the only one who has not coached in the state of Kansas. In fact, he hasn't coached anywhere other than Gonzaga. He joined the program as a grad assistant in 1989, became an assistant the next year, and stayed in that role until he took over as head coach when Dan Monson went to Minnesota in 1999. It's been 18 years that he has been in charge, and it has been a heck of a run.
Despite playing in a conference that often has a single-bid, Few has made the tournament every year. And just three times has Few gone home without a win. He's made the round of 32 eight times, the Sweet 16 five times, including last year, and the Elite Eight in 2015. This is his first Final Four appearance, but this is the ninth straight year that he has won at least once at the tournament. He's on new ground here but is as successful as you can be without having gone this far. Perhaps the most remarkable part of Few's career, though, is that he has managed to resist what have to be very lucrative offers from several schools over the years to stay in Spokane and keep dominating the WCC.
Want free sports betting picks? Doc's Sports has you covered - get $60 worth of picks free from any of Doc's Sports expert handicappers. Click here for free picks (new clients only) .
Read more articles by Trevor Whenham