NCAA Tournament Betting Help: Best and Worst ATS Teams in the Big Dance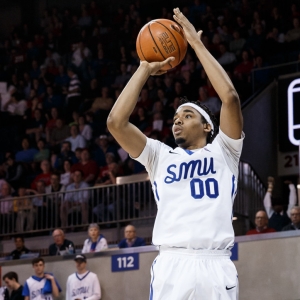 The NCAA Tournament is here, and Doc's Sports is helping you with your NCAA Tournament betting . Not all the teams that made the NCAA Tournament were good to against the spread bettors this year. Some of the big names burned money throughout the season. On the other hand, there were some top teams that were absolutely money in the bank. Let's take a look at the teams on each side and see where the oddsmakers have set their lines for their first round games.
Best Tournament Teams Versus the Spread
SMU (30-4 SU, 22-6 ATS) The Mustangs somehow managed to be extremely good all year and still fly under the radar. SMU was underseeded as a No. 6 seed, but they can still make a run here. Their likely second-round opponent would be Baylor, and I give them a real chance of beating Baylor in that game. SMU must first play the winner of the USC/Providence matchup.
Gonzaga (30-1 SU, 22-7 ATS) It's hard to believe a team that was No. 1 for a long period and unbeaten for almost all of the regular season could go 22-7 ATS, but the Bulldogs managed to do it. The books had to take a hit on this one all year, because you know the public was betting Gonzaga through the regular season. This team was just way too good for everyone in the West Coast Conference. Gonzaga is currently favored by 22 points over No. 16 seed South Dakota State.
Middle Tennessee State (30-4 SU, 23-10 ATS) Middle Tennessee State was a moneymaker wherever they played this year. The Blue Raiders were 9-5 ATS at home this year. They were 9-4 ATS on the road this season. On neutral courts, they were 5-1 ATS. This team appears positioned for a run at the Sweet 16 this year. They should no longer be thrilled to get in the Big Dance and win one game. This is a veteran team that is great defensively. How much do the oddsmakers respect them? They are the No. 12 seed, but they are a one-point favorite over Minnesota in round one.
Nevada (28-6 SU, 23-10-1 ATS) Nevada took a big step forward this year under Coach Eric Musselman. There are two guys on this team (Marshall and Oliver) who could be NBA players down the line. The Wolf Pack took care of business in a Mountain West Conference that is way down from previous years. Nevada is a six-point underdog against the Cyclones of Iowa State in their first-round game.
Northern Kentucky (24-10 SU, 20-9-1 ATS) The Northern Kentucky Norse have to be considered one of the best stories of the year. This was their first year eligible to go to the NCAA Tournament, and here they are in the Big Dance. Northern Kentucky draws Kentucky in their first-round game, so their stay is likely to be short. Still, keep in mind this team's ATS record when considering this game. Northern Kentucky is a 20-point underdog across the board.
Other Most Profitable NCAA Tournament Teams: Dayton (24-7 SU, 20-9 ATS), Notre Dame (25-9 SU, 18-9-1 ATS), Providence (20-12 SU, 20-12 ATS), North Dakota (22-9 SU, 17-9-2 ATS), Vanderbilt (19-15 SU, 20-12 ATS), Purdue (25-7 SU, 17-10-2 ATS), Minnesota (24-9 SU, 19-12 ATS)
Worst Tournament Teams Against the Spread
Kansas (28-4 SU, 11-19 ATS) The Jayhawks got a No. 1 seed, but they were burning money this year for ATS backers. Kansas surprisingly went 3-10 ATS on their home floor this season. The Jayhawks were able to come back and win several games that appeared to be a lost cause, but they didn't cover the spread in those games. Kansas will await the winner of the UC Davis/NC Central game.
Miami (21-11 SU, 11-19 ATS) Miami had a good season, but they weren't able to make ATS backers any money. The 'under' went 20-9 in Miami's games this year. Miami's games are so low scoring that it can be hard for them to cover the number when they are favored by very many. The Hurricanes are a 2.5-point favorite at 5Dimes in their battle against Michigan State on Friday. The posted total for that game is just 125.5.
VCU (26-8 SU, 12-17-1 ATS) The VCU Rams aren't the same team they were a few years ago with Shaka Smart, but they have still been very successful. VCU won some very close games on the road this year and failed to cover the spread. This is a team that has struggled to score at times, and that has hurt ATS backers.
South Carolina (22-10 SU, 11-16-2 ATS) South Carolina once again started the season on fire. The Gamecocks picked up a huge win at home over Michigan early in the year. They beat Florida at home early in the SEC season. As has been the case in recent years, though, South Carolina couldn't sustain their success from early in the season. The Gamecocks dropped six of their last nine games. This is a hard team to back right now given their current form. South Carolina is a one-point favorite over Marquette, according to odds from Bookmaker.
Duke (27-8 SU, 15-18-1 ATS) The Blue Devils were actually seen as a disappointment for much of the year, but this team is playing its best basketball at the right time of the year. Duke is 4-0 ATS in their last four games. Duke had to come from behind to win each of their last three games in the ACC Tournament. The way this team is responding to adversity right now is really impressive. The young talent has come together. Duke is a 19-point favorite at BetOnline in their matchup against Troy in the first round.
Other Losing Tournament Teams Against the Spread: Xavier (21-13 SU, 15-18 ATS), Seton Hall (21-11 SU, 14-16-1 ATS), Wisconsin (21-9 SU, 15-16 ATS)
Doc's Sports has been established as the best in the business for well over 40 years. We want you to see why! That is why new clients can get $60 worth of member's picks free by clicking this link for a no-hassle signup .
Read more articles by Aaron Smith