NCAA Tournament Bracket Strategy and Advice: Dangerous Lower Seeds
by Chris Vasile - 3/13/2017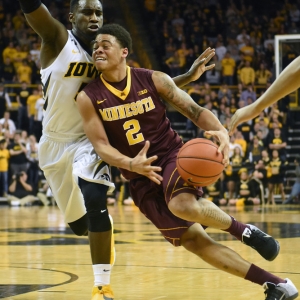 With Selection Sunday in the rear-view mirror and the field of 68 set for the 2017 NCAA Tournament , the public is now in a race against time to handicap all four play-in games and 32 first-round games that will be contested over the next five days. Most bettors have a routine when handicapping games, but not even that stops them from debating (complaining) about the teams that got terrible draws. Whether it was seeding or the region they got sent to, there is always some sort of backlash from the public towards the selection committee regarding the bracket.
Unfortunately, the complaining does nothing but waste valuable time. The sooner you realize that, the sooner you can look past the bracket as a whole and see the games for what they are - a one-game, win-or-go-home matchup between two teams we would rarely ever see play each other otherwise.
Whether a team has a successful NCAA Tournament run is usually predicated by how they match up with their opponent. No.1 and No. 2 seeds have tremendous success in the first round because the talent discrepancy between them and the No.15 and No.16 seed is too much for the underdog to overcome. Popular upset picks like No.13 over No. 4 and No.12 over No. 5 have very little to do with raw talent. Typically, these underdogs match up well against their opponent - style wise - which is why we see a few of these upsets per year.
When it comes down to the games featuring the Nos. 7, 8, 9, and 10 seeds, you could argue that the seeding does not matter. All of those seeds could be interchanged within one or two spots, making an obvious underdog the betting favorite.
And seemingly every year, we think it's too good to be true if a lower seed is actually favored on the betting line. These are the potential "upsets" you might want to focus on when filling out your bracket.
This year there are two or three lower-seeded teams that are favored in the first round depending on your book.
No. 12 Middle Tennessee ( -1 ) vs. No. 5 Minnesota
Middle Tennessee (30-4, 17-1 in Conference USA) finished in the top spot in the Conference USA regular season and punched their ticket to the tournament by defending their C-USA tournament title. The Blue Raiders have won 10 straight games will be making their second straight tournament appearance, and we should all remember what they did last year (upset No.2 Michigan State in the first round). Middle Tennessee is a team that features three players that score in double figures, led by senior JaCorey Williams (17.3 ppg). As a team, the Blue Raiders average 75 points per game on 49 percent shooting. That field-goal percentage has them ranked 12 th in the nation. To make matters worse for their opponents, Middle Tennessee allows only 63.3 points per game, which is ranked 21 st in the nation. Their undoing could be their free-throw shooting. They rank 188th in free throw percentage (69.8). In close games, free throws make a world of difference.
Minnesota (24-7, 11-7) finished fourth in the Big Ten regular season. They were then bounced by a solid Michigan squad in the Big Ten semifinals by a score of 84-77. The Golden Gophers like to play a slow, methodical, half-court style game, which will unfortunately be a weakness in this matchup. The Gophers score just a shade more than 75 points per game but still shoot the ball poorly (43.5 percent from the field). If their shots don't fall on a consistent basis, the Gophers could be in tough to escape Milwaukee with a first-round win.
The line tells you all you need to know in this matchup. A Power-5 conference team is a slight pup to a Conference USA program. The Blue Raiders are just too well-rounded to get beat by a mediocre Minnesota team.
No. 9 Vanderbilt (-1) vs. No. 8 Northwestern
Vanderbilt (19-15, 10-8) is making its second tournament appearance in as many years, after finishing seventh in the SEC and getting bounced by Arkansas in the SEC Tournament semifinals. The Commodores live and die by the three-ball and shoot it at a 37.7 percent clip, which is good enough to rank 61st in the nation. They are led in scoring by Matthew Fisher-Davis, who averages 13.6 points per game. They also have a dynamic front-court combo featuring Luke Kornet and Jeff Roberson, who can put up points as well as play lock-down defense. This figures to be a good matchup for the Dores', which is presumably why Las Vegas has pegged them as one-point favorites.
The drought is over. Northwestern (23-11, 10-8) is playing in the NCAA Tournament for the first time in their existence, snapping a 78-year absence. The Wildcats made the tournament courtesy an impressive collection of victories over Dayton, Wisconsin, Michigan and Maryland, just to name a few. The Wildcats are led by guard, Bryant McIntosh, who leads the team in points per game (14.4) and assists (5.2). As a team, the Wildcats average 71.1 points per game (233rd in the nation) and shoot their free throws exceptionally well (75 percent). Defensively is where this team does its damage. The Wildcats hold opponents to 65 points per game on 40 percent from the field. That's good for 34th and 23rd in the country, respectively.
You never know what to expect from a team making their first-ever tournament appearance. Nerves will definitely be a factor for Northwestern, and their play in the first seven to 10 minutes will determine if they will have any chance of claiming their first-ever tournament win.
No. 10 Wichita State (-6) vs. No. 7 Dayton
The Wichita State Shockers (30-4, 17-1) are back in the tournament for the sixth year running. Their best showing was a Final Four app earance in 2013, which ended in a loss to the Louisville Cardinals. The Shockers shared the Missouri Valley regular-season title with the Illinois State Redbirds but extracted some revenge in the finals of the conference tournament. The Shockers defeated Illinois State to capture their fourth Missouri Valley tournament title. They are led this year by, Markis McDuffie, who averages 11.8 points per game, Landry Shamet (11.1) and Darral Willis Jr. (10.2). As a team, they average 82 points per game on 47.4 percent from the floor and 40.8 percent from beyond the arc. Defensively, this team is as tough as it gets. They hold opponents to 62.4 points per game on 37 percent shooting.
Dayton won the A-10 regular season thanks to a 15-3 conference record, which brought their overall record to 24-7. Unfortunately for the Flyers, they were bounced in the A-10 quarterfinals by Davidson. The Flyers have made the tournament in each of the last three years, winning at least two games in 2014 and 2015. Last year they were upset in the first round by No.10 Syracuse. This year's version of the Flyers is led by Charles Cooke, who averages 16.1 points per game, and Scoochie Smith (best name in the NCAA), with 4.5 assist per game. The Flyers average 75.5 points per game on 47 percent shooting and 38.7 percent from beyond the arc. They can sure put up plenty of points in a hurry.
Wichita State is the hotter of the two teams heading into this one, and Las Vegas surely believes in them. I am starting to think we should too. This is a veteran team that knows how to win in March, and this could be one of the better "upsets" to have in your bracket.
Want free sports betting picks? Doc's Sports has you covered - get $60 worth of picks free from any of Doc's Sports expert handicappers. Click here for free picks (new clients only) .