Sweet 16 Bracket Picks and Expert Analysis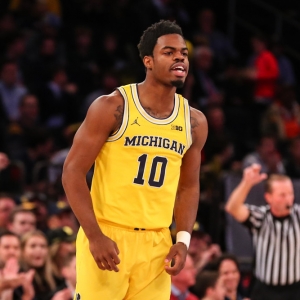 How did my bracket go through the first weekend of the NCAA Tournament? Not too bad, all things considered. Villanova and Duke destroyed a whole lot of brackets, but I had Duke beating Villanova and then losing to Gonzaga in the Final Four so it didn't hurt me too badly. I also had Louisville losing to Michigan. So, I'm a long way from perfect at this point, but it could certainly be much worse.
The good thing about having this job, though, is that you get to start over a lot, so that's just what I am going to do here. Let's pretend that what has happened so far never happened. This is just a 16-team tournament starting now. Here's how I see it setting up:
East
Thanks to the losses by both Duke and Villanova, this group is now as wide open as it could possibly be. Florida does some things well, but I don't have any respect for their path - Virginia is horrible this year, and they proved it. They are taking a big step up here, and I don't trust their mental game at all. Wisconsin proved both their toughness and talent by beating Villanova. They were seeded far too low going into the tournament, and now they are playing better than they have for over a month. They are going to win here. South Carolina has two very nice wins and has certainly outplayed my expectations. They are going to have their hands full with an athletic and versatile Baylor team, though. The Bears will win this one then promptly fall to Wisconsin. A Big Ten conference that was heavily criticized heading into the tournament is going to have one Final Four participant. At least.
West
In my initial bracket I had Gonzaga winning it all. The first two games weren't the tour de force that I may have hoped for, but they didn't do anything glaringly wrong, either - there are no red flags through two games. I was braced for this West Virginia matchup, and I am not afraid of it. The Mountaineers have looked good so far, but Gonzaga is better set up than most to handle that press. Xavier is absolutely no fluke getting here - I liked them to win their pod before the tournament started. They were dominant against Florida State, but the Seminoles are a long way from great. Arizona is a much better team, and their much more equipped to challenge and silence what Xavier does well. The Wildcats will beat the Musketeers but then lose for the second time this season to the Bulldogs. Gonzaga may not be quite as talented at the top end as Arizona, but they are deeper, tougher mentally and slightly better coached. Gonzaga is heading to their first Final Four.
Midwest
Caleb Swanigan has been just brilliant for Purdue, and he is by far the biggest reason Purdue is here. They are a talented team, but they are more reliant on one player than they should be. Kansas has more top-end talent and plays in a frantic style that Purdue will struggle with. Kansas will win this game. Oregon hasn't been the same team defensively since Chris Boucher was injured. They almost got in trouble against what should have been an outmatched Rhode Island team, and they are in real trouble against Michigan. The Wolverines have shown real versatility this tournament. They have played the toughest path to the Sweet 16 of any team, and they won both games playing fundamentally different styles. They are getting a lot of credit for a Cinderella run post-plane crash. But there is more to it than that - this has been a very good team since the end of January when things clicked into place. Michigan and Kansas will play in a rematch of a truly crazy game in 2013. Michigan won that in impossible circumstances. I'm going out on a limb and picking them again. That's not because I'm a Michigan fan, either. Michigan's defense will have some effect on Kansas, and Kansas' athleticism won't be too much for Michigan. The Big Ten lands their second team in the Final Four.
South
The last four standing in this group were just as I expected. I have changed what I expect to come out of it, though. North Carolina will beat Butler fairly handily. Butler is a pretty good team, but they are flattered by their path in this tournament and are up against more than they can handle here. I had Kentucky winning the region before the tournament. Now I have them losing in the Sweet 16. Kentucky has a ridiculous amount of talent and will likely land three guys in the first round of the NBA Draft. They play with a total absence of joy, though, and just seem to be going through the paces. That's why they haven't had the season expected of them and why they will fall short. UCLA has some flaws, too, but Lonzo Ball has been sensational, and they are playing with more emotion by far. North Carolina and UCLA line up for all the marbles. And it's a total coin flip. North Carolina has a big edge in experience, so that gives them the nod. The Tar Heels are heading back to their second straight Final Four.
Final Four
Gonzaga and Wisconsin match up in a very unexpected showdown. The Badgers have gotten this far by grit and talent. Unfortunately for them, so have the Bulldogs, and Gonzaga has an edge in overall roster construction. Gonzaga is heading to the Championship Game. And their opponent? Michigan is on a glorious run, but North Carolina has more experience in this spot. The Wolverines have faced a grueling path to get this far and it will catch up to them. Gonzaga and North Carolina will tip off for the right to cut down the nets. As with my original bracket, my head and heart are split. My head says North Carolina should be the pick, but my heart is with Gonzaga. The heart wins out - you only live once.
Doc's Sports has a great offer for new clients. You can get $60 worth of picks from any Advisory Board handicapper for any sport he handicaps. All with no obligation and no credit card needed. Claim your free picks today .
Read more articles by Trevor Whenham