Thank God it's Friday: Judge Piling Up Strikeouts, Yankees Not Making a Move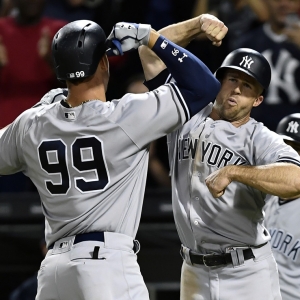 Aaron Judge is still bashing home runs, but he is also striking out at an alarming rate. The Yankees are still winning their fair share of games, but they are struggling to gain ground on Boston in the American League East. Arizona's playoff push is also taking a hit as the Dodgers are blowing everyone away in the National League West. Football season, meanwhile, is right around the corner. When it begins, Florida will be undermanned.

All odds provided by BetOnline Sportsbook .

Aaron Judge . New York's rookie slugger has struck out in a ridiculous 34 consecutive games. That is the all-time record for a position player in a single season and trails only pitchers Bill Stoneman (35 in 1971) and Vida Blue (34, also in 1971). Judge had been tied with Adam Dunn (2012) at 32 before fanning once in Wednesday's win over the Mets. The strikeout streak reached 34 with room to spare on Thursday, when the 25-year-old went 0-for-4 with three strikeouts. Although the Yankees have managed to win four in a row, the Red Sox are 12-2 in their last 14 contests and are maintaining a four-game lead over their arch rivals in the division. The Red Sox are -121 home favorites over the Yankees on Friday night.

Arizona Diamondbacks . Speaking of being good but not good enough, the Diamondbacks are 67-54. That record would lead two divisions in the major leagues, but in this case it leaves them tied for second in the NL West and a whopping 19 games out of first place. Arizona is deadlocked with division foe Colorado for the No. 1 wild-card spot, but Milwaukee (4.5 games back) and St. Louis (five games back) are steadily chipping away. The D-Backs are 4-8 in their last 12 outings and have not taken a series since winning two of three games against the Cubs in the beginning of August. First baseman Paul Goldschmidt is a +175 favorite to win NL MVP.

Ryan Kelly . A first-round draft pick of the Colts in 2016, Kelly started in every game at center last season. He will be unable to accomplish the same feat in his second year. The team recently announced that Kelly requires surgery for a foot injury and will be out for at least six weeks-or multiple regular-season games. "He'll make a complete recovery on it," head coach Chuck Pagano assured. "He's going to miss some time. How much time? I don't know. I don't have a timetable…. We'll look at everybody (for the center position). The roster's fluid. We bring guys in all the time." Indianapolis is a -3 road favorite over the Rams in Week 1 of the regular season.

Florida football . The Gators will be without seven players for their season opener against Michigan on Sept. 2 at AT&T Stadium. That group includes wide receiver Antonio Callaway, likely Florida's most dynamic offensive playmaker in 2017. Callaway and friends are suspended after making improper charges on their student IDs at the school bookstore and then selling the purchased items for cash. "We have a small group of players that have made some choices that are extremely disappointing," head coach Jim McElwain lamented. "Action has been taken-they have missed some practice and will miss the Michigan game. We will use this as a learning opportunity and we will have some players step up as we move forward." Florida is a +3 underdog against the Wolverines.


Kristaps Porzingis . It's often not fun being the subject of trade rumors, but Porzingis may like it since he wants out of New York. If he does like it, however, he may not enjoy the end result because a potential deal with Cleveland involving Kyrie Irving is unlikely to come to fruition. According to league sources, the Knicks are not keen on unloading the Latvian to the Cavaliers-and maybe not to anyone else. "(Knicks' president) Steve Mills and (general manager) Scott Perry on the record were very clear that Kristaps was part of the future," the source indicated."In all the discussions since then-there were other rumors before that Cleveland would want Kristaps-it didn't seem that [the Knicks] were interested at all in a conversation.'' As for the Cavs, LeBron James is +250 to begin the 2018-19 campaign with his current team.

Luis Suarez . FC Barcelona announced on Thursday that Suarez will miss approximately five weeks because of a knee injury. The striker will be sidelined from at least the club's first four games of the new La Liga season and it also makes him unavailable for Uruguay's upcoming World Cup qualifiers against Argentina and Paraguay. Barcelona is even money to win La Liga.

Roger Federer . Not even Federer is immune to the injury bug that is biting the ATP Tour. Novak Djokovic, Stan Wawrinka, and Kei Nishikori are out for the year. Andy Murray and Marin Cilic are among those in doubt for the U.S. Open. Now Federer is dealing with another back issue, which hampered him last week in Montreal (lost to Alexander Zverev in the final) and forced him to withdraw from this week's event in Cincinnati. The absences of Federer and Murray mean Rafael Nadal will become No. 1 in the world next week. Federer is a +120 favorite to win the U.S. Open.
Want free sports betting picks? Doc's Sports has you covered - get $60 worth of picks free from any of Doc's Sports expert handicappers. Click here for free picks (new clients only) .
Read more articles by Ricky Dimon