This Week in Sports Betting, A-Z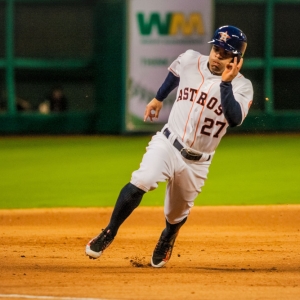 A. Astros . Houston is playing home games as Tropicana Field in Tampa Bay. Due to Hurricane Harvey, the Astros had to move their series with Texas, and to say things did not go well on Tuesday would be an understatement. The "visitors" destroyed Houston 12-2.

B. Bullet . Alabama head coach Nick Saban was not a fan of the recent eclipse. He is without question even less of a fan of one his best players getting shot in the leg. In fact, the owner of a Tuscaloosa bar thinks it was actually Raekwon Davis who shot himself in his own leg last weekend. The defensive tackle's status for the Crimson Tide's upcoming opener against Florida State on Saturday in Atlanta is uncertain. Alabama is a -7 favorite , according to MyBookie.ag.

Free $60 in Member MLB Picks No Obligation Click Here
C. Conforto, Michael
. The once-promising Mets have had almost as many injuries as wins this season. Okay, that's not quite true. But you get the point. Conforto is likely out for the year with a shoulder injury. David Wright is also done due to his lingering shoulder issue. The same goes for Yoenis Cespedes (hamstring). Wait 'til next year!
New York (Montero) is a +121 underdog
at Cincinnati (Bailey) on Wednesday, per BetOnline Sportsbook.
D. Dabo Swinney
. Dabo should be doing a lot of dabbing right now, because he just got
paid
. Clemson's head football coach signed an extension last Friday that will pay him an average of $6.75 million per year through the 2024 season.
E. Edelman, Julian
. Edelman will miss the entire 2017 campaign after suffering a torn ACL in the Patriots' third preseason game last week. The star wide receiver penned the following on Tuesday: "
To all of Pats Nation:
This has been an extremely trying week. That being said, the amount of support I have received since Friday night is truly humbling. I will approach this rehab process the only way I know how, with everything I have, to make sure I come back stronger than ever."
BookMaker
has New England as a +320 favorite to win the Super Bowl.
F. Fifty
. Giancarlo Stanton bashed his 50
th
home run of the season this past Sunday, during a 3-for-3 effort in Miami's win over San Diego. He then tied the major-league record for homers in August (18) by launching No. 51 in Tuesday's loss at Washington.
G. Ginobili, Manu
. There's something about guys on the Spurs: they just play
forever
. Ginobili, who is 40 (also the number of years it seems like he has played in the NBA), signed a two-year, $5 million extension with San Antonio last Thursday.
H. Halep, Simona
. Halep's U.S. Open is closed after one match. The second-seeded Romanian was dealt a horrendous draw against Maria Sharapova, and it cost her as she went down to the Russian in a three-set thriller on Monday night.
I.
Iverson, Allen
. The new BIG3 three-on-three basketball league's first season has come and gone-not without Iverson being suspended at one point. Following the title game (in which Iverson was decidedly not involved), he hit the roulette tables hard in Las Vegas. He isn't too old for some things.
J. Jean Segura
. Not one, not two, not three, not four…. No, the Mariners made a ridiculous five errors in the first inning during a loss to the Yankees last week. Three of those were credited to Segura.
5Dimes Sportsbook
has Seattle (Miranda) as a +126 underdog at Baltimore (Jimenez) on Wednesday.
K. Kaepernick, Colin
. Jim Brown went all in on Kaepernick. Then Shannon Sharpe went all in on Brown for going all in on Kaepernick. The former 49ers' quarterback is making news every day, but so far no NFL team is willing to go all in-or even any in-on him.
L. Liverpool
. The Reds are off to a solid start to their 2017-18 English Premier League campaign, tied for second place behind Manchester United through three matches. Liverpool humiliated Arsenal 4-0 last Sunday, dropping the Gunners to 1-2-0. The Reds are +1000 at
Bovada Sportsbook
to win the EPL title.
M. Mayweather, Floyd
. Mayweather faced a guy (Conor McGregor) who is not even a professional boxer, but 50-0 is 50-0. He staked another claim to being the GOAT with last Saturday's 10-round, TKO victory.
N. Northern Trust
. Is there better drama in sports than Jordan Spieth on a Sunday? Maybe so, but no drama is more guaranteed than Spieth on a Sunday. Something always happens with this guy. The 24-year-old American survived the craziness at the British Open, but he blew all of a five-shot lead in the final round of last week's FedEx Cup Playoffs opener. Dustin Johnson tied Spieth, stayed even with an 18-foot par putt on the 72
nd
hole, and then triumphed on the first extra hole with a birdie. Johnson is a +200 favorite at
MyBookie.ag
to win the FedEx Cup.
O. Odell Beckham Jr.
Update: Beckham's ankle injury sustained in Week 2 of the preseason is not as bad as it looked like it could have been when it happened. Giants' head coach Ben McAdoo is hopeful that OBJ will play in Week 1 against Dallas. Another update: the preseason still stinks!
P. PCL
. Chiefs' running back Spencer Ware suffered a torn PCL in last Friday's preseason game against Seattle and is expected to miss the entire season. Ware led Kansas City with 921 rushing yards in 2016.
Q. Quarterback . Commiserations to Steelers' fans: Brock Osweiler will not be starting in Week 1 for Cleveland. That distinction goes to rookie DeShone Kizer, whom head coach Hue Jackson tapped to be his guy last weekend following the Browns' third preseason game. Cleveland is a +3 underdog at Chicago in Thursday's preseason finale, as indicated by Bovada Sportsbook.


R. Roger Federer . Playing under the roof of Arthur Ashe Stadium while every other man except Rafael Nadal got washed out at the U.S. Open on Tuesday, Federer survived a five-setter in the first round against 19-year-old American Frances Tiafoe. It was not a virtuoso performance from the 36-year-old Swiss, but you know what they say: survive and advance….

S. Shumpert, Iman . Who's next? LeBron? First it was Kyrie Irving who requested to be traded by Cleveland (and it was granted). Now-allegedly-it's Shumpert. Do these guys not realize that they are playing for the freaking Cavaliers? These are not the Browns we're talking about. It's like they're confusing their own teams within the city.

T. Travis Zajac . The Devils' center will be sidelined four to six months after undergoing surgery on a torn pectoral muscle earlier this month. In his 11 th season with New Jersey in 2016-17, Zajac produced 14 goals and 31 assists.

U. UEFA Champions League . The 2017-18 Champions League draw ceremony was held last week. Group H is a tough one, with Dortmund, Tottanham Hotspur, and defending champion Real Madrid among the clubs.

V. Vick, Michael . Fox has hired Vick as a pregame analyst for the upcoming season. Unsurprisingly, the station is getting plenty of backlash. Hey, at least it's not as bad as the Hamilton Tiger-Cats' hiring of Art Briles. Fortunately for the Tiger-Cats, they figured as much out pretty quickly.

W. Withdrawals . Andy Murray is out of the U.S. Open without playing a single match. Unlike many other top men, though, the second-ranked Scot at least turned up in New York hoping to play. But he withdrew last Saturday due to a hip injury, joining Novak Djokovic, Stan Wawrinka, Kei Nishikori, and Milos Raonic on the absentee list.

X. Xander Bogaerts . As Bogaerts goes, so don't go the Red Sox. During their current two-game winning streak, the shortstop is 0-for-8. In a recent 3-6 stretch, he hit safely in six games with a duo of multi-hit performances. Boston's lead is back up to four games in the American League East. The Red Sox are +300 at BetOnline Sportsbook to win the AL Pennant.

Y. Yankees-Tigers . Detroit beat New York 10-6 last Thursday. That was hardly the story. They played bean-ball against each other almost the entire way, with three bench-clearing incidents that ultimately resulted in suspensions for Miguel Cabrera of the Tigers (seven games) and Gary Sanchez of the Yankees (four). It was better than Mayweather vs. Manny Pacquiao, but perhaps not as good as Mayweather-McGregor. The Yankees are +1300 at GT Bets to win the World Series.

Z. Zlatan Ibrahimovic . The Swedish striker suffered a serious right-knee injury last year, but Manchester United is not giving up on him. Man U signed Ibrahimovic to a one-year extension last week. "I'm not done yet," the 35-year-old assured. "I decide when I'm done…. I am back to finish what I started."
Read more articles by Ricky Dimon