This Week in Sports Betting, A-Z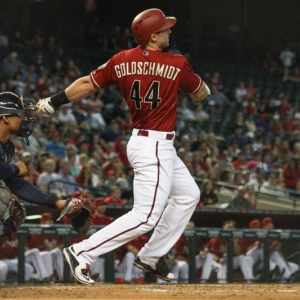 A. Arizona Diamondbacks . 67-54 would be good enough to lead two divisions in baseball. In the NL West, it's good enough to be 19 games back of the ridiculously amazing Dodgers. L.A. is 85-34 and 50-9 in its last 59. The Dodgers are +220 favorites at GT Bets to win the World Series.

B. Bryant, Kelly . Goodbye, Deshaun Watson. Hello, Kelly Bryant. The Clemson junior has been named the starter-or likely one-for the season opener against Kent State on Sept. 2. He has passed for 75 yards and rushed for 178 in 11 career games as a third-stringer.

Free $60 in Member MLB Picks No Obligation Click Here
C. Chick-fil-A
. There is a Chick-fil-A in the new Mercedes-Benz Dome in Atlanta. But that is where the good news ends for Falcons' fans, because seven of their eight regular-season home games are on Sundays. And yes, Chick-fil-A-even the one in the new stadium-is closed on Sundays. That's just cruel.
The Falcons are -2.5 favorites
at Pittsburgh on Sunday, according to MyBookie.ag.
D. Draisaitl, Leon
. You know you're a hockey fan if you care about hockey news in mid-August. But hockey news there is. Edmonton has extended Draisaitl with an eight-year deal through 2024-25 that will pay him $68 million. The 21-year-old center recorded 29 goals and 48 assists last season.
E. Eight ounces
. That's how much the gloves worn by Floyd Mayweather and Conor McGregor will weigh in their fight on Aug. 26. Most boxing matches involving fighters more than 147 pounds mandate 10-ounce gloves. Amazingly enough, using eight-ounce gloves is one issue on which Mayweather and McGregor agree.
F. First pitch
. First pitches occasionally make the news for being horrendously terrible. But this one was horrendously terrible
and
had consequences. Before Wednesday's game at Fenway Park between Boston and St. Louis, high school junior and cancer survivor Jordan Leandre sailed a pitch high and outside over the catcher's and straight into…well…the groin region of an unsuspecting camera man. You have to see it to believe it. The Red Sox are +300 at
Bovada Sportsbook
to win the AL Pennant.
G. Giancarlo Stanton
. Stanton's streak of six games with a home run came to an end on Wednesday, but he has still gone deep 11 times in Miami's last 13 outings. He has hit safely in seven straight games and in 14 out of 15 this month.
H. Houston Dynamo
. Houston stands atop Major League Soccer's Western Conference (tied) thanks in part to a six-match unbeaten streak.The Dynamo have not lost since July 1 and most recently hammered San Jose 3-0 last Saturday.
I.
Ice Cube
. For the sake of our ears, thank goodness LaVar Ball didn't win something-even something as trivial as shooting four-pointers. During the 3-on-3 league's showcase at the Staples Center last Sunday, Ball lost a "four-point challenge" to none other than Ice Cube. Ice Cube drained two shots, while Ball made one to go along with a smorgasbord of airballs.
J. Judge, Aaron
. Thirty-four. No, that's not how many home runs Judge has bashed in 2017 (that would be 37). It's the number of consecutive games in which Judge has struck out-an all-time record for a position player in a single season.
The Yankees (Montgomery) are +108 underdogs
at Boston (Pomeranz) on Friday, per BetOnline Sportsbook.
K. Kelly, Ryan
. The Colts' center, a first-round draft pick in 2016 who started in every game as a rookie, requires foot surgery and will be sidelined for at least six weeks. That means Kelly will miss multiple regular-season games.
L. Luis Suarez
. FC Barcelona announced on Thursday that Suarez will miss approximately five weeks because of a knee injury. The striker will be sidelined from at least the club's first four games of the new La Liga season and it also makes him unavailable for Uruguay's upcoming World Cup qualifiers against Argentina and Paraguay. This greatly decreases the chances of any Argentine or Paraguayan getting bitten in those matches.
BookMaker
has Barcelona at +120 to win La Liga.
M. Michigan
. Michigan's Little League World Series kids were going through their list of favorite MLB players and one is…Dansby Swanson. Why is someone from Michigan's favorite player Dansby Swanson?!?! The Michigan team hit like Swanson on Thursday, losing to Texas 5-1 in an opening-round game.
N. Nick Saban
. Saban is in midseason form in front of the mic, as he recently went off on reporters for their preseason predictions. Of course, by Saban's standards it was pretty tame.
O. Osweiler, Brock
. The Browns have announced that Osweiler will start their second preseason gameon Monday. That sound you hear is the Giants throwing a celebratory party.
5Dimes Sportsbook
has the game as a pick 'em.
P. Pickup hoops
. How many of you would fly across several states to play pickup basketball? Well, if you had access to a private plane and it was to play with Kevin Durant and Carmelo Anthony, then you probably would. And that's exactly what LeBron James did earlier this week, making the trek from Akron to New York. Judging from the video, Allen Iverson must have been late-or just didn't get invited.
Q. Quail Hollow . Jordan Spieth could not complete the career Grand Slam at last week's PGA Champion, but now 50 percent of the Baker's Bay crew are major champions. Justin Thomas triumphed at Quail Hollow by two strokes, finishing with rounds of 66, 69, and 68. The pressure is on, Rickie Fowler and-to a much lesser extent-Smylie Kaufman!


R. Rafael Nadal . Nadal will regain the No. 1 ranking on Monday. He clinched it when Roger Federer joined current No. 1 Andy Murray on the withdrawal list from this week's tournament in Cincinnati.Federer is a -110 favorite at MyBookie.ag to win the upcoming U.S. Open.

S. Sammy Watkins . As a receiver, having Tyrod Taylor as your quarterback isn't great. But it's way better than having Jared Goff. Thus, the recent trade that sent Watkins from Buffalo to Los Angeles may be a bad one for the former Clemson star. And he is still in his rookie contract (fourth and final year), so he is not getting paid a ton to watch balls hit his feet and sail over his head.

T. Trade rumors . Kristaps Porzingis wants out of New York, and he is the subject of trade rumors right now. Unfortunately for him, however, a deal with Cleveland involving Kyrie Irving may not be in the works. According to league sources, however, the Knicks are not interested in unloading the lanky Latvian-at least not to the Cavaliers.

U. UF . Not one, not two, not three, not four, not five, not six…. No, seven Florida players are suspended for their season opener against Michigan on Sept. 2. Wide receiver Antonio Callaway and six others will be sidelined after making improper charges on their student IDs at the school bookstore and then selling those items for cash. Props to head coach Jim McElwain for suspending them even though the Gators are playing a real opponent in their opener as opposed to some pushover like New Mexico State. The college football season gets underway next weekend. Colorado State is a -3.5 favorite over Oregon State, according to GT Bets.

V. Victoria Azarenka . Well, this is a new reason for withdrawing from a tennis tournament: unwillingness to leave baby alone with baby daddy. Azarenka and ex-boyfriend are in a legal battle over custody of their son, who was born last December. She won't leave her baby at home in California while she plays the upcoming U.S. Open and the father has not yet agreed to travel with them to New York.

W. Wil Myers .The Padres' first baseman stole three bases on Wednesday-all in the same inning. Myer became the first player to accomplish that feat since Miami's Dee Gordon in 2011. That's fast-faster than Jimmy John's.

X. Xavier Rhodes . The Vikings signed Rhodes to a six-year, $78.1 million extension late last month. Rhodes was the NFL's No. 1 cornerback against the run last season, according to Pro Football Focus.

Y. Yu Darvish . Darvish was mysteriously removed from his first home start with the Dodgers on Wednesday after warming up on the mound prior to the seventh inning. It was later confirmed that he had a back issue. Darvish is 2-0 with a 2.50 ERA through three outings with his new team.

Z. Zeke . Ezekiel Elliott's off-the-field issues are taking all kinds of turns these days. Last week the NFL, after concluding a 13-month investigation into domestic violence claims, suspended the Cowboys' running back for six games. The NFL did so despite the woman in question admitting to at least considering using sex videos of her and Elliott to blackmail him. She even created an e-mail account titled "ezekielelliott sex vids." Welp. BetOnline Sportsbook has Dallas at +185 to win the NFC East.
Read more articles by Ricky Dimon