Case of the Mondays: Eagles Blow 17-0 Fourth-Quarter Lead Against Panthers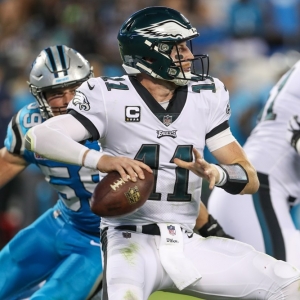 The Philadelphia Eagles won the Super Bowl and got Carson Wentz back from an ACL injury. What could possibly go wrong? Well, a lot. Once again plagued by physical problems, Philadelphia endured self-inflicted wounds on Sunday in the form of an epic fourth-quarter collapse against Carolina. It was an even worse weekend on the gridiron for Ohio State, while a new champion will soon be crowned on the baseball diamond and there are early-season troubles in Hollywood.

Odds provided by MyBookie.ag unless otherwise indicated.

Philadelphia Eagles . The Eagles led 17-0 in the fourth quarter, seemingly on their way to a comfortable home win over the Panthers. All of a sudden, however, Cam Newton and company scored with 10:41 left, scored again with 4:08 remaining, and scored again-the latter proving to be the game-winner with 1:22 showing on the clock. Newton's one-yard touchdown pass to Greg Olsen ultimately gave the visitors a shocking 21-17 victory. "There's a lot of football ahead and we still have a bunch of games," Philadelphia head coach Doug Pederson noted. "Anything is possible, anything can happen, and we still treat it as one week at a time…. I basically told [the team], 'the pressure is off.' No one in the outside world is giving us a chance to do much of anything, so the pressure is off." Of course, the reality is that Pederson has it backwards. At 3-4, the pressure is on. The Eagles likely have to go 7-2 the rest of the way to guarantee a return trip to the playoffs. They are +1400 to win the NFC.
Justin Tucker . Even Tucker is missing kicks this season. And he missed an extremely easy one-and costly one-on Sunday. The Ravens' Pro Bowler sent what would have been the game-tying extra point wide right with 24 seconds remaining en route to a 24-23 home loss to New Orleans. Tucker had been 222 for 222 on extra points during his NFL career. Including his college days at Texas, he had made 316 straight prior to this last-minute disaster. Baltimore is a -1 road favorite over Carolina in Week 8 .

Ohio State . We may be a divided nation when it comes to politics, but there's one thing everyone (at least outside of Columbus, Ohio) can agree on: it's a great day whenever the Buckeyes lose. That day was Saturday. Ohio State went on the road to face a 3-3 Purdue team and got shellacked 49-20, allowing a laughable 28 points in the fourth quarter. OSU surrendered 539 yards of total offense and committed 10 penalties for 86 yards while suffering its first setback of the season. "The glaring shortcomings we have were exposed," head coach Urban Meyer admitted. "Number one, off the top, is our red-zone offense. We go down there a few times (and get) two field goals and one missed field goal. We've never had this issue. We're going to get a real thorough evaluation of that. And then the big plays on defense…. [Penalties have] been an issue this year. (We're) not very disciplined. I think they're effort penalties, but just…I mean…. Ridiculous." The Buckeyes are +1400 to win the National Championship.

McKenzie Milton . Central Florida's star quarterback, who is in the Heisman Trophy discussion, was a no-go against East Carolina this past weekend. The Hawaii native warmed up in full pads and appeared ready, but backup Darriel Mack Jr. made his first career start and Milton never entered. Head coach Josh Heupel later indicated that Milton was rested for "overall health" reasons, perhaps stemming from a tweaked ankle sustained one week earlier against Memphis. Although this won't help the junior's Heisman chances, his team still dominated the Pirates 37-10 to remain undefeated. UCF is -160 to go undefeated throughout the regular season.

Houston Astros . There will be a new champion in Major League Baseball after the Astros got bounced by Boston in a five-game ALCS. Houston took the opener on the road by a 7-2 margin, but things only became problematic thereafter. Still, it was far more competitive than the relatively short five-game series suggests. The Astros led 4-2 in Game 2 with a chance to take a 2-0 lead (they eventually lost 7-5) and they would have won an unbelievable-and controversial-Game 4 by a 9-8 score (instead of losing it 8-6) if Alex Bregman's liner had gotten past a diving Andrew Benintendi. While Houston failed to make a return trip to the Fall Classic, the Dodgers successfully made it back by beating Milwaukee in seven games. Boston is a -150 favorite in the World Series.

Brandon Ingram . The Lakers are off to an 0-2 start, with a setback at Portland and a loss to Houston in LeBron James' home debut this past Saturday night. Adding insult to injury, Ingram (four games) and Rajon Rondo (three) are suspended following a fracas against the Rockets that Ingram started. The former Duke standout shoved James Harden and then threw a punch at either Chris Paul or P.J. Tucker that did not land. Rondo swung at Paul and may or may not have spit on him. The Lakers are +200 co-favorites along with Golden State to sign Kevin Durant prior to the 2019-20 season.

Jonathan Quick . Speaking of bad starts in Tinseltown, the Kings are 2-5-1 through eight games in their 2018-19 campaign. Quick missed five of the first six contests with a lower-body injury and things have not gotten better since he was activated from injured reserve. In fact, they've gotten worse. The 32-year-old returned last Thursday and promptly allowed six goals on 29 shots before getting pulled during the third period of a 7-2 setback against the Islanders. Two days later, Quick yielded four goals on 25 shots as L.A. fell to Buffalo 5-1, extending its losing streak four. "We've accepted being OK-and it's not OK," defenseman Jake Muzzin explained. "It's not working. It would be a long year and guys would be moved if this continues. It's not what we want, so we've got to take a look in the mirror and turn this ship around." Los Angeles is +850 to win the Pacific Division.
Read more articles by Ricky Dimon