Expert March Madness Handicapping: Ranking the Sweet 16 Teams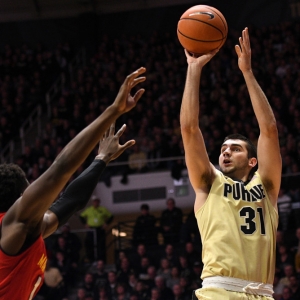 And then there were 16. More than three-quarters of the teams that had ambitions of winning it all and cutting down the nets in San Antonio in a couple of weeks have been eliminated. The teams that are still standing are an odd bunch - like usual, yet except maybe a little more so than most years. We have blue bloods and we have outsiders. We have teams overachieving and a couple that have underachieved but still survived. We have teams that are easy to assess and those that are impossible to understand. We have offensive dynamos and defense juggernauts. It's a crazy group, and it promises to be another great weekend of basketball. In hopes of starting an argument as much as anything, here is how I rank the remaining Sweet 16 teams as they stand now;
1. Villanova: They were the top team heading into the tournament, and they have done nothing to even remotely raise the pulse of anyone watching them so far. They are who we thought they are.
2. Duke: Like Villanova, they have been totally focused and ready, and they are terrifying as a result. And getting Syracuse instead of Michigan State is a gift.
3. Kentucky: They came into the tournament with a ton of questions as they had rarely come close to playing anywhere near their massive potential. Too often it was like they were a bunch of free agents just biding time until the draft. But they have got it together now, and the path to a deep run has opened for them. The upside is dizzying.
4. Kansas: I don't love this team, but they are a No. 1 seed. And though the Seton Hall game was tougher than it should have been, they have still done their jobs. I don't trust them, but this is the lowest I could possibly have put them.
5. Michigan: I have watched this team play a whole lot, so I am confident of two things. That impressive defense that is the only reason they are here is sustainably that strong, and they played as poorly offensively as they have played in a very long time and are still here. They are better than they have been, and I expect them to show it.
6. Purdue: I would struggle to put Purdue ahead of a Michigan team that just beat them in the Big Ten Tournament. And the Isaac Haas injury leaves huge questions facing a tough matchup.
7. Gonzaga: I have no issues with this team and the way they have been playing at all, so the fact that they are seventh shows just how deep this tournament runs right now. In fact, the serious contenders go a couple spots lower than this one.
8. West Virginia: The Mountaineers deserve better. They are a very good team that was underseeded, so they run into a Villanova team that is just better than them a round before they should have.
9. Texas Tech: I still am uneasy about their lack of experience, but this is a talented, dangerous team that has looked solid so far, and it looks like they have room to be even better.
10. Texas A&M: When you go into North Carolina and totally emasculate the Tar Heels, the defending National Champions no less, like this team did, then you deserve a lot of respect. But they had a very favorable matchup - by circumstances if not on paper - and I am not convinced that their big men can come close to replicating it against Michigan.
11. Nevada: That comeback against a very good Cincinnati team was on a very short list of the most impressive things we have seen in this tournament. But this team has only really led games at the buzzer, and they can't count on that working forever. They need to show that they can lead for real - and they need to figure it out if they want to beat Kentucky.
12. Clemson: They absolutely crushed Auburn. It was more like a football score than a basketball game. Incredible. But how it happened makes no sense, and their ability to replicate it is far from certain. And this team is going to badly outcoached the rest of the way.
13. Florida State: The way they climbed into Xavier's heads and caused a collapse late in their second-round game was impressive. But they were down 12 to that Musketeers team and were lucky to get past them. I have little respect for Leonard Hamilton and his anger management issues as a coach, and I think they are in some trouble.
14. Loyola: Sister Jean and company have been an incredible story, and this is a team that is better than the rankings suggest. Much better. But I just can't place them any higher. They have narrowly beaten a Miami team I didn't like at all and a Tennessee team that was highly overrated. And they have done it in the narrowest of fashions. Beat Nevada soundly and we can revisit, but for now they are here almost by default.
15. Syracuse: I'm less impressed with the Orange than some are. The Spartans were, in my eyes, a team just dying to shoot themselves in the foot, and all Syracuse did was pass them a gun and get out of the way. Michigan State was more deeply flawed than people wanted to realize, so the result here isn't as impressive. And Syracuse is in a world of trouble against Duke.
16. Kansas State: They got a Creighton team that had nothing much to offer after a dismal season and then a UMBC team that was just overwhelmed after making history and never found their stride. It's been a cakewalk for a team that has no business being here. And now things get real with Kentucky.
Want free March Madness betting picks? Doc's Sports has you covered – get $60 worth of March Madness picks free from any of Doc's Sports expert handicappers. Get $60 worth of premium members picks free. Doc's Sports offers free college basketball picks every day of the tournament on our homepage.
Read more articles by Trevor Whenham