Expert Sweet 16 Betting Picks: Best and Worst Wagers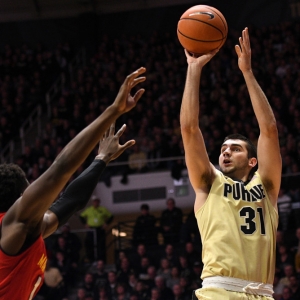 Your bracket is dead, so you might as well focus on betting for the Sweet 16 and beyond. And while the matchups on offer on Thursday and Friday aren't what most people expected, there is a lot of interesting games to bet on and a few juicy opportunities. In fact, I've broken down the games into the three best and three worst betting games, and all three in the best category are very playable from where I sit. Comfortably playable. Here is a look at the March Madness best and worst Sweet 16 wagers ( odds are from BetOnline ):
Best
Texas Tech (+1.5) vs. Purdue: I saac Haas is a big presence - both physically and in terms of team dynamics -- for this team. He might try to go in this game if he can find an elbow brace that works, but he is hurt and won't be effective if he does. And the losses by Ohio State, and especially Michigan State, and the narrow win by Michigan, show that the Big Ten isn't exactly unbeatable this year. Texas Tech eased into the tournament with a workmanlike win to open things up and then showed good toughness to beat Florida in a tight game. Their lack of institutional experience lately in the tournament was a concern, but they have eased that somewhat with their performance. I'd give the Red Raiders a good chance even if Purdue was healthy, so as it stands they are quite attractive.
Michigan (+3) vs. Texas A&M: Texas A&M absolutely destroyed North Carolina. It was never really close. There was a lot going on there, but basically the Tar Heels didn't show up and Texas A&M really, really did. Their big men were dominant, blocking shots and shooting the lights out. And Michigan was extraordinarily luck to beat Houston with a miracle at the buzzer. But I will take the Wolverines enthusiastically here and view it as a bit of a gift. Michigan played as badly as they can for two straight games, clearly showing rust from having nearly two weeks off after their Big Ten Championship win. They are much better than they showed, though, and that defense that carried them this far will match up very well against the Aggies. And John Beilein will have a field day game planning for this Texas A&M team given the time he has to do it. The Aggies lost 12 games, so they are vulnerable, and Michigan will exploit them. I like this play a whole lot - and not just because I bleed maize and blue.
Kentucky (-6) vs. Kansas State: What has Kansas State done? They beat a Creighton team that was as underwhelming as they are and then got past a UMBC team that never settled down after their opening stunner. They have proven nothing to get here. Kentucky, meanwhile, handled a very good Davidson team and destroyed a clearly dangerous Buffalo team. Kentucky has incredible talent that is figuring out how to work together, and they have strong coaching. This is a mismatch - perhaps the biggest on the board.
Worst
Nevada (-2) vs. Loyola: There is one team that plays from behind, fears nothing, and is tough as nails down the stretch. And they are much better than their seed would indicate. And then there is the other team - they play from behind, fear nothing, are tough as nails down the stretch, and are much better than their seed indicates. It's hard to find separation when you are looking at two teams playing the same game up to this point. Nevada is probably more talented, but Loyola is not a joke by any means. Both teams will be ready, well-coached, and fearless. Is there really an outcome here that would be any kind of surprise at all? Easy pass.
Duke (-11) vs. Syracuse: Duke is the much better team here. They showed it less than a month ago by manhandling Syracuse and limiting them to just 44 points. But the Orange are feeling it right now, and their zone is working well. Duke plays with a zone, and the best way for an inferior team to limit something is often by replicating it. And these coaches are both obviously very savvy and they know each other well. I have little doubt that Duke will win. But will it be by a lot or a little? Who knows. This is a very tough number to assess. Pass.
Villanova (-5.5) vs. West Virginia: Before I set out to write about betting on the Sweet 16 this morning, and before I had looked at the odds that were being offered, I set my own lines for each of the eight games. When it came to this game I originally put down Villanova by 6. Then I crossed that off and put down five. So, this number sits right in the middle of where I think it should be, and that obviously means that it isn't particularly attractive in my eyes. I had Villanova winning the tournament heading in, and nothing I have seen has changed that opinion at all. But West Virginia is dangerous, and thanks to some good luck has had a very smooth path to this point. The coaching will be strong on both sides, but both guys also have the ability to have a brain cramp in a key time. I just don't know what to do with this number - which means that the right thing to do is to ignore it.
Want free March Madness betting picks? Doc's Sports has you covered - get $60 worth of March Madness picks free from any of Doc's Sports expert handicappers. Get $60 worth of premium members' picks free . Doc's Sports offers free college basketball picks every day of the tournament on our homepage.
Read more articles by Trevor Whenham
---
Most Recent March Madness Betting